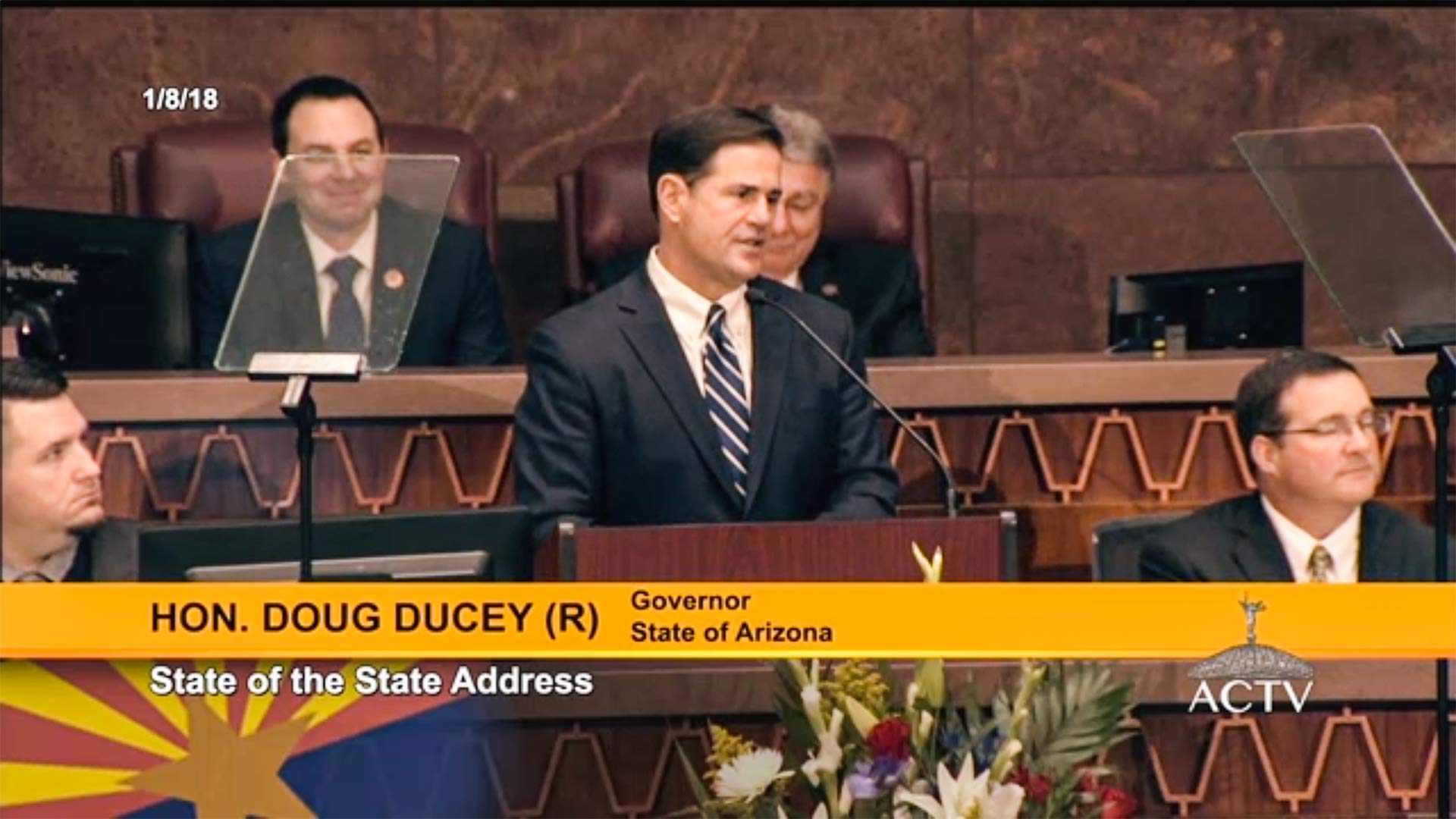 Gov. Doug Ducey delivering the state of the state address in Phoenix on Jan. 8, 2018.
ACTV
Arizona Gov. Doug Ducey laid out his 2018 policy priorities in Phoenix Monday afternoon in his annual State of the State address, and at the top of his stated agenda are the opioid crisis and education.
Ducey, who will be defending his seat later this year, branded the speech with the theme "Spirit of Service," kicking off the start of the 2018 legislative session.
A spirit of service. In Arizona, we see it all around us. It's what got us here. And it's what will lead us into the future. #AZService pic.twitter.com/sGcmmSeHty

— Doug Ducey (@dougducey) January 8, 2018
He started the speech recounting the "trailblazing" women leaders in the state, including the late former Gov. Rose Mofford and retired U.S. Supreme Court Justice Sandra Day O'Connor.
Opioids
Ducey called for a special session "in the coming days" to address the opioid crisis. He said more than 800 people have died from opioid overdoses in the past year. He said there are many potential solutions and in calling for a special session, is asking state lawmakers to focus on this problem first.
Ducey said opioids are often "misprescribed, overprescribed and then, before you know it, it's too late. There's no turning back."
He also took aim at all "bad actors," who he promised to hold accountable, be they doctors, manufacturers and drug dealers.
Ducey officially declared a statewide health emergency in June over the opioid crisis.
Education
The governor struck an optimistic tone about public schools, saying they are improving.
"Arizona public schools are showing real, measurable signs of progress, and they are leading the nation in some important areas," Ducey said. "Four of the top five public high schools in America are right here in Arizona."
Arizona schools continue to lead the nation in improvements to scores for reading and math, he added.
Ducey painted a picture of tamping down on funding for incarceration, while both upping public safety and increasing public school money. He also said his cabinet has identified "10s of millions" of dollars in wasteful spending that can be diverted to education.
"For too many years Arizona saw spending on prison facilities go up and spending on K-12 education go down. For the second year in a row, my budget will add no new prison beds."
His forthcoming budget will include a "full commitment to accelerate the state's K-12 investment and restore longstanding cuts from the recession," Ducey said.
A total of 80 percent of his new budget priorities, due out Friday, will be dedicated to education, he said.
The governor also reiterated a promise to bring more money to schools, above and beyond inflation, every year he is in office.
In the 2017 edition of his State of the State, Ducey focused heavily on education. This year, Ducey did not introduce any significant changes or additions to those education policy priorities.
Democrats criticized the Governor's education plan. They said it lacked details and said that much of the funding he spoke about was due to court ordered increases to replace money shifted away from education during the recession.
In their education plan, Democrats called for a permanent teacher raise in the base funding formula for schools. They also want to create a "poverty weight" for the school funding formula.
---
Federal funding for the children's health insurance program (CHIP) ended in the fall, and Congress has not restored funding.
Ducey said Arizona can continue to pay for the program through the spring, but said his message to Congress is "do your job." He called on federal lawmakers to restore funding for health insurance for children in lower-income families.
---
Ducey said the Legislature must put forward responsible policies to secure the future of water and that Arizona is a leader in water-resource management because of policies former leadership put in place.
---
The governor is set to release his budget proposal on Friday. It will detail how he plans to pay for the priorities laid out in his speech.
Democrats also released a document detailing their policy priorities for the year, which you can read below.
2018 Democratic Legislative Priorities

View at Google Docs
|

Download File
Read the transcript of Ducey's speech:
Arizona State of the State 2018

View at Google Docs
|

Download File