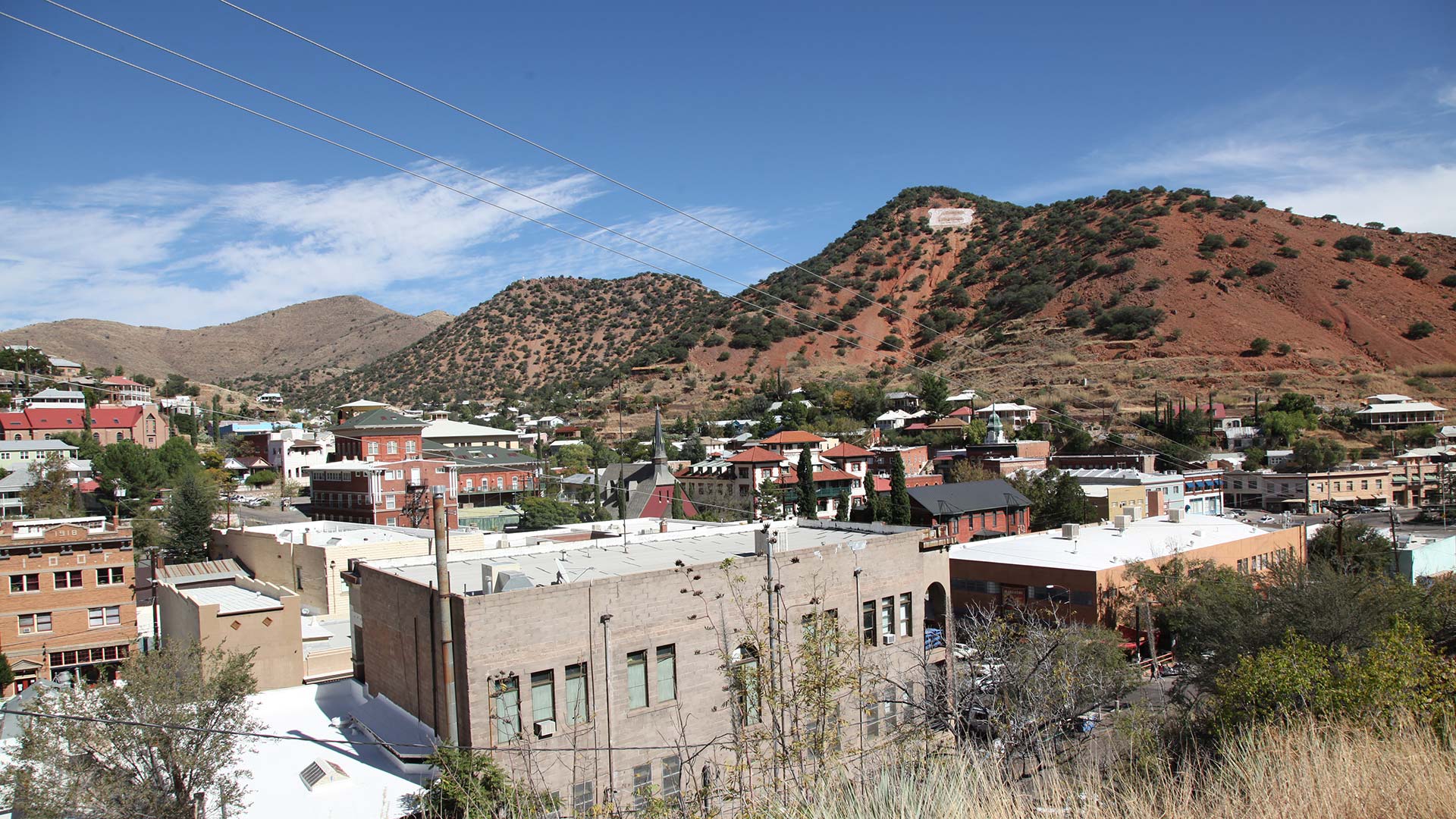 A view of downtown Bisbee.
Zac Ziegler, AZPM
Mel's Bisbee Bodega fits in with a certain style of store that, in cities all over the country, hands out single-use plastic bags to almost every customer.
The shop's shelves are lined with snacks, beverages, tobacco products and other small goods that most would expect to be stuffed into a plastic sack before heading out the door.
But that is not the case at this bodega. The goods usually leave here in reusable bags or simply in the hands of a shopper.
"I would say over 90 percent of the locals, as far as I can see and I can tell, they are for the ban, because when I offer them a bag, most of the time they refuse," said shop owner Mel Sowid.
At publishing time, it was illegal for Sowid to hand out plastic bags to his customers.
But that appears set to change at a Nov. 7 Bisbee City Council meeting, where officials will take a vote on whether to remove the city's mandatory plastic-bag ban and replace it with an ordinance asking retailers not to use plastic bags — in other words, a voluntary measure.
Arizona Attorney General Mark Brnovich said that the ban violates a state law that prevents municipal governments from regulating such containers. If Bisbee did not change the rule, he said, the state would instruct the treasurer to withhold the city's portion of shared revenues.
Last week, the council asked the city attorney to draft resolutions that would make the ban voluntary rather than lose the funding or fight the matter in court.
Before Brnovich made his decision, 42 Bisbee retailers expressed their approval of the ban. The city's largest retailer, Safeway, said it would comply with a voluntary ban.
Sowid was among them, as was his neighbor, Carol Lokey, owner of Bisbee Books and Music. Both shops opt to distribute paper bags to customers who request them.
"Those paper bags are more expensive than plastic bags would be, and so it does cost something. But plastic bags, I've seen them blowing all over the roadway and I know that they're bad."
Residents note that they appreciate what the ban has done for cleaning up the nuisance that improperly disposed of bags created around town.
"The Bisbee residents I've talked to say that they'll continue bringing their own bags whenever they can, and the state can't require us to use any kind of bags," said Lokey.
Bodega owner Sowid said he is glad the City Council chose this path rather than fighting the state.
"My recommendation to the city the other day: Don't waste your money trying to fight this, to be honest with you. It's looks like we'll use it, and why waste some of our resources when we need it here," he said.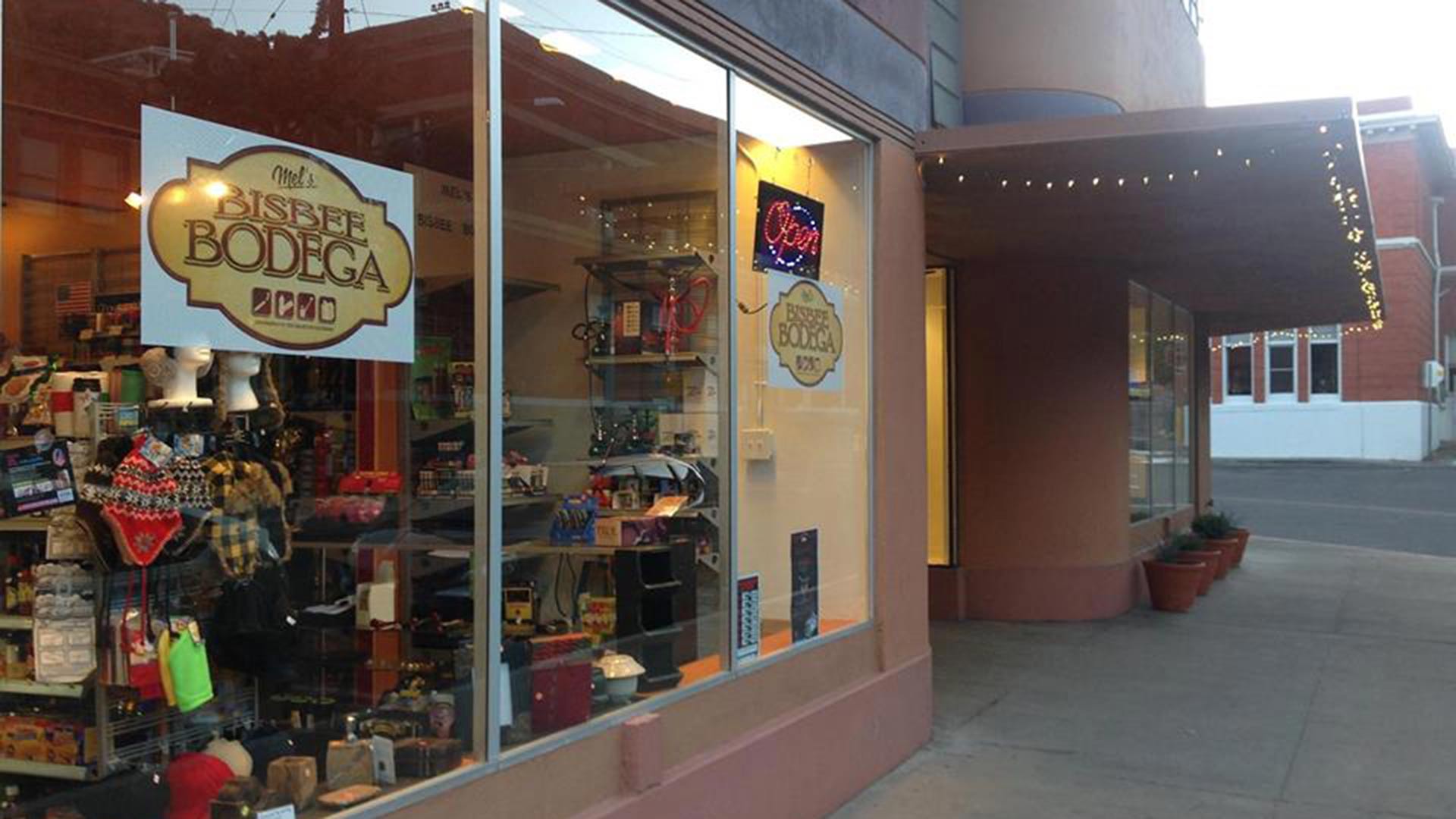 The view of Mel's Bisbee Bodega from Main Street.
Bisbee Bodega Facebook page
"Bisbee, you know, we have a lot of issues. We have roads that need to be fixed. We have infrastructure that's in bad shape, and we rely, basically, on tourist dollars," said Sowid.
Numerous city residents showed up at a City Council meeting last week to express similar sentiments. They appreciate the pollution reduction, but do not wish their cash-strapped government to continue to fight for it.
Shawnee Hicks would prefer some money be allocated to lobbying on behalf of a voluntary ban,
"It might be a better strategy to create an environmental group that goes to the various businesses and pleads with them to voluntarily maintain this ban, to keep this blight from overtaking our city again," he said.
"Bisbee doesn't have the resources to fight the whole state, and unless a bunch of other cities are willing to get involved as a class-action kind of thing," said Helise Dubmick.
Others pointed out what they see as hypocrisy on the state's part.
"It's very curious because the state of Arizona will bridle at anything the feds want us to do. 'Oh no, don't tell us what to do,'" said Margot McCartney. "But then they have no compunction telling us [what to do]."
Whether the ordinance is voluntary or mandatory, Bisbee Books and Music will not hand out single-use plastic bags, and Carol Lokey thinks other business will act similarly.
"It's very curious because the state of Arizona will bridle at anything the feds want us to do. 'Oh no, don't tell us what to do'"
"I think the chain stores may have their own thinking, but I think that all of us main street merchants will stick with paper or nothing," she said.
Nor will Mel's Bisbee Bodega. Its owner will cave to the power wielded by a certain Bisbee resident.
"I'll continue with this even if they change the law, I'll continue," he said. "My wife won't accept it any other way."