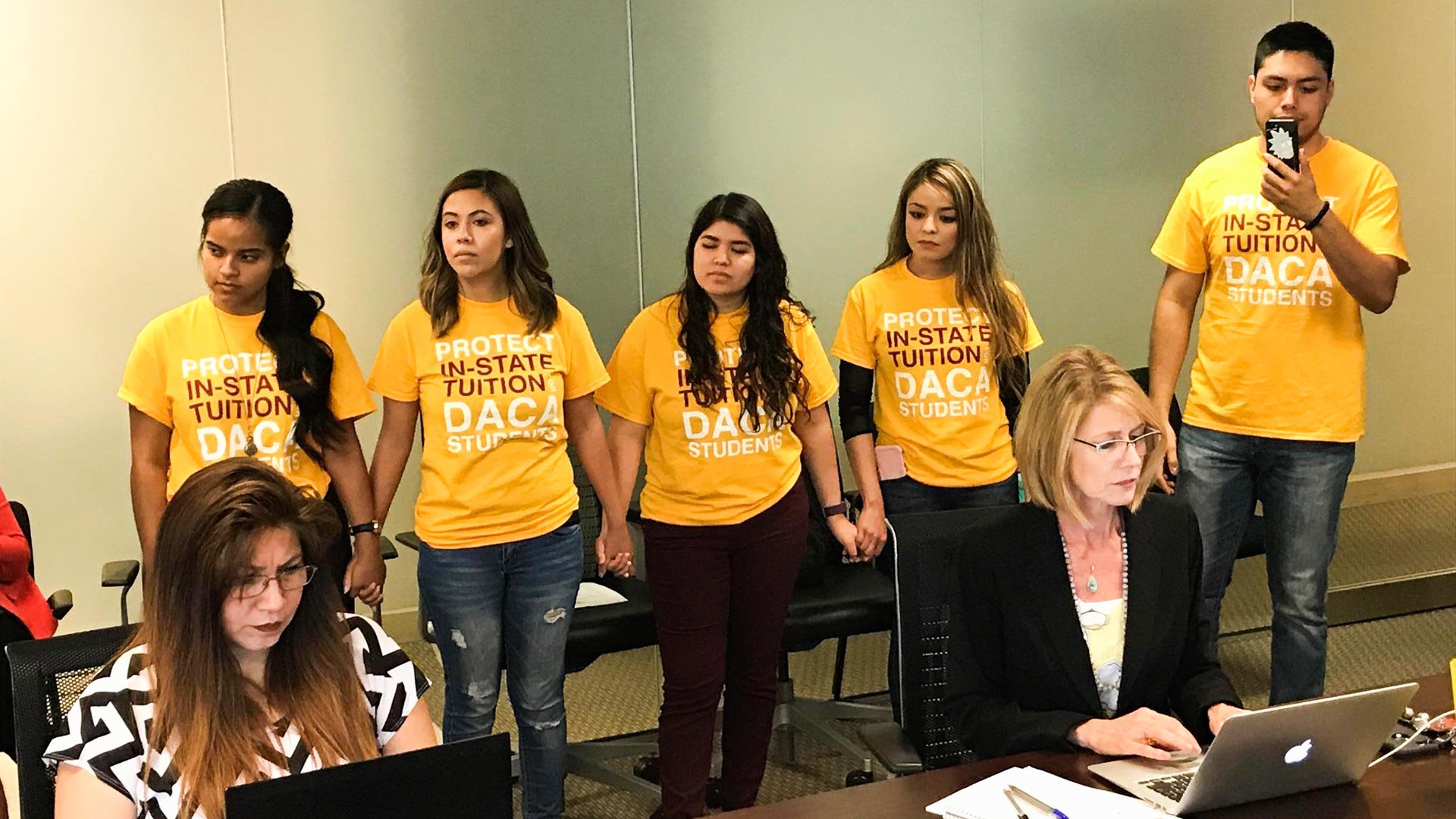 A group stands in support of in-state tuition eligibility for students in Arizona with DACA status at a June 29, 2017, Arizona Board of Regents meeting.
Vanessa Barchfield, AZPM
Arizona Board of Regents Thursday approved a motion to continue charging in-state tuition to "Dreamer" students while an appeal goes to the state Supreme Court.
The vote came in response to last week's Arizona Appeals Court decision that said public higher education institutions could not offer in-state tuition to students covered under the Obama administration's Deferred Action for Childhood Arrivals executive action.
That status is not equivalent to "lawful presence," which is required to be eligible for in-state tuition, the judges said.
VIEW LARGER Student Vasthy LaMadrid attended the ABOR special meeting in which the board chose to extend in-state eligibility to DACA-status students while a case is appealed to the state Supreme Court.

Vanessa Barchfield, AZPM
The Maricopa Community College District Governing Board voted Tuesday to appeal the decision to the state Supreme Court. In the meantime, the appeals ruling does not provide an immediate legal obligation to change the in-state policy for such students, the Arizona Daily Star reported.
In the meantime, the estimated 300 Dreamer students at Arizona's three public universities will continue to pay the same amount as resident students. At the University of Arizona, that'll be just over $12,000 for new students.
Vasthy LaMadrid, a senior at ASU, says the decision is a great relief to her and students in her position.
"I am appreciative because it means i can continue one more semester at ASU. I'm a senior so I'm really close to the finish line and a decision to not allow me to pay in-state tuition would mean I could no longer attend the institution," LaMadrid said.
Two years prior, a Superior Court had extended in-state tuition to Dreamers in the state. The Board of Regents estimates there nearly 300 DACA students in the university system.
Dreamers are young adults brought to the United States illegally when they were minors. Those who meet a series of criteria can apply for temporary protection from deportation. The Trump administration has said it will retain the protection, for now.