Reporters demonstrate a silenced press after colleague is slain.
Michel Marizco, Fronteras Desk
This is Part III in a special four-part Fronteras Desk series about the U.S.-Mexico border and the challenges border residents and U.S. immigration agencies face as President Donald Trump completes his first 100 days in office.
As a cops' reporter for 25 years in Ciudad Juarez, Miguel Vargas has written hundreds of news stories about murder on the border. This one was personal.
On a cool early morning in the state of Chihuahua in late March, journalist Miroslava Breach was shot eight times as she pulled out of her garage to take one of her kids to school. The killer left a note that read "Por lenguona" ("For being a big mouth"). Breach was well loved and shouldn't have died like this, Vargas said.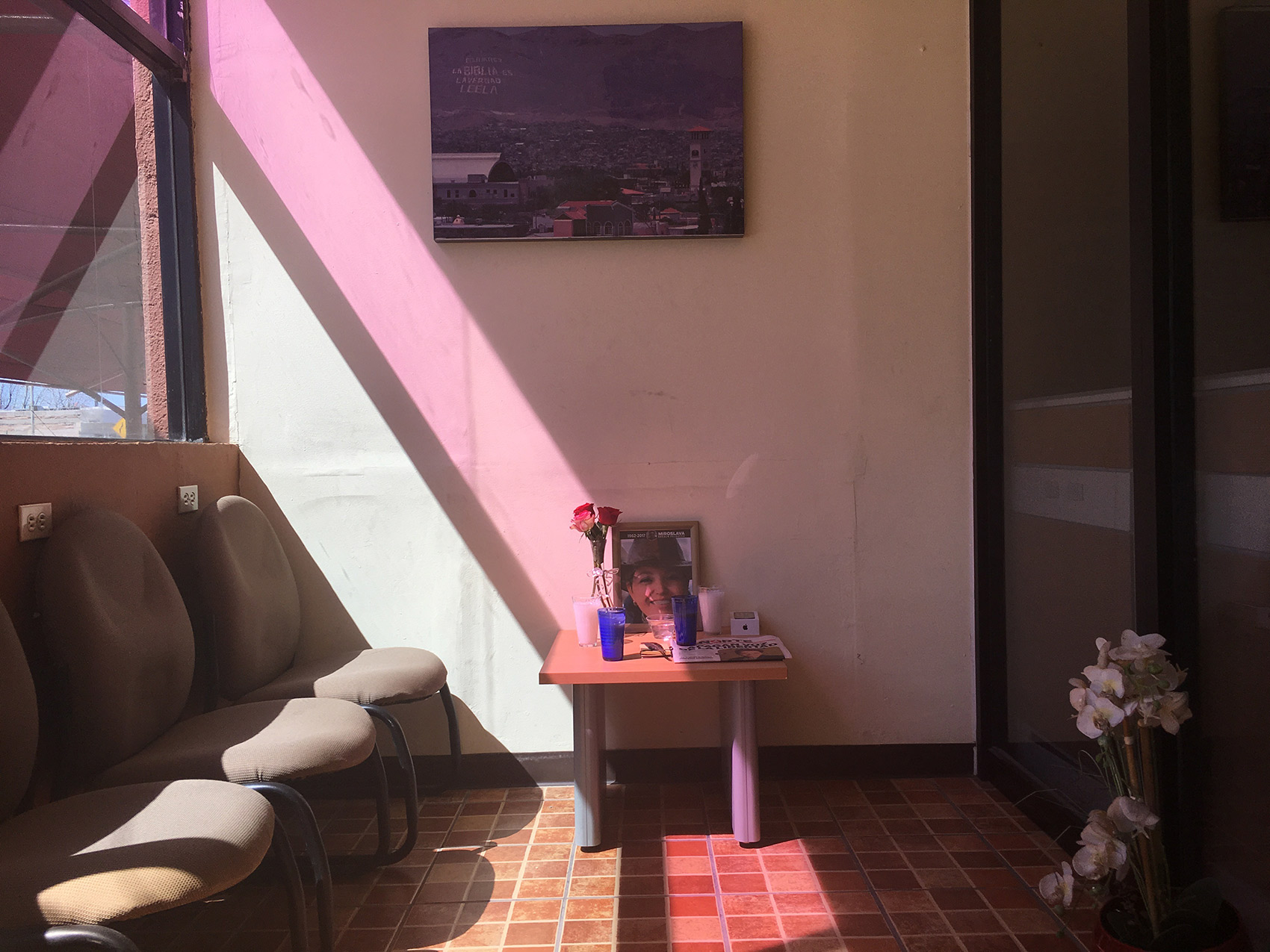 VIEW LARGER A shrine to Miroslava Breach, a journalist killed in Mexico.

Michel Marizco, Fronteras Desk
In the atrium of his Ciudad Juárez newspaper, El Norte, sunlight fell through the lobby's windows onto a simple shrine to Breach. The shrine has her smiling portrait, a pair of roses, votive candles, tools like those she carried — a brass quill pen and an old notebook — an iPhone box, the Saturday edition of El Norte reporting her murder on the front page.
Days later, reporters here gathered outside the federal attorney general's compound. Some wore T-shirts with Breach's photo, a woman with short auburn hair and almond shaped eyes.
They duct-taped their mouths closed and stood silently while others photographed them.
The message: The press had been silenced.
Mayra Selene Gonzalez is a radio reporter here. Breach was admired, her death hurts, Gonzalez said, and it also leaves her feeling vulnerable. She was the third journalist in Mexico killed in March, then a fourth in early April and Vargas' newspaper shut down days later.
The Trump administration inherits a border that is far quieter than the headlines Juarez generated during Barack Obama's years in office. This city stopped carrying the moniker of the world's deadliest.
In 2010, it registered 3,000 homicides, nearly 10 a day. Right now, it's averaging about two a day, but just like the rest of Mexico, those numbers are climbing. Between 2015 and 2016, homicides in the country of Mexico as a whole jumped nearly 25 percent.
In early April, two Americans from the Rio Grande Valley were shot and wounded in a gunfight between security forces and cartel members in Reynosa.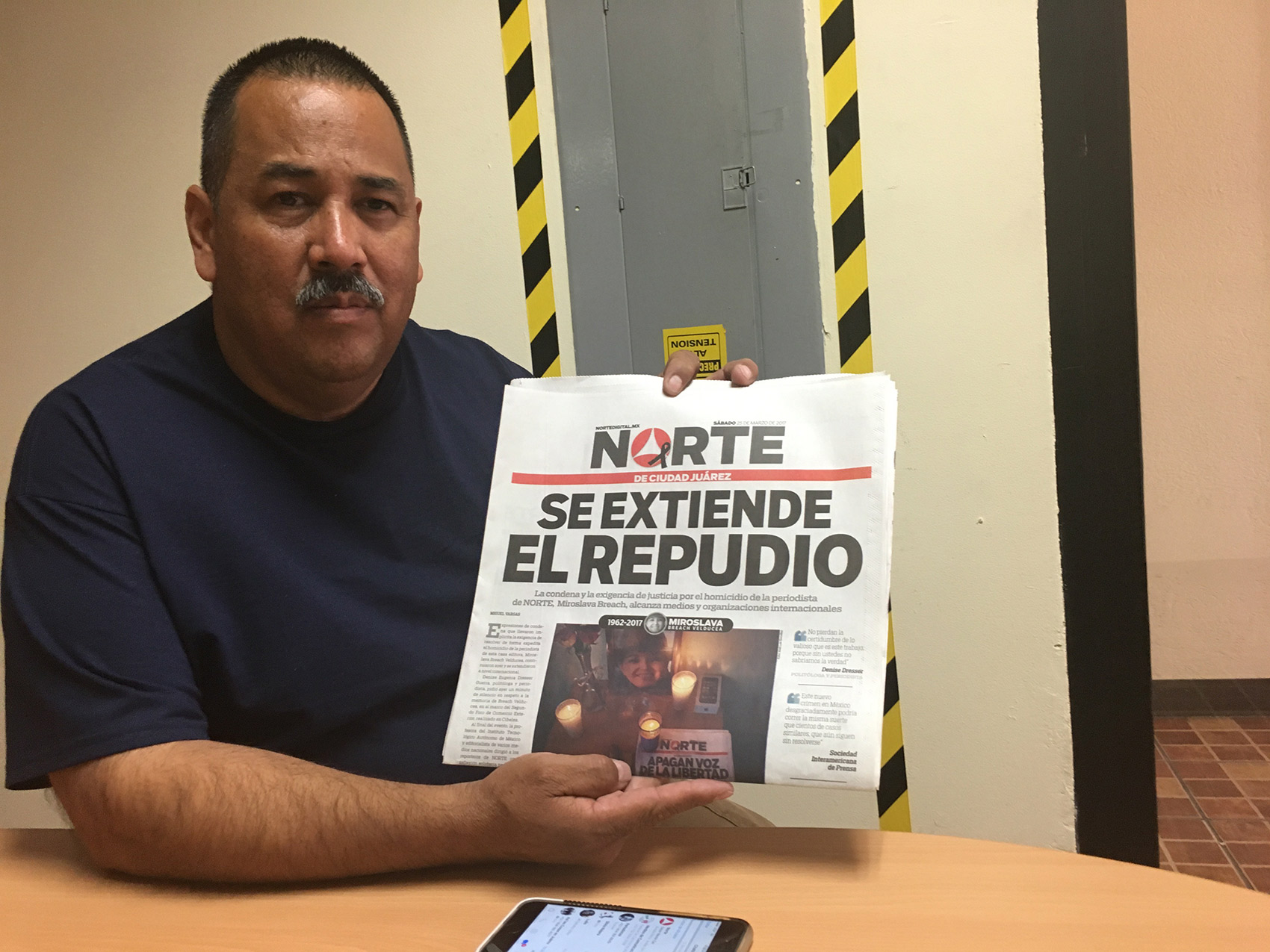 VIEW LARGER Miguel Vargas holds up the front page of the weekend edition of his newspaper, El Norte, with a front page article he wrote about his friend Miroslava Breach, murdered in late March.

Michel Marizco, Fronteras Desk
This city across from McAllen, Texas, has long been held by the Gulf Cartel. Fifteen years of violence have left their scars.
Jose Fernandez has been an orthodontist for 30 years. His office sits immediately across the border in what was once a serene outdoor mall in Reynosa's medical tourism district. On this late March morning, his is the only business open here.
He said he attracts shoppers walking across because he's close to the port of entry, but still his business has dropped by half of what it once was.
Cross-border companies are struggling to find a way to bring U.S. shoppers back. They work with people like Joel Davila.
"We're from across the border, from McAllen. We work in media over there in the RGV, the Rio Grande Valley as we like to say it," Davila said.
Davila and television sales executives from Texas were in Reynosa to try to convince the medical community here to spend advertising dollars in the RGV. But he's up against a wall of violence that, for example, drove Fernandez's client away.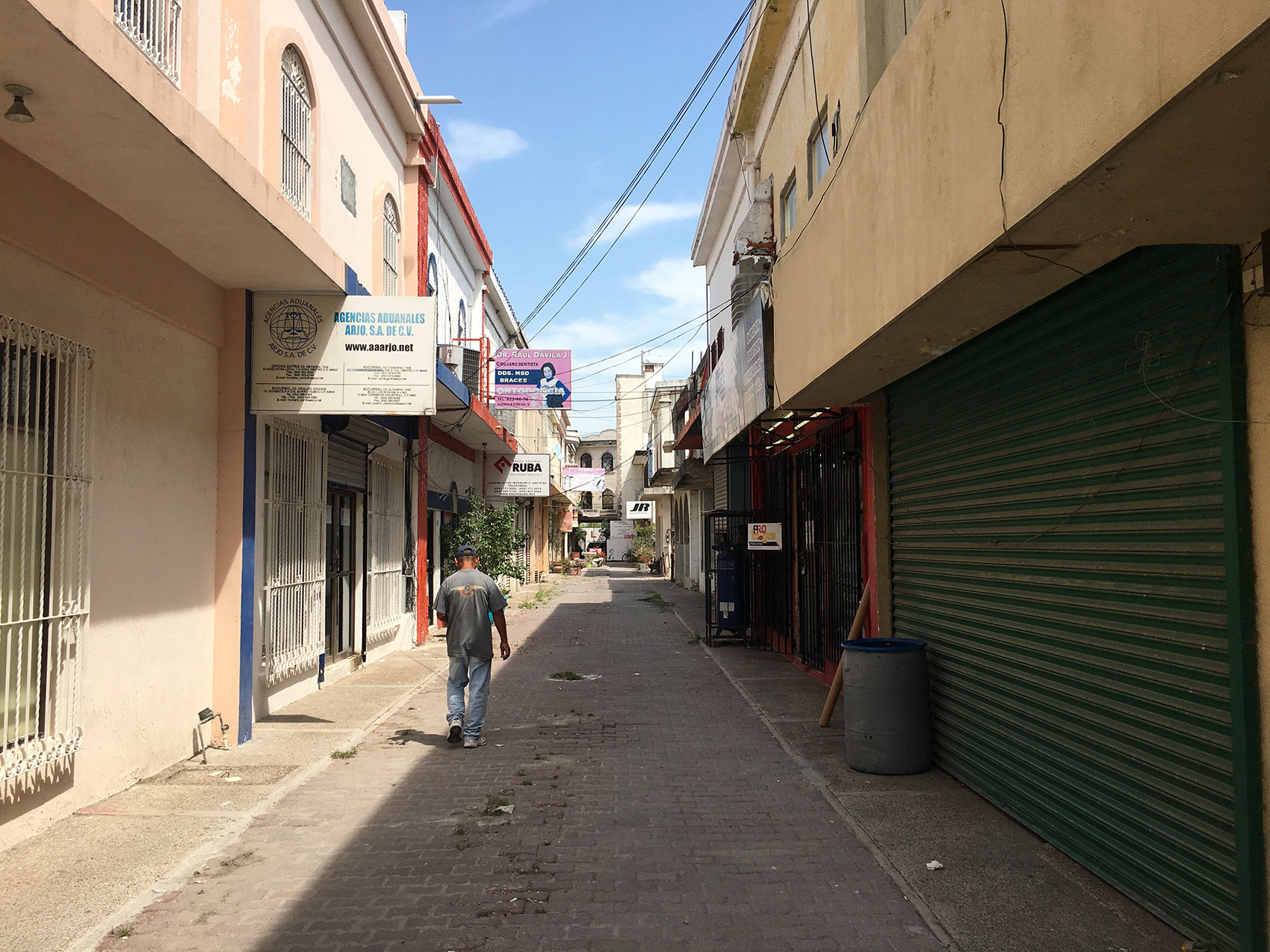 VIEW LARGER A medical tourism plaza in downtown Reynosa, Tamaulipas, near the port of entry, stands empty, most storefronts closed.

Michel Marizco, Fronteras Desk
"Well, you know it's like anything else. It's like a lot of times, beliefs are more powerful than reality," Davila said.
He argues people run the same risk in the United States, and crime rates in Reynosa are comparable to crime rates in major U.S. towns.
Davila has his work cut out for him convincing Mexican businesses to spend U.S. dollars convincing American shoppers to return. When Attorney General Jeff Sessions spoke in Nogales, Arizona, in early April, he threatened drug cartels, human-smuggling gangs and anyone who'd assault an American agent.
"Be forewarned, this is a new era. This is the Trump era," Sessions said.
But unlike his predecessors, both under former presidents Obama and George W. Bush, he did not speak about cooperating with Mexico on tackling organized crime together.