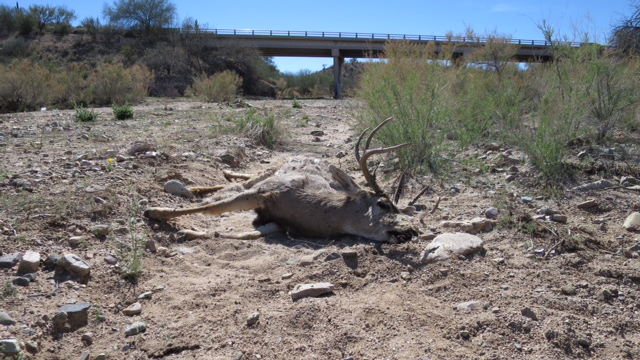 A mule deer the Arizona Game and Fish Department suspects was poached, 2017.

Arizona Game and Fish Department
The Arizona Game and Fish Department offered a reward of up to $1,000 for information that leads to an arrest in the suspected poaching of a mule deer near San Manuel.
The buck was found dead of a gunshot wound under a bridge on State Route 76 near Redington Road, said Mark Hart, a spokesman for the department.
The case is difficult because the deer was found in an area where people often go to practice target shooting, Hart said.
But when it was found March 7, it was not hunting season, he said.
"There was no tag as required by law on the deer, and even just leaving a deer in the field like that is a waste of game meat," Hart said.
He said solving the case will take the public's help.
"Part of the challenge of working poaching cases is they occur in remote areas with few witnesses. We're hoping somebody saw something, maybe overheard some loose talk, and can help us figure out who shot this mule deer buck," Hart said.
Arizona Game and Fish investigates all suspicious wildlife deaths, Hart said.
The punishment for a criminal conviction is a fine of up to $750, plus six months' jail time. The department can levy additional fines, and revoke hunting privileges, Hart said.
"Poachers aren't hunters. The public owns the wildlife, and when people illegally kill wildlife, they're stealing from citizens of the state," he said.
To contact the Game and Fish Department about the case, call Operation Game Thief at 1-800-352-0700 and reference OGT#17-000557.