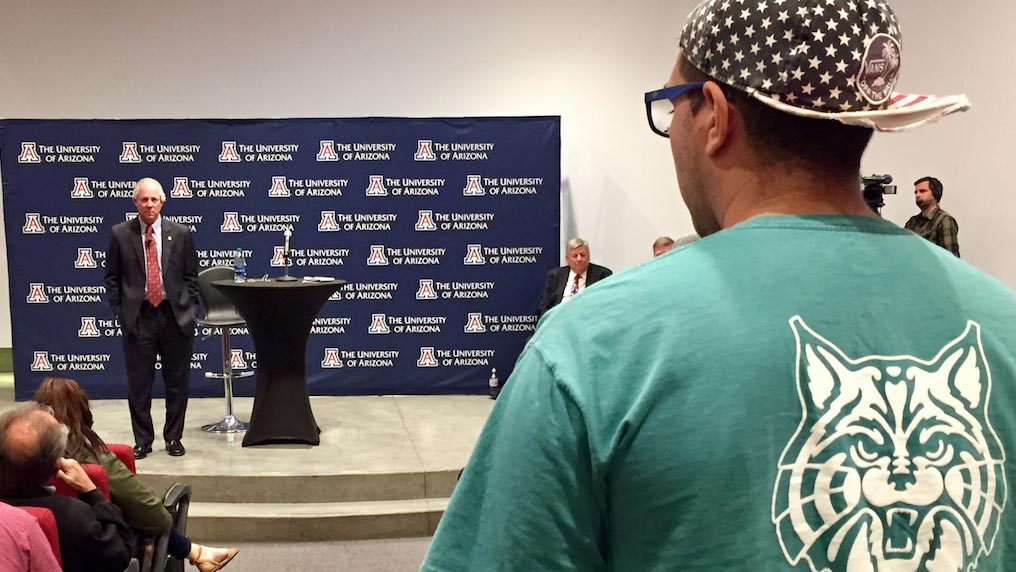 UA presidential finalist Robert Robbins takes a question from student Stefano Saltalamacchia, March 8, 2017.
Vanessa Barchfield, AZPM
The finalist for University of Arizona president spent Wednesday in Tucson and made his first official visit to campus, meeting with elected officials, students and faculty members.
Robert Clayton Robbins revealed that he began exploring the campus incognito months ago. That came in an exchange with graduate student Taryn Wright at the campus forum, which about 70 people attended.
"What is your vision for working with students and getting to know them individually, and really understanding what drives them, what brings them here to the University of Arizona?" Wright asked.
"Well, I already started," Robbins responded. "I started about three months ago making stealth visits with baseball caps and that kind of stuff and asking students what do you do here. And you know I got some strange looks, and (said) well my son may be interested in attending here, so then they started opening up."
He said repeatedly that he will be a part of the community and wants to be responsive to the myriad demands on himself as the leader of the area's largest employer.
"I plan to be involved in major community organizations, to have a presence and meet with the elected officials, with the business leaders of the community, with special interest groups and certainly on campus to be accessible to students, faculty or staff," Robbins said.

UA presidential finalist Robert Clayton Robbins. (PHOTO: Vanessa Barchfield, AZPM)
He said that means an open-door policy, and literally walking around.
"You'll probably find me out on the campus a lot," he said.
Students posed questions about policy and some of the challenges the university faces. Undergraduate Stefano Saltalamacchia asked about student protections.
"I'm looking for specifics on how you are going to ensure the safety of some of our marginalized communities on campus, with such a unique time in American history," Saltalamacchia said.
Robbins said the university needs to provide a high-quality education in a safe environment that fosters freedom of speech and diverse ideas.
"No. 1, I think that any student on our campus should feel special, should feel respected, should be treated with compassion, no matter where they come from and matter what their belief systems are and values are," he said.
One student asked about students without legal documentation to be in the United States. Robbins said they deserve protection, too, and he said he would follow the law and the policies of the Board of Regents.
"All the students should feel that we have empathy for their situation, compassion, that we care about them," he said. "We will provide them a safe place on campus at all times, and we will protect them to the utmost that we can under the law."
The regents in December sent a letter to then President-elect Donald Trump asking him to take steps to permanently legalize the students known as "Dreamers." The regents said in the letter that they would obey state and federal laws, and some "Dreamers" were critical, saying that stance was not more forceful on their behalves.
Robbins also was asked about the relationship between Banner Health and the medical school, about how much he values the arts and humanities and a range of other topics.
When introducing him, Regent Bill Ridenour said the board was looking for longevity in the next president. After the forum, Robbins, who is 59, explained how he interprets that.
"I would hope that I can go for at least 10 good, hard, productive years, but maybe 15," he said. "I'll be near 75 in 15 years. That's probably getting to the natural expectancy of someone in this position."
Robbins is being referred to as the "finalist" for the job because he and the regents must negotiate a contract. He said he makes about $1.2 million as CEO of Texas Medical Center.
UA President Ann Weaver Hart earns a base pay of $475,000, which she will continue to receive through the middle of 2018.
Asked how money will play a role in the contract negotiations, Robbins said he knows his salary is higher than what Arizona's university presidents make.
"I would be shocked if I don't take a major pay cut," he said.
In response to a student's question, Robbins asked the public to hold him accountable once he sets specific goals.
"I appreciate your perspective," the student said. "I hope you don't mind that I'm going to be one of those students that hold you to these promises. Welcome to Bear Down Country."
Robbins responded: "Thank you very much. Go Wildcats! And I should have said in my remarks I expect all of you to hold me accountable to the things that we come up with as strategic initiatives and objectives."
The regents will vote formally next week on offering Robbins a contract, and a final vote on an agreement is expected April 6.