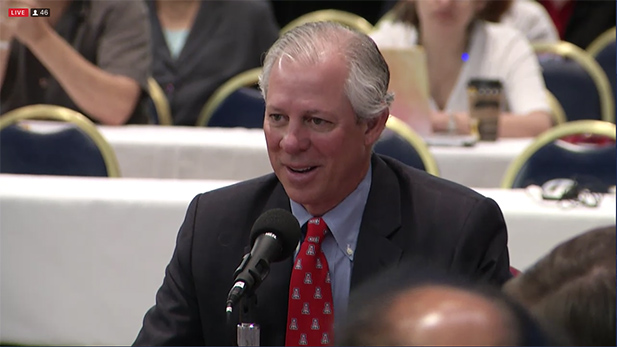 Robert Robbins at the Arizona Board of Regents meeting where his contract was approved, April 7, 2017.
Robert Robbins will make several public appearances at the University of Arizona in the next two days as he takes over the school's presidency from Ann Weaver Hart.
Robbins is scheduled to meet members of the campus community Thursday morning, his first day on the job, in an hour-long event near the Old Main fountain, starting at 8:30 a.m. Thursday afternoon, he will meet with the news media starting at 1:15 for a half-hour of questions at the Student Union.
On Friday, Robbins is scheduled to attend a VIP reception at Arizona Stadium in the afternoon.
Robbins will become the university's 22nd president. He comes to Tucson from the Texas Medical Center, where he was CEO, and he takes over from Hart, who decided to step down at the end of the fourth year of a five-year contract.
Robbins is scheduled for an interview with Arizona Public Media Friday. Hear it on NPR 89.1 Friday afternoon and see it on Metro Week Friday evening at 6:30 on PBS 6.