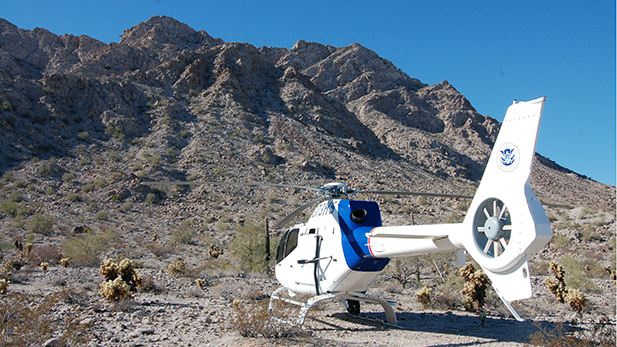 An Air and Marine EC-120B helicopter rests in Sunday Pass in Arizona's southwest desert, in 2009.

Courtesy of U.S. Customs and Border Protection
Arizona's border with Mexico was a key topic of discussion in a U.S. House Homeland Security Committee hearing today.
Homeland Security Secretary John Kelly opened the meeting with a statement that included the news he will visit the border between Arizona and Mexico later this week.
Tucson Republican Representative Martha McSally asked Kelly why the Border Patrol continues to use fixed checkpoints, such as one on Interstate 19.
"Fixed checkpoints that make the cartels go around the checkpoints into our communities while you catch Darwin Award winning low level criminals going through fixed checkpoints. It doesn't work," McSally said.
Yuma County Sheriff Leon Wilmot testified, saying the federal government should reimburse his county and others for the costs of jailing people caught after entering the country illegally.
"I will tell you last year, $30 million is what the sheriffs of Arizona had to swallow because we only got reimbursed 5 cents on the dollar," Wilmot said.
One unconfirmed report said Kelly's visit to Arizona will bring him to Nogales Thursday.