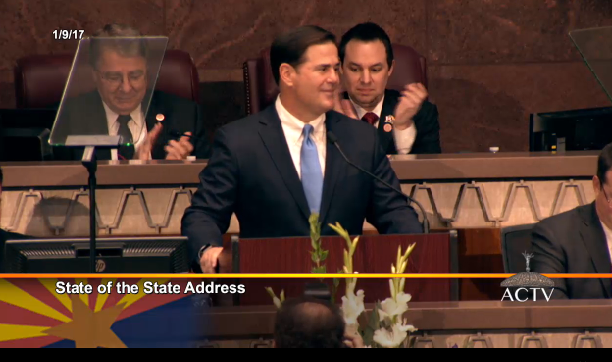 Arizona Capitol TV
Gov. Doug Ducey said Monday he wants to devote more money to public education in his remaining time as governor, including more teacher pay, all-day kindergarten for low-income schools and free college education for would-be teachers.
Ducey made the proposals in his third State of the State speech before a joint session of the Arizona Legislature, saying the state is beginning to move economically and must improve the educational system to support that.
"I have a commitment our educators can take to the bank: Starting with the budget I release Friday, I will call for a increased investment in our public schools - above and beyond inflation - every single year I am governor," the Republican said in prepared remarks.
Ducey said he would permit no tax increases while pushing his plan. He said his plan will build on last year's Proposition 123, which he pushed to voter approval for a higher percentage payout from the state Land Trust Fund.
In pushing the proposal last year, Ducey called it a first step in improving funding for public education, which tooks cuts some estimated at more than $1 billion - or about $1,000 per student - during the depths of the recession.
Ducey's plan outlined Monday includes:
"When we do have available resources like we do this year - the bulk of those dollars will go to public education."

"My budget will outline a permanent, lasting salary increase to all of Arizona's teachers. This will be above and beyond the raises they may be receiving from Prop 123, or overrides, from their districts."

Formation of an Arizona Teachers' Academy in a joint effort of the three state universities, with free education for anyone completing the program to become a teacher.

A $1,000 signing bonus for teachers who go to work in schools with low-income populations.

Changing the teacher certification process to get "the most qualified, most talented people leading our classrooms."

Money to start or expand full-day kindergarten for schools in low-income areas.

High-speed Internet connections for rural schools, including those on Indian reservations, to "break the firewall" and bring better science and technical education to them.
Ducey did not say where the dollars will come from for his plans except to refer to his budget proposal, due out Friday, and to the state's current positive revenue situation.
Legislative leaders have said they want to spend more on education, too, but they do not know how much or from where it will come.
Also in his speech, Ducey said:
The federal government should create a new U.S. Circuit Court of Appeals to move Arizona out of the 9th Circuit, based in San Francisco.

He was setting a goal of removing 500 state regulations that he said are hampering business growth, something he said will help attract more businesses from California, which he said Arizonans should "let ... move backwards with more nutty ideas." The governor recently took credit for luring Uber's driverless vehicle testing from California after that state wanted to impose regulations on it.

He signed an executive order Monday to provide people being released from state prisons with what he called the "miracle drug" Vivitrol, which can help block addiction to heroin and painkillers.

He will propose spending on cybersecurity improvement to protect the personal information of Arizonans.

The state should pay a "grandmother stipend" to grandparents and other extended family members who take in children to keep them out of the foster care system when they are taken from their parents.