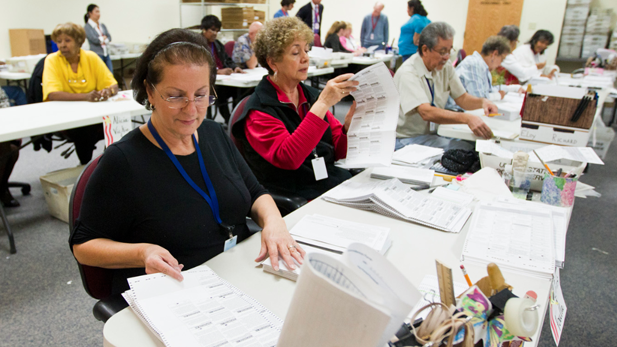 Pima County Elections Department workers process early ballots after the 2012 election.

Pima County Communications Department
Ballot counting in Pima County will take longer than in past presidential elections, county elections officials warned Monday.
"We wanted to alert you that Pima County's election night ballot counting will take slightly longer than in recent past presidential- and congressional-year elections," county communications manager Mark Evans said in an email.
Evans explained that elections officials were following a recommendation from the county Election Integrity Commission in 2015 to count all ballots at the Elections Department rather than at polling places.
As a result, Evans said, complete results that usually were posted by midnight in past presidential elections may not be available before 3 a.m. Wednesday.
When polls close at 7 p.m. Tuesday, the county will begin counting nearly 300,000 early ballots that arrived before Election Day. Results from that count will be posted a little after 8 p.m., officials said.
Votes cast at the polls Tuesday will be counted later, and early ballots turned in Tuesday before the 7 p.m. deadline will be verified and counted over the next several days.