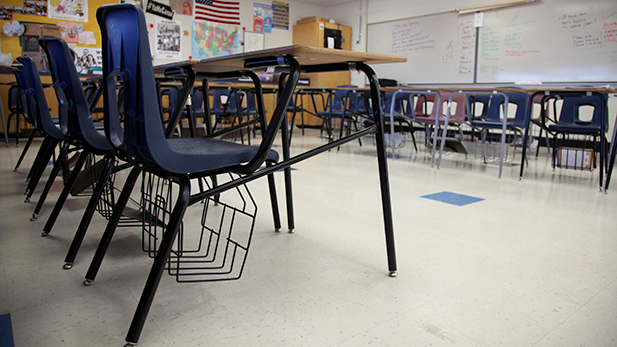 Fernanda Echavarri, AZPM
The race for Pima County schools superintendent features Republican Margaret Burkholder and Democrat Dustin Williams, both mathematics teachers who say they want better pay and working conditions for fellow educators.
They are vying for a job heavy in administrative duties, including overseeing school district budgets; conducting elections for bonds and governing boards in Pima County school districts; and appointing members to fill governing board vacancies.
But whoever wins in November will also be responsible for advocating for Pima County's school districts to local and state officials.
Ricardo Hernandez, CFO of the Office of the Superintendent of Schools, said the job also includes policy work.
Linda Arzoumanian, who has held the job since 2000, is not running for re-election.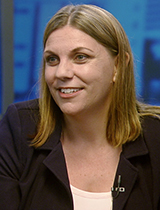 Margaret Burkholder.
Burkholder is a seventh- and eighth-grade math teacher and previously served on the board of the Vail School District. Williams teaches sixth-grade math in TUSD. He spent several years as assistant director of Ha:sañ Preparatory & Leadership School, a Native American charter school.
The two faced off at a forum last month and were asked what they thought was the greatest challenge facing the school superintendent.
Burkholder pointed to teacher recruitment and retention.
"And part of that has to do with the salaries that teachers are receiving," she said, adding that it's crucial to ensure that Pima County attracts the best teachers to its schools.
"I don't care what neighborhood you live in, what community you live in. Every child should have access to the best teachers. So how are we supporting those teachers?"
Burkholder said the challenge isn't just financial, it's also about giving teachers authority to handle disciplinary issues in their classrooms.
"And so one of the roles that the county schools superintendent can do is to advocate for teachers for those areas."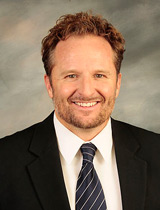 Dustin Williams (PHOTO: dustinwilliamsforeducation.com)
Williams said the biggest challenge has been the steep drop in state funding of education.
"We have a problem with our Legislature not doing what the Arizona constitution says they need to be doing, which is fund public education."
He said that's the reason teacher salaries are so low.
"Am I going to actually be able to have the authority to go and change salaries? No, the position doesn't do that. Can we advocate for that? You can absolutely bet that I will advocate for that."
The candidates were also asked how they would achieve meaningful working relationships with charter and private schools and parents who home school their children.
Burkholder stressed her experience.
"I've taught at a private school. I taught for an online academy where half of my students were overseas in China. I currently teach at a charter school."
She said she's also worked in school districts.
"Who is it that's going to be able to speak and work with those groups? Someone who's had that experience. Someone who has walked in those shoes. And that has been me."
Williams said he has already met with leaders of schools from around Pima County to understand what their needs are.
"The meet and greet is over," he said. "I've already been in there doing that. We already have actual plans that are ready to take place and make positive changes here in Pima County, and ultimately strive for the best education in Arizona."
The winner will oversee 17 traditional school districts, one special district and more than six dozen charter schools in Pima County.