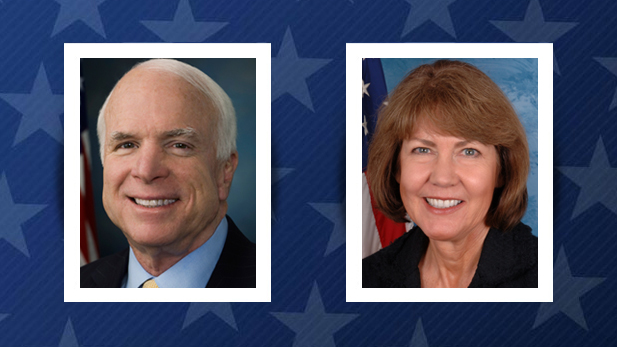 The presidential race is casting a big shadow over Arizona's U.S. Senate contest.
Donald Trump and Hillary Clinton were front and center for the only debate between Republican incumbent John McCain and Democrat Ann Kirkpatrick this week.
Senator McCain supported Republican presidential candidate Trump from the time he was nominated last summer, although he was critical of some of the Republican candidate's statements. On Saturday, McCain withdrew his support after the release of a video in which Trump makes vulgar comments about women.
"All of those things I thought were very wrong. But then when Mr. Trump attacks women and demeans the women in our nation and in our society, that is a point where I just have to part company. It is not pleasant for me to renounce the nominee of my party," McCain said.
Trump reacts on Twitter to McCain withdrawing support
The very foul mouthed Sen. John McCain begged for my support during his primary (I gave, he won), then dropped me over locker room remarks!

— Donald J. Trump (@realDonaldTrump) October 11, 2016
McCain's early support for Trump - and now his reversal - have had his opponent, Congresswoman Kirkpatrick, on the attack during much of the campaign.
Monday night's debate in Phoenix was no exception. At one point Kirkpatrick pointedly asked if McCain would trust Trump with the nuclear arsenal. McCain deflected, saying he doesn't support the Republican presidential candidate.
Such sparring has a been a constant in the campaign since its beginning. The back-and-forth also has also included jabs from McCain about Kirkpatrick's support for Clinton, which the congresswoman stuck to in the debate.
"I think she is the most experienced, knowledgeable candidate we've had for president in years," Kirkpatrick said. "But I don't agree with everything in her policies. For instance, I've been fighting against the EPA for our coal-fired electrical plants."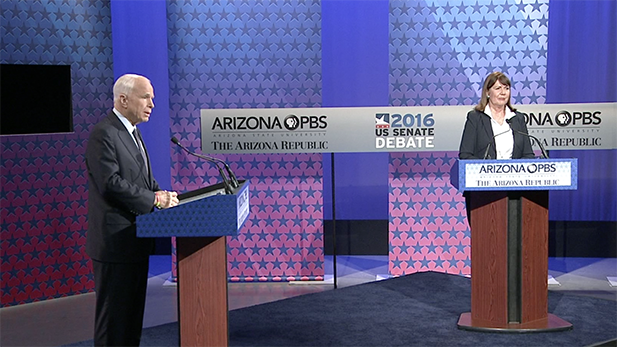 U.S. Senate candidates Republican John McCain and Democrat Ann Kirkpatrick participate in a debate on Oct. 10, 2016.

Courtesy KAET
McCain is seeking his sixth term, and Kirkpatrick is hoping to unseat him after spending three terms in the House of Representatives.
They've both stood by long-held positions in the campaign, although Senator McCain has changed his rhetoric on immigration.
Six years ago, his campaign tagline was "build the dang fence." Now, his stance is more nuanced, and instead is moving away from the idea of a fence.

"What works is sufficient Border Patrol, sufficient surveillance, sufficient interior enforcement as well. We have made significant improvements in border security, particularly in the construction of towers that can see many sections," McCain said.
"I'm sure that some people have visited China or read about China. The Chinese built a great wall at one point. That didn't work either."
That's another step away from Trump's position, which is to build a wall the entire length of the border.
Kirkpatrick is more direct in her opposition to the proposal.
"Donald Trump's idea of building a wall at the Arizona border is bad for business. But deporting 12 million people? That's personal to a lot of Arizonans," she said, adding that border security and immigration go beyond walls.
"We've got to pass comprehensive immigration reform, including the DREAM Act. You know we think we could do it now in Congress if leadership would let us vote."
McCain's view begins with border security, but he too goes beyond surveillance.
"We have to do a number of other things. One of them of course is E-Verify. That means that anyone who applies for a job has got to have a document that proves they are in this country legally," he said.
"I'm hoping that we can have a secure border, a path to citizenship. That means fines. It means background checks. It means back taxes. It means getting in line behind everybody else – a very tough path."
McCain has 100 percent name recognition in Arizona, while Kirkpatrick represents a district that covers all or parts of 11 counties in the state.
The incumbent has called it the most difficult race of his political career.