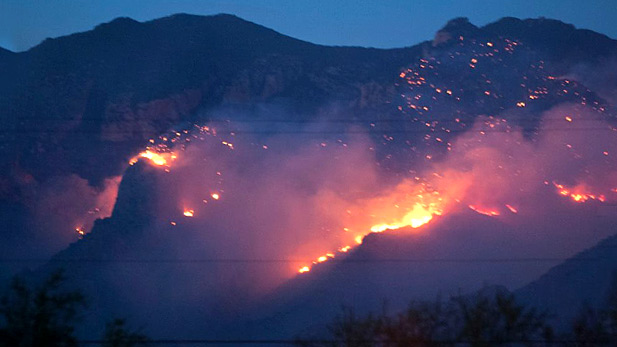 A lightning-caused fire burns near Finger Rock in the Catalina Mountains; August 5, 2015.

Kevin Raubenolt, AZPM
Listen:
Crews in the Coronado National Forest's Santa Catalina Ranger District have spotted about 15 unattended campfires a week in recent weeks.
Forest officials are warning the public that such fires can quickly turn into a wildfire.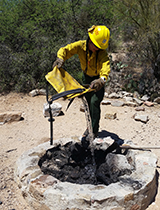 Firefighter Kristina Rask demonstrates how to properly put out a campfire. (PHOTO: Zac Ziegler)
"Right now we are in peak fire season, and the possibility of an unextinguished, unattended campfire becoming a wildfire is very real," said Coronado National Forest Firefighter Kristina Rask.
Rask said there are two things that are necessary to properly extinguish a fire: a shovel and plenty of water.
"You want to drown the fire out," she said.
That means pouring plenty of water on the fire, stirring the embers around in the water, and repeating as necessary.
For the small demonstration fire Rask used, she poured in five gallons of water total in repeated rounds of watering and stirring.
"If you want to check and see if there's any heat remaining, use the back of your hand and place it over the fire" she said.
The fires that have been found in recent weeks have been covered with dirt and rocks in an attempt to extinguish them, but such acts can do more harm than good.
"The rocks hold heat and create a funnel for air to come through and reignite the coals," said Rask. "Fire can also escape from underneath the dirt."
Rask and others on the Coronado National Forest said along with properly putting out fires, campers need to start fires only in places where there are designated fire rings that have been cleared of vegetation.
Never burn on a windy day, and do not leave a fire unattended, they said.