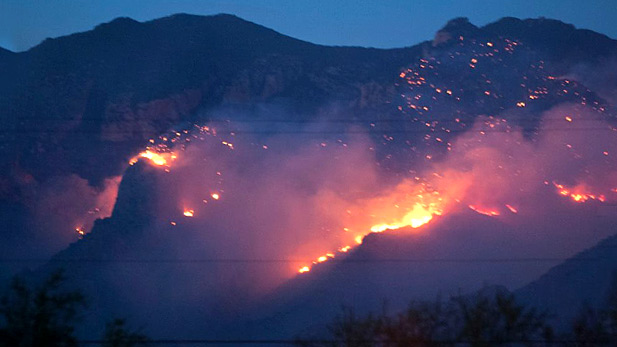 A lightning-caused fire burns near Finger Rock in the Catalina Mountains; August 5, 2015.

Kevin Raubenolt, AZPM
Listen:
The 2016 fire season is primed to be a severe year for wildfire in Southern Arizona.
If that sentence sounds familiar, it should. All you have to do is change the year, and it describes many recent fire seasons.
"We have had a couple of years with the potential for larger fires, and we really haven't had that come to pass," said the Bureau of Land Management spokesman Adam Milnor.
While past years have brought bad conditions, the accompanying fire has not been seen.
That can be a problem.
"There's maybe an extra level of vigilance this year when it comes to the southern part of the state," Milnor said. "Some of those grassland areas you have waist-high grasses that have built up from a couple of seasons."
Even in higher elevations, fires are already starting to catch.
"We are seeing fires that are getting started and growing to thousands of acres in a relatively short period of time," said Coronado National Forest spokeswoman Heidi Schewel.
A lack of big fires has left the area with plenty of fuels, which is one reason public land managers are concerned.
The other reason, plenty of precipitation since the last fire season.
"2015 was a green year, we saw green in places we hadn't seen it in years," said Southwest Interagency Dispatch Center spokeswoman Mary Zabinski. The center helps coordinate firefighting efforts and resources around the southwest.
"A number of places were actually finally removed from drought. Drought was no longer a factor," she said.
More than 13.5 inches of rain was recorded at Tucson International Airport in 2015. The average is under 11.5 inches.
"The downside of the upside is that the buildup of fine fuels, vegetation, certainly increases the risk for fires at low elevations in the grasses that spread quickly and chalk up the acres," Zabinski said.
An abundance of fuel has public land managers concerned every spark on open land is a chance for a wildfire.
So they are asking those who enjoy public lands to help them minimize at least some those sparks.
"The majority of fires we have in the national parks are lightning caused, but especially at the lower elevations, we have the potential for human caused," said the National Park Service spokeswoman Michelle Fidler.
For most people, preventing wildfire is a matter of acting wisely when using fire in any form, from cigarettes to camp fires.
Automobiles can also be a major problem. A car parked over dry grass produces enough heat to catch the grass on fire. And a bouncing chain along roadways from a trailer can toss sparks into dry roadside vegetation.
There is also concern for those who live outside of urban areas.
"As people are building homes closer and closer to open areas and open spaces," Milnor said. "I think it's more important to manage that vegetation around your house to make sure that you aren't putting yourself in a situation where your home is more at risk that it needs to be because of wildfire."
It is not just vegetation that needs to be cleared.
"If fire danger is high, make sure that you move wood piles or even lawn furniture at least 30 feet away from your home," said Fidler.
Public land managers said fire has a natural place in Southern Arizona. It has cleared the land of dead vegetation and revitalized soil for millennia.
They hope that naturally-occurring fire will be allowed to do its job while not having ill effects on people in the area.