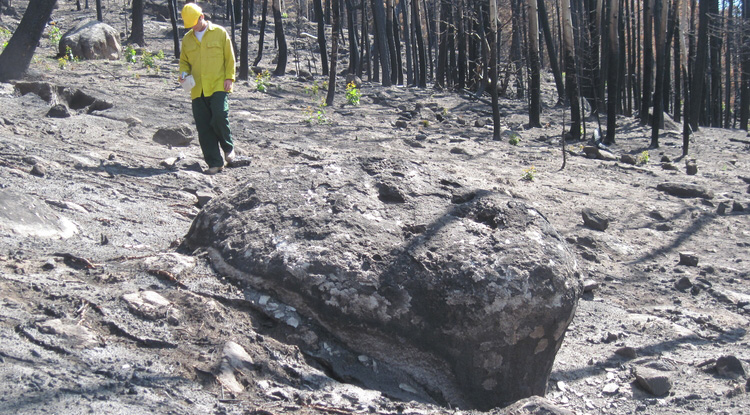 University of Arizona geosciences professor Jon Pelletier walks through the forest on Cerro del Medio, a mountain in New Mexico's Valles Grande, after the 2011 Las Conchas fire.

Caitlin Orem
Listen:
University of Arizona researchers found that soil erosion increases dramatically in years immediately following forest fires.
Geoscientists were already studying erosion in watersheds in the Valles Caldera in northern New Mexico when a major forest fire hit in 2011. The Las Conchas fire allowed them to see the immediate effects on the landscape of a wildfire.
UA geosciences professor Jon Pelletier and former doctoral student Caitlin Orem authored a research paper in the Journal of Geophysical Research: Earth Surface detailing the findings.
"We found that wildfire was responsible for 99 percent of the total erosion over geologic time scales – so thousands of years to millions of years," Pelletier said.
Pelletier said other studies had indicated that wildfires were a major cause of erosion but "to find numbers that were that high, 99 percent, was truly remarkable and surprised us."
Pelletier said forests are changing and disappearing from the western U.S. for a variety of reasons. If the soil is being removed by erosion at an unsustainable rate, vegetation may not be able to return after a fire, affecting the ecosystems and putting structures in danger from flooding.
The Arizona Science Desk is a collaboration of public broadcasting entities in the state, including Arizona Public Media.