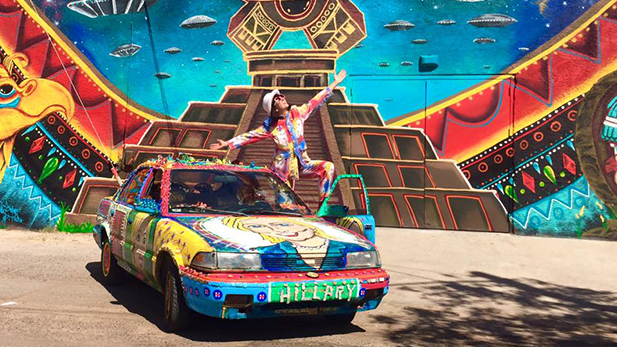 Courtesy Gretchen Baer via Facebook
Listen:
Bisbee-based artist Gretchen Baer may just be one of the brightest Hillary Clinton fans in the country but even she's eclipsed by her car.
"I have a 1989 Toyota Corolla that is completely covered in portraits of Hillary," she said. " All kinds of jewels and gems and toys that I've collected over the years. And so it's just a sparkly piece that makes people smile."
Her car's name?
"The Hillcar."
Worried her 27-year old car might not make a trip across the country, she shipped the Hillcar in an auto carrier and flew out to meet it in the final furious campaign days before the New York primary.
"I decided to do it because I realized that I have the opportunity to make my voice heard not only as a Hillary Clinton supporter, but also as an artist who lives on the border."
Baer runs Border Bedazzlers, a program for kids in southern Arizona and northern Sonora to paint the border wall that separates them.
She said she is bringing a message about the importance of having a good relationship with Mexico, and she wants people to know that art can change the world.
The Big Apple response to her Hillcar?
"Thumbs up everywhere," she said. "I wasn't sure in the city how that was going to go. But everywhere we drive, which we're all over the city. We've been from top to bottom and we've been into the Bronx, Queens, Brooklyn. We've been all over the place already and everyone loves it."
And she said it's not just Clinton fans - she's gotten those enthusiastic thumbs up from Sanders' supporters too.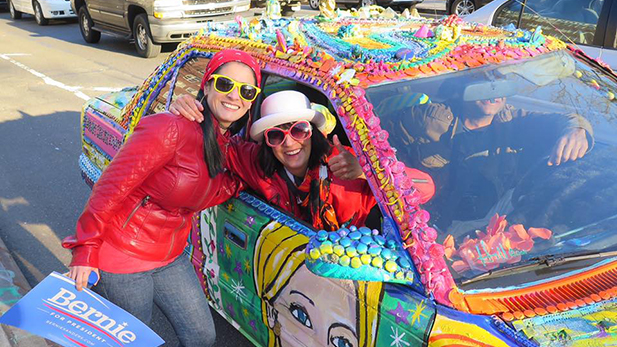 Courtesy Gretchen Baer via Facebook
From New York, Baer will hit the road in Hillcar for more campaigning in Connecticut, Rhode Island, Pennsylvania and Maryland.
They'll both be back in Bisbee by the end of the month.