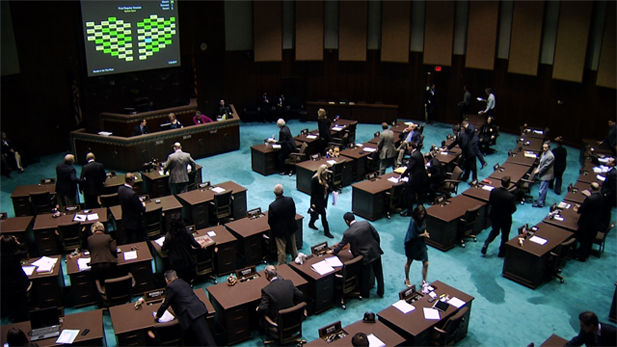 Members of the Arizona state Legislature meet at the Senate Building.

AZPM
Listen:
A bill that would make members of Arizona's Independent Redistricting Commission elected instead of appointed passed a committee vote Monday.
Rep. Warren Petersen, R-Gilbert, sponsored HCR 2009. He told the members of the House Elections Committee on Monday the proposal is about integrity not the commission's partisan makeup.
"I think based off voter registration and the lines of the state, and the current state of things, you would see a board working with integrity," Petersen said. "You would have seen you know a slightly different outcome than we have now."
Arizona's constitution requires the commission be made up of two Republicans, two Democrats, and one independent.

Rep. Ken Clark, D-Phoenix, objected to the change. He said it has no partisan requirement and is bad for integrity.
"The language in the original constitutional amendment, approved by the voters, language restricts who can be on the commission. As in, cannot be previously a candidate, cannot be a lobbyist, cannot be a campaign manager that is strike out of this language," Clark said.
When the Redistricting Commission finished drawing the state's political maps in advance of the 2012 election, Republicans complained the maps were drawn favoring Democrats.
Republicans hold majorities in both legislative chambers and the Arizona Congressional delegation. The House Elections Committee approved HCR 2009 on a 4-2 vote. It still must clear the full House and Senate before heading to the ballot.