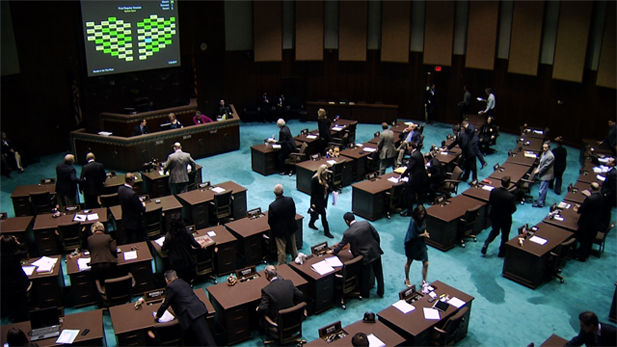 Members of the Arizona state Legislature meet at the Senate Building.

AZPM
Listen:
The Arizona Senate Thursday approved changes to the commission that determines boundaries for legislative and congressional districts.
SCR 1017 would expand the commission from five members to eight members. The political make up would be three Republicans, three Democrats, and two independent members.
If the eight member commission has a tie vote on the drawing of a map and the tie cannot be broken for 10 months, the legislature would then draw the map.
"I don't understand how anybody could think that is a good idea," Sen. Andrew Sherwood, D-Tempe, said. "Inmates should not be able to sentence themselves and lawmakers should not be able to draw their own maps."
The Arizona Independent Redistricting Commission was approved by voters as a way to take politics out of the drawing of political district maps.

Voters must approve the proposed change to the Independent Redistricting Commission.
The Senate also passed SB 1519 a bill requiring voters to get a receipt if they give someone their early ballot to return. Exceptions are provided for family members, people who live in the same household, and mail carriers.