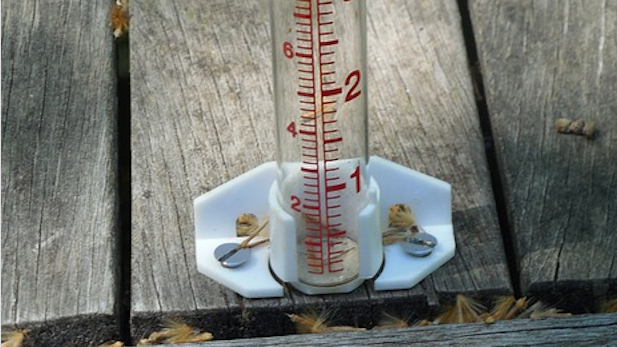 Listen:
By Amanda Solliday, Arizona Science Desk
A Southwestern Arizona resident's rain gauge collected more water during one storm this week than the area sees on average in a year.
The report of 4.6 inches of precipitation came in to the National Weather Service at Yuma, from the community of Somerton to the east, said meteorologist James Sawtelle.
The downpour was part of the remnants of Pacific Coast Hurricane Linda, which hit Baja California this week. It dropped a record of nearly one inch of rain in the gauge at the Yuma Weather Service office, Sawtelle said.
That much rain in Somerton is considered a 200-year event, which means there is 0.5 percent chance that the same amount of rain would fall in a single day during any given year, weather officials said.
The downpour would have gone unrecorded if it weren't for the volunteer, Sawtelle said. She and others like her complement what the National Weather Service is able to see with radar and satellite imagery.
"Those are the volunteers that give us the ground truth of what's really going on out there during storms," he said.
Several hundred individuals are trained as storm spotters by the National Weather Service in central and southwestern Arizona and southeastern California.
During storms, patches of heavy rain might not fall in a large enough area to be captured by official weather stations. So the data collected by storm spotters fills in these gaps and improves future weather predictions.
"The more resolution and the more detail your weather analysis has, the better your weather forecast is going to be," Sawtelle said.