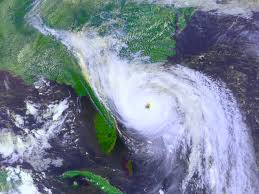 (PHOTO: Photo courtesy: NOAA)
Listen
University of Arizona atmospheric scientists are standing by their predictions for the hurricane season.

Earlier this summer, they forecast six hurricanes would form in the Atlantic Ocean, including the Gulf of Mexico and the Caribbean Sea. Other forecasters predicted fewer storms.

The Atlantic hurricane season is more than half over, and the region has seen two tropical depressions, including the storm called Erika, which formed in the Caribbean earlier this week.

"My own prediction is Erika will grow into a hurricane in the next few days," said U of A atmospheric researcher Xubin Zeng. "And the peak of hurricane season will be early September."
Zeng thinks the influence of this year's El Nino is making hurricane forecasting more difficult than usual.
Hurricane season ends November 1.