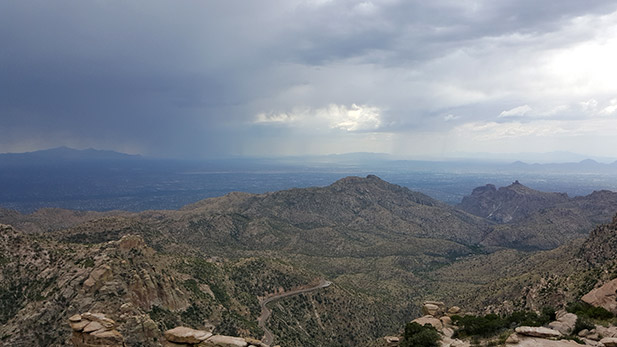 A monsoon storm forms over East Tucson.

AZPM Staff
Listen:
Sunday's monsoon storm slowed the spread of two wildfires burning in the Coronado National Forest north and south of Tucson.
The lightning-caused Ojo Blanco Fire started Thursday evening on Mount Fagan at the northern end of the Santa Rita Mountains.
It had been advancing toward the community of Corona de Tucson, but a storm hit the area at about 6 p.m. Sunday, largely halting the fire on its north side.
"We had moisture move through the area and knock the fire back pretty well," said Gerry Perry, a Coronado National Forest spokesman. "And then about 8 p.m., we really had a pretty substantial amount of moisture over most of the fire."
New estimates show the fire has burned 1,957 acres.
A pre-evacuation notice that was in effect for the homes at the foot of Mount Fagan was lifted.
Fire crews will continue working in the area, cutting a line between the fire and homes at the foot of the mountain in case the fire flares up again.
The same storm may have stopped another lightning-caused fire, the Bighorn Mountain Fire near Pusch Ridge in the Santa Catalinas north of Tucson.
It burned 3 acres, and Perry said a helicopter crew that flew over the area did not see smoke coming from the fire Monday morning.