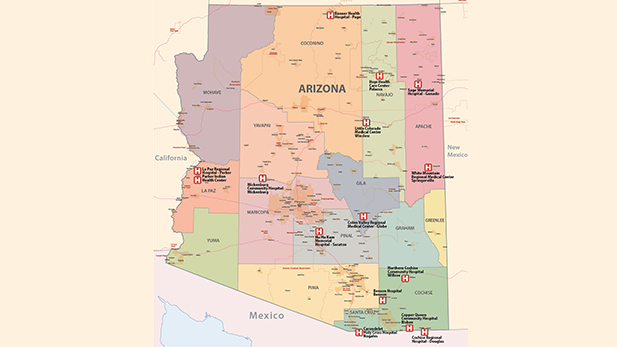 A map of rural hospitals in Arizona, including the Cochise Regional Hospital.

Courtesy of Daniel Derksen
Listen:
The Cochise Regional Hospital in Douglas is likely to shut down on Friday.
Medicare stopped making payments to the hospital earlier this month, citing repeated noncompliance with federal health and safety rules.
Medicare officials visited the hospital in March to investigate several patient care issues. According to a Medicare release: "The most significant [issue] was the facility's failure to monitor an inpatient placed in a waiting room for 1.5 hours prior to transfer to another facility where the patient became unresponsive, had to have a breathing tube inserted, and ultimately died after being transferred to another hospital."
On July 10, Medicare ended its provider agreement with Cochise Regional Hospital, cutting off the flow of federal dollars to the Douglas facility.
"Many times rural hospitals don't have the cash reserves - their margins are very thin - that they can keep their doors open if people stop paying them for the services that have been delivered," said Dan Derksen, director of the University of Arizona's Center for Rural Health.
Derksen testified in front of Congress earlier this week on the challenges facing rural hospitals.
Cochise Regional Hospital is one of four in Cochise County and serves about 20,000 people. If it shut its doors tomorrow, there will be a number of consequences. Its 70 employees would lose their jobs, the 24-hour, seven day a week emergency department would close.
"In general people would have to drive more than an hour to find a facility," said Derksen.
And the closure would have trickle-down affects for pharmacies and laboratories in the region.
Derksen said Cochise Regional is a position that many rural hospitals around the country have found themselves in. Over the past five years, 54 such facilities have closed - and 283 are at risk of closure.
"It would be a tragedy if Cochise Regional Hospital were the 55th," Derksen said.
Hospital officials are asking Medicare to restart payments during an appeal process and Derksen said he and others are working to help keep the hospital open after tomorrow.