Listen:
Charles the poodle terrier mix became one of Tucson's most wanted dogs when he disappeared from his apartment complex off of Fourth Avenue three weeks ago.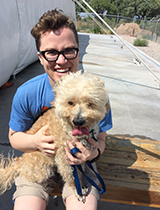 Courtney Robbins said she shook for hours after being reunited with Charles. (PHOTO: Courtesy of Jill Bramer)
"A gate was left open accidentally and he got out," said owner Courtney Robbins.
Robbins and an army of friends plastered lost dog signs on lampposts and in shop windows; if you've been to downtown Tucson in the past few weeks you've probably seen the posters with Charles' fluffy face looking directly into the camera, and with all the normal information in a lost dog sign. Weight: 20 to 25 pounds; responds to Charles or Charlie; contact information.
And there was one final appeal: 'he is very loved and needs to get home'.
Robbins posted the sign on her Facebook page as well and as one friend after another shared it, the story went almost viral.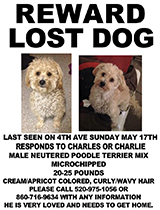 Robbins and her friends plastered lost dog posters on lampposts and in shop windows across downtown Tucson. (PHOTO: Courtesy of Courtney Robbins)
But one week passed, and then another, and still there was no sign of Charles.
"It felt like we had just exhausted all of our options," said Robbins. "Signs, Craigslist, every lost dog site we could find on Facebook, going to the Humane Society and PACC every day to check in person."
Just as she was losing hope, Robbins got a call earlier this week from an unknown number: A Good Samaritan had just dropped Charles off at the Pima Animal Care Center.
She said she was shaking for hours after picking up Charles, who was well cared for while away, even groomed.
Charles' first order of business upon returning home? A dip in the pool.
"He likes to put his feet in and drink out of it," Robbins said.
And then...
"He came in and sniffed around and grabbed a toy and then passed out on the couch. I think he was done with adventures for a while."