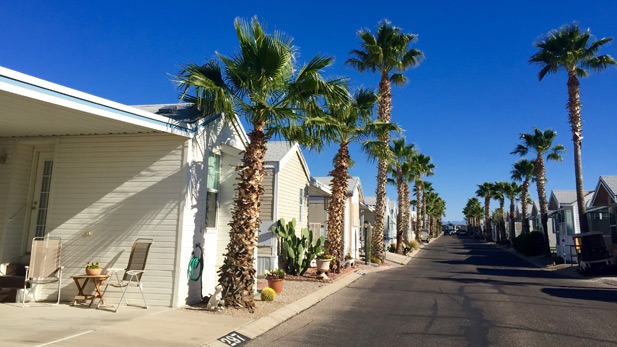 Vanessa Barchfield, Arizona Public Media
Listen:
Frida Silverman, who goes by Babs, moved to Tucson from the suburbs of Philadelphia about 25 years ago. She is one of about 700 residents who lives at the Voyager RV Resort year-round but during these warm winter months the park's population swells to somewhere closer to 3,000.
The Voyager is just off of I-10 and Kolb Road – it's one of the first RV parks you hit when you're driving into Tucson from the east.
When I met Babs she was getting into her golf cart – it's license plate read Ms Babs – and invited me to take a seat next to her for a tour of the sprawling park.
First up: traditional RVs. Some were little camper wagons that attach to trucks and others were huge and plush and look like tour buses that Lady Gaga would travel in.
A little further into the park we hit the section for park model homes – RVs that look a bit more like permanent domiciles. Babs lives in one of these with her cat, Miss Kitty.
Did she work before she moved to Tucson?
"Not really," she said. "I worked as a housewife. That's work enough. And I raised three children."
When asked what she liked best about her adopted home, she responded, "The facilities. It's here all, you don't have to go out of this place for anything. You got a restaurant, grocery store, ballroom."
All of the residents I met gushed about the activities. While Babs was showing me the lay of the land, across the park in a silversmithing studio, Greta Johnson from Wisconsin polished stones she bought at the gem shows days before, and a few doors down a group of about 30 people were at their weekly discussion on world affairs.
There was no consensus reached at the end of their talk. And nothing's really going to come out of these talks on big global issues. So I asked 94-year-old Bernie North what the point was.
"The purpose of these conversations is to stimulate your mind and interest in the world, beyond just being at the voyager. That's it," he responded.
Over the next few months the group is tackling the Syrian refugee crisis, human trafficking, and Brazil.
Outside under the sun people golfed and swam and played the most popular sport here – pickle ball.
"It's played on a badminton-sized court and it's a combination of tennis and ping pong," explained Judy Tormohlen from Colorado. "You use a paddle instead of a racket and the court's much smaller, so it's good for us old folks."
I asked her what life is like in her RV.
"We have a very small place in Colorado and when we go home it looks really big."
Meanwhile, Babs's tour continued.
"You notice I stop at all stop signs," she said as we breezed through a four-way intersection without even slowing.
Another resident I met at the Voyager was Rita Gillan from Ohio. She's spent the past 22 winters in Tucson. For the first two years she came with her husband, but has come alone for the many years since he passed away. So, I asked her, are there romances for the Voyager's singles?
"Oh I'm sure there are but I've had two wonderful husbands and I've had two friends and wonderful dance partners and at this age, I just love it the way it is."
It was her 84th birthday – but she would not be celebrating alone. Her friends were taking her to see a show at the Gaslight Theater later that evening.
By this point, Babs and I had circled the property.
She dropped me off and then headed home to Miss Kitty. As I drove out of the Voyager, I passed an RV rumbling towards the check-in. That's how goes at there: one in, one out, pickle ball and ballroom dancing, and not quite coming to a complete stop.