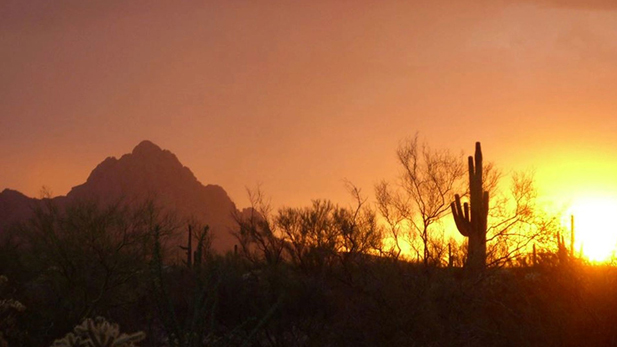 AZPM
Listen:
Feeling weak or nauseous? Any other time of year that might mean you're coming down with a cold or flu, but for the next few months those could also be signs that you've been overexposed to the sweltering summer heat.

It hit 104 degrees Sunday in Tucson and is expected to be nearly as hot Monday.
"All heat-related illness is preventable if we take the right steps, said Michele Manos, a consultant with the Pima County Health Department.
Most of those steps may seem intuitive: wear light-colored clothes, never leave children or pets in a parked car and stay indoors during the hottest part of the day.
"We encourage people to start to shift their schedules," Manos said. "If you normally take your walk at noon, it's time to think about taking it earlier in the day."
It's not just the triple-digit noon-time temperatures that pose a risk, but also the lack of humidity.
"That dry air every time we breathe is contributing a little bit more to our dehydration," she said.
The solution?
"Hydration, hydration, hydration. We can't say that enough," said Manos.
These aren't new problems, or new suggestions. But here's one that maybe you haven't heard before:
"Not only is our outdoor environment and home heating up, but so are our mailboxes," Manos said. "And many people receive medications through the mail - so it's very important to get those prescription drugs out of the mailbox as soon as possible so they don't become inactive or even harmful."