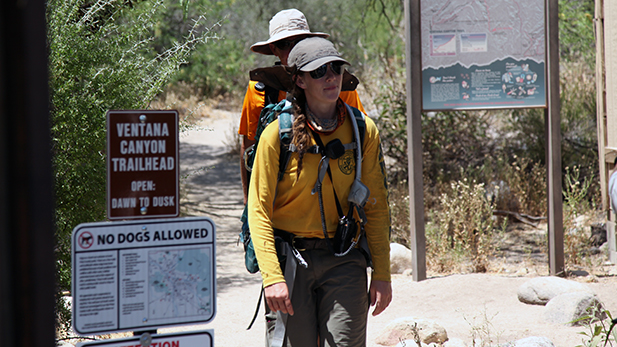 Volunteers with Southern Arizona Rescue Association return to the trailhead June 20. A hiker went missing, one was rescued and a third died on the trail June. 19, and the search continues for the missing hiker.

Andrea Kelly, AZPM
A hiker missing since Sunday was found dead Tuesday morning, the Pima County Sheriff's Department said late in the day Tuesday.
He was the fourth victim of extreme heat in the metro area last weekend. Three people were found dead Sunday.
Three men from Germany were hiking the Ventana Canyon Trail in the Catalinas north of Tucson Sunday afternoon as the temperature approached 115 degrees, sheriff's officials said. As the heat overtook them, one managed to walk out and summon help. Another was found dead. The search for the third ended when his body was found Tuesday.
Earlier Sunday, a 19-year-old woman died and her male companion was airlifted to a hospital for treatment after they were found on the Finger Rock Trail in the Catalinas.
A third heat-related death was reported Sunday on "The Loop," the county walking and bicycling trail that encircles the metro area. The victim, a 54-year-old woman who was walking for exercise around 3 p.m., succumbed near East Irvington Road and Interstate 10 on Tucson's South Side, a sheriff's press release said.
Sunday's high temperature of 115 degrees was the third hottest day recorded in Tucson. Tucson has not recorded a temperature that high since June 28, 1994, National Weather Service records showed.
Sheriff Chris Nanos advised at a news conference at the Ventana Canyon Trailhead that people eliminate outdoor activities, including exercising, for the duration of the heat wave.
"It's all because they make a choice. All of this is 100 percent avoidable," Nanos said, adding that people simply should stay indoors.
The weather system that brought the heat was nothing unusual for this time of year, although the temperatures are higher than normal, a meteorologist said.
"There's really no signal that it's any different than typical," said National Weather Service meteorologist Mike Cantin. "This is about the time of year that we can get these extreme warm days. Kind of that mid-to-late June time frame."
Of the 15 hottest days recorded in Tucson, 13 have come on dates between June 18 and July 4.
While the worst of the heat may have passed, more hot days are ahead. An extreme heat warning is in effect through Monday evening, and temperatures are expected to stay above average through next weekend.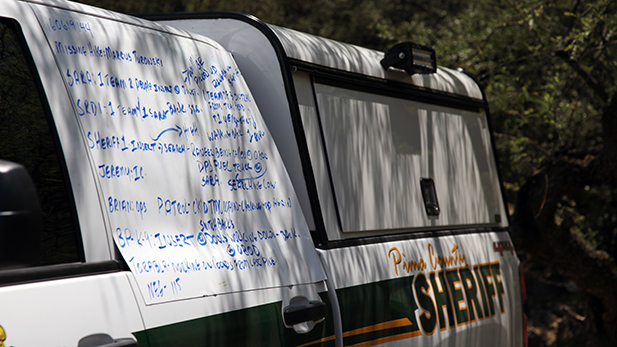 Many agencies are involved in the search and rescue effort for a missing hiker at the Ventana Canyon trail in Tucson. Temperatures have reached record highs and the hiker went missing during a window of time June 19 when three other people died.

Andrea Kelly, AZPM