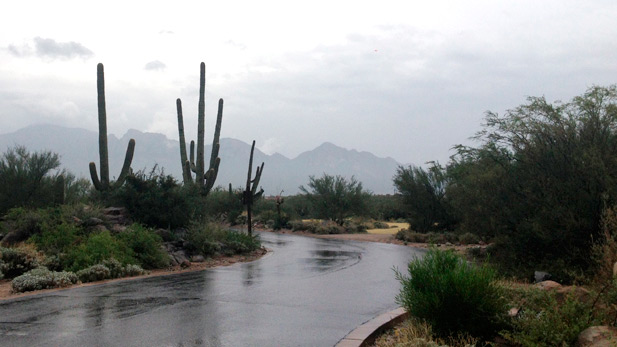 Rain at Stone Canyon, Northwest of Tucson

Mackenzie Greer
Daytime high temperatures are running as much as 15 degrees below normal in Tucson this month, including a predicted high for Friday of 75 degrees and a chance of rain
The unusual May weather is coming from the west, weather forecasters say, with low pressure and cold moving in and bringing unusual conditions around the state.
After a couple of days of cool temperatures, warmer conditions will come Sunday and beyond, the forecast says.
When will it hit 100 degrees? Normally, that occurs in mid to late May. This year, Accuweather.com is predicting the first day of 100-degree weather in Tucson will be May 29.
Meanwhile, road crews Friday plowed snow from highways in the Flagstaff and Williams areas.
The Arizona Department of Transportation reported crews were clearing snow Friday morning on segments of Interstates 17 and 40 near Flagstaff.
The National Weather Service said more than 7 inches of snow fell at its office in Bellemont west of Flagstaff by midmorning.