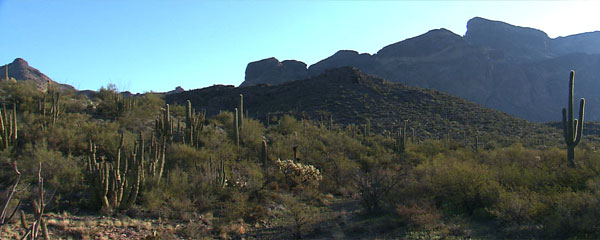 Organ Pipe National Monument
Listen:
The Arizona Borderland Protection and Preservation Act allows Border Patrol agents to access national wildlife refuges, parkland, and military property without requiring the agency to get permits.
Sen. John McCain, R, is the sponsor of the bill. During the Senate Homeland Security and Government Affairs Committee meeting he said illegal border crossers can go whereever they want but the Border Patrol is restricted.
Some on the committee disagreed with McCain's proposal. He made it clear the bill is a priority.
"I don't give a damn if somebody that lives in Delaware doesn't like my efforts to secure our border so that people who live down on our border can live in an environment of peace and security that the people of Delaware can live in," said McCain.
Environmentalists argue in places such as Organ Pipe Cactus National Monument, the Border Patrol is as much to blame for environmental damage as illegal border crossers.
McCain's bill was amended to include a study of its effectiveness. The proposal would also expire in four years.
Similar legislation sponsored by Rep. Matt Salmon, R-AZ, is pending in the U.S. House.