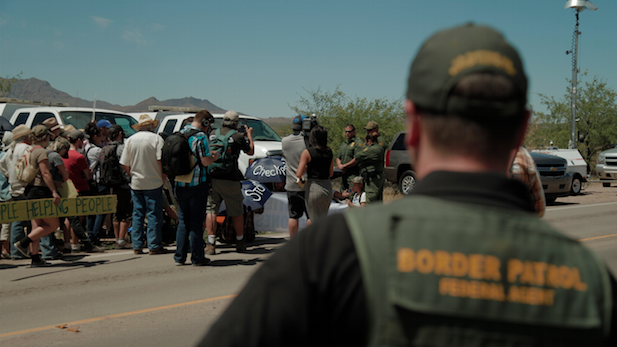 Protesters at the Arivaca Border Patrol checkpoint, May 27, 2015.

Bob Lindberg, AZPM
Listen:
Protesters gathered at a Border Patrol checkpoint Wednesday morning near Arivaca, demanding the station be shut down.
The demonstrators, made up mostly by Arivaca residents, arrived at 10 a.m. holding signs, wielding a megaphone and moving a giant puppet of a Border Patrol agent. They said they don't like inland checkpoints such as this one outside of Amado south of Tucson, where Border Patrol agents stop traffic.
"One of the problems is you can see my brown skin that God gave me," one protester said. "The problem is, I believe that when they see the brown skin some of the times they have to see an ID so they believe I'm a U.S. citizen."
Others blamed checkpoints for the deaths of undocumented immigrants, calling the forces and tactics along the border "militarization."
Manuel Padilla, chief agent of Border Patrol in the Tucson sector, was at the checkpoint Wednesday and said checkpoints like these help secure the state.