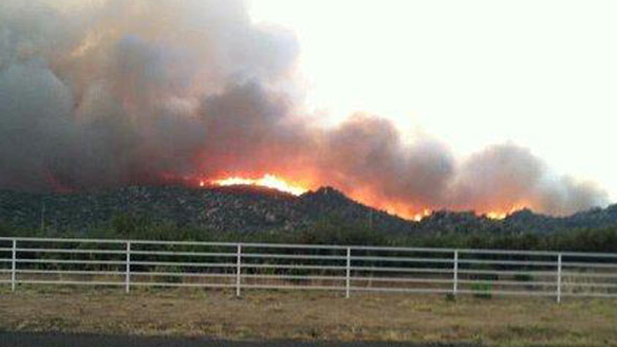 View of the Yarnell Hill Fire south of Prescott. The 8,400-acre fire killed 19 hotshot firefighters.

Incident Information System website
Listen:
The Forest Service plans to test an improved fire shelter in the field next year, picking up the pace of development after 19 firefighters were killed in Arizona's Yarnell Hill Fire nearly two years ago.
Testing is under way for materials for a shelter that can withstand high temperatures but won't be too bulky or weigh too much, said the Forest Service's Tony Petrilli, who points out that some firefighters already carry 40 pounds of gear.
Petrilli is fire shelter project leader for the Forest Service. He survived the 1994 Storm King Fire in Colorado in 1994. Fourteen other firefighters were killed in that blaze.
"More important than that is my son who is a firefighter," said Petrilli, explaining his rationale for working on the project. "So I'm very aware of the fire shelter and who carries it and how it performs."
In the past two decades, burnover and entrapment accounted for 25 percent of wildland firefighter deaths.
The second anniversary of the Yarnell Hill firefighters' deaths is June 30. All were members of the Prescott Fire Department and served as the Granite Mountain Hot Shots, an elite crew of wildland firefighters.