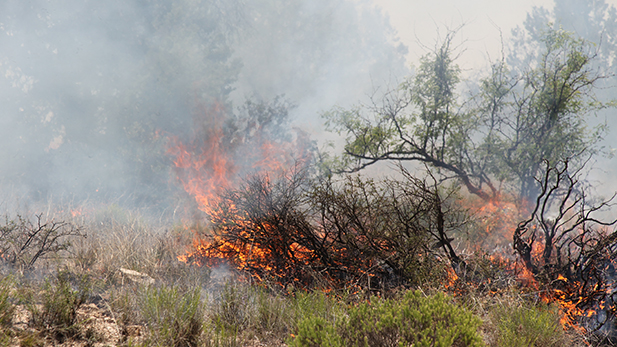 'Fire does have a role in natural landscapes.' - Coronado National Forest Spokesperson Heidi Schewel

Zac Ziegler
Listen:
By Mónica Ortiz Uribe, Fronteras Desk
SILVER CITY, N.M. - The 2015 western wildfire season is giving fire managers time to catch their breaths, after years of record-breaking conflagrations. A wetter than average spring is allowing them to focus on prevention.
There's a 4,000 acre wildfire burning north of the Gila River National Forest in New Mexico, but unlike previous years the mood is relaxed.
At a ranger station there, a firefighter tests his chainsaw. Nearby a student volunteer dumps ice into a cooler full of Gatorade.
The U.S. Forest Service is letting a handful of wildfires in the southwest burn naturally, including two in the Gila.
"Here in the southwest it's so dry our method of recycling is wildfire," said Fire Manager Gabe Holguin.
Fire is the forest's best housekeeper. It clears out dead organic matter and overgrowth that accumulates over time. Fire puts nutrients back in the soil, which contributes to new growth.
In the early 20th century, the Forest Service interrupted this process by suppressing all fires. That eventually led to the mega fires of recent years.
"Fire is just a natural part of the ecosystem," said Aaron Jones, who helps plan fire management in the Gila. "It's been around a lot longer than we have."
In Arizona, lightning-sparked fires in the Coronado and Coconino national forests are currently burning naturally. Summer monsoons have already begun to roll in to parts of the southwest, bringing even more relief to region grateful for a quiet fire season.