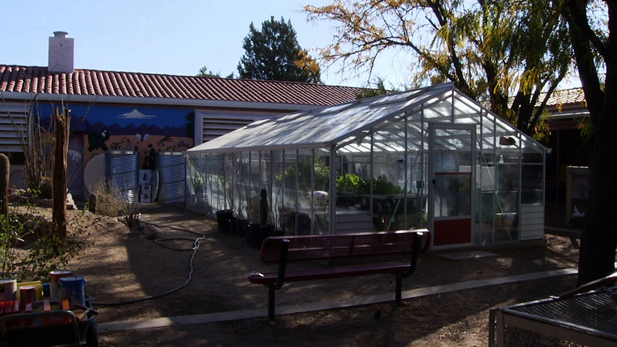 The greenhouse at Manzo Elementary serves as an invaluable tool to teach students about the importance of math, science, agriculture, and sustainability.

AZPM
Listen:
When Moses Thompson began to work as a counselor at Manzo Elementary School in Tucson several years ago, he decided to try something new for the students: he would use agriculture as a form of therapy.
Thompson thought this would allow the children to get closer to nature with hands-on experiences.
He was right.

"This program started on a vacant lot across the street from the school with like a handful of shovels that I brought from home," Thompson said. "Here, I am almost 40 years old working with chickens and tilapia and vegetable gardens and you know, the bulk of what I do."
But Thompson's role is expanding.
He has been named the ecology and sustainability program coordinator for Tucson Unified School District.
He's working with the University of Arizona to expand his ideas and practices.
As part of the cooperative effort and joint appointment between TUSD and the UA, Thompson is dealing with the university's College of Science, the College of Social and Behavioral Sciences and the Graduate College.
Students from the university can engage with the community, where they learn from real-world experiences and are able to add their own ideas to the mix, while helping their younger neighbors improver their skills.
"Within the next couple of years, we have our sights set on creating a curricula continuum for the students of Manzo, as they flow from middle and through high school," Thompson added.
"So we're looking to grow the Manzo program from a preschool through a fifth grade program into a preschool to 12th grade and into the UA programs," he said.
And while Thompson will be very busy overseeing the new endeavors, he said he wants to stay close to the seeds he planted several years ago.
"The program began as something that was therapeutic for the students, but in all honesty, it was incredibly therapeutic for me, and if I start the day with my hands in the soil and finish the day with my hands in the soil, then I'm in a good place," he said.