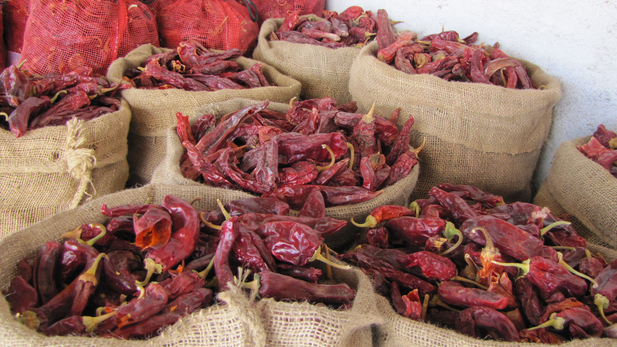 Fronteras Desk
Listen:
Chile is not just a crop in New Mexico. It's seared into the state's identity. The official state question, "Red or green?" refers to the sauce preferred on enchiladas.
Chile peppers first migrated north with Mexican settlers and have long since been adopted by nearly everyone in the state, including many in agriculture, where chiles are a world-renowned New Mexico crop.
But today, chile is facing hard times in New Mexico. Production is down 40 percent from record highs a decade ago, and acreage is at a 40-year low. That's despite better farming techniques that allow farmers to grow seven times more chile per acre than they did back in 1990.
Disease and competition from Mexico are major factors. But so is drought, which is driving more farmers to pump water rather than get it from the reduced flow in the Rio Grande. But groundwater is more of a curse than a blessing for growing many crops, including chiles.
"The aquifers tend to be salty," said Stephanie Walker, a vegetable specialist at New Mexico State University. "
Salt is part of a geologic legacy beneath the surface, leftover from ancient oceans that once covered the West. The shallow aquifer under New Mexico's chile fields concentrates the salt, and some estimates are that the salt concentration has quadrupled in just a few years.
"So the longer growers have to pump water … the more detriment to the vegetables that they are trying to grow," Walker said.
That detriment is in the form of root damage, which will weaken crops and decrease yields. It's a vicious cycle that can be a death sentence to certain forms of agriculture.

"This is the third year that I have not had one acre of chile," said Joe Paul Lack, who farms near Hatch, the state's chile capital. "I've been farming since the '70s…so yeah, that hurts."
Other farmers are finding ways of mitigating the salt problem. Hatch grower Scott Adams said he uses drip irrigation, and it helps push salt away from the root zone and increases his yield by 30 percent. But after harvest, the salt stays in the soil.
"Well, there is really no overcoming,' Adams said. "You just pray for river water."