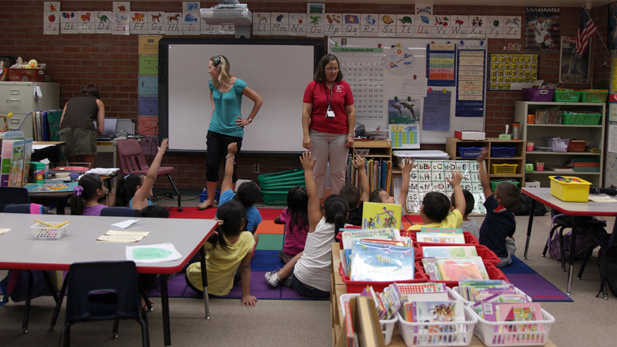 Julie McIntyre, principal at Myers-Ganoung Elementary School visits a class during the summer.

Fernanda Echavarri
Listen:
The start of school is more than a month away, and a drive to help teachers stock their classrooms starts Wednesday.
Tucson Values Teachers has collected supplies for teachers for seven years. This year, instead of distributing supplies, the group will give out $50 Walgreens gift cards to teachers.
"A kindergarten teacher might need very different tools for their classroom than say a high school science teacher," Tucson Values Teachers Director Katie Rogerson said. "This allows them to get exactly what they need and exactly when they need it."
What hasn't changed about the drive is the need for community participation. Donations from individuals and businesses fund the gift cards.
"I think it's important for the community to know that there is a way that they can help teachers," Rogerson said.
Rogerson said teachers often purchase classroom supplies out of their own pockets. They may also buy meals for children who can't afford them or coats for students in the winter.
Teachers can register to receive gift cards online from July 1-15. The number of winners randomly selected will be determined by how much money is donated.
Tucson Values Teachers hopes to outraise last year's total of almost $170,000.
Donations may be made online through the Tucson Values Teachers' website.