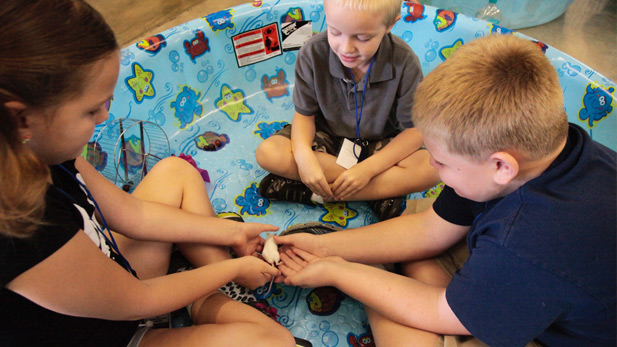 Vanessa Barchfield, AZPM
Second in a four-part series running through July

Listen:
Most summer camps encourage kids to break barriers and forge friendships. But at one camp in mid-town Tucson, those bonds are being built with furry, fluffy and sometimes scaly creatures - much smaller than even the tiniest day campers.
The Humane Society of Southern Arizona's Dog Days in the Desert Camp runs for six weeks throughout June and July. Campers spend several hours a day playing in empty plastic kiddy pools with a menagerie of the shelter's rescue animals.
On a recent Tuesday, seven-year-old Daria played with a guinea pig that, if she could name it, would be called Fluffy. She doesn't have any animals of her own, but seems hopeful to change that one day. She said she came to this camp to learn how to care for a pet, if she ever has one.
And according to Inge Koopman-Leyva, who runs the camp, that's exactly the point of all of the week-long camps.
"What we try to do in all of them is encourage children to be respectful of animals, to appreciate them, appropriate handling, to learn about the real responsibility and commitment of being a pet owner, not just when they're young and cute and cuddly, but really the nitty gritty," Koopman-Leyva said. "The cleaning up when you don't want to clean up, when you're tired, you still have to be responsible for them."
Other than guinea pigs, campers also played with rats, rabbits, mice, a snake named Monty, and four tiny kittens that didn't want to play so much as just be coddled.
Koopman-Leyva and several teenage counselors navigated through the enclosures, showing kids how to handle the animals.
One camper named Dylan has a python draped on his shoulders.
"It feels like a big heavy necklace that's squishing, moving around, on my neck," Dylan said.
While the kids had plenty of one on one time with the animals, it wasn't not just playtime. They were also responsible for cleaning the kennels and litter boxes, and feeding and grooming the pets.
Vatika Mering, 17, started coming to the Dog Days in the Desert nearly ten years ago and is now lead counselor. She said she's always felt a special connection to animals.
"I feel like animals fill in that empty whole that you have," she said. "Where sometimes you need to be with someone or something but not always people and animals are right there. They're loyal and they don't care about your mood. Or what you did during the day."
And while animals provide Mering quiet companionship that humans can't, Koopman-Leyva, who's watched Mering grow up, said they've also helped the once timid child flourish into someone who's good with kids and people – as well as animals. In a way, Mering embodies the underlying goal of the camp: that kids treat humans with the same compassion and tenderness that they would a small mouse, guinea pig, rat or kitten.
"We kind of use the animals as a metaphor of how kids should also treat their peers and ultimately grow up and how they should treat their kids and other individuals in our community," Koopman-Leyva said.
Part I: Summer Camp Fosters Inclusion, Understanding
Part III: Teenagers Ask Big Questions at Biosphere 2's Summer Academy
Part IV: On Court at Christine Clark Girls' Basketball Camp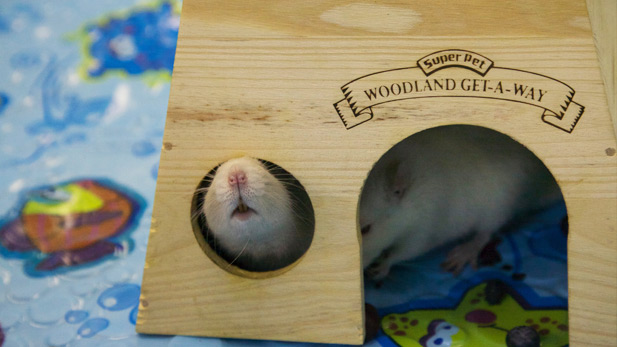 Vanessa Barchfield, AZPM