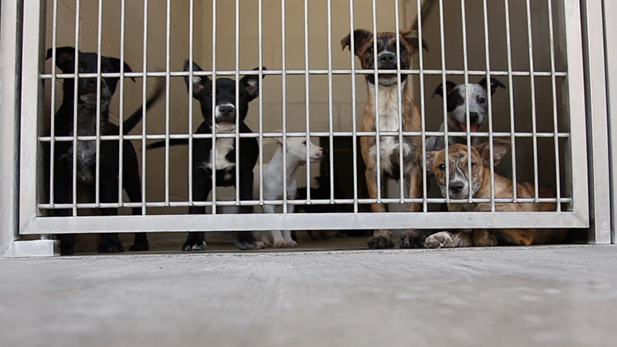 Puppies at Pima Animal Care Center July 8, 2015.

Sandra Westdahl, AZPM
Listen:
The Pima Animal Care Center is offering free adoptions through Sunday to help ease crowding at the northwest side facility.
The shelter took in more than 400 animals last week, pushing its population to nearly 900 cats, dogs, kittens and puppies.
Director of Development Karen Hollish said that's high, but not unheard of.
"On average, we take in around 50 to 60 pets every single day," Hollish said. "Being the only shelter in our community that never turns away a pet in need and having us upon a second breeding boom of dogs and cats in Pima County, we're just being hit really hard right now."
Summer was slow for adoptions, and the shelter has responded to a number of hoarding situations recently, both of which have contributed to the crowding.
Hollish said shelter officials hope to find homes for at least 200 pets from through Sunday.
"We're just very much hoping that the community will step up and come out and help us send all of these amazing animals to good homes this weekend."
All pets leave the shelter spayed or neutered, vaccinated and micro chipped and their adopted parents get a voucher for a free visit to a vet of their choice.
The shelter, at 4000 N. Silverbell Road, is open from noon to 7 p.m. Friday, and 10 a.m. to 5 p.m. Saturday and Sunday.
Animals will also be up for adoption at: • PetSmart at Oracle and Wetmore (cats, dogs, puppies and kittens) • PetSmart at Grant and Swan (cats, dogs, puppies and kittens) • PetSmart at El Con Mall – between Home Depot and Target (cats, dogs, puppies and kittens) • La Encantada at Skyline Drive/Campbell Road (dogs and puppies)