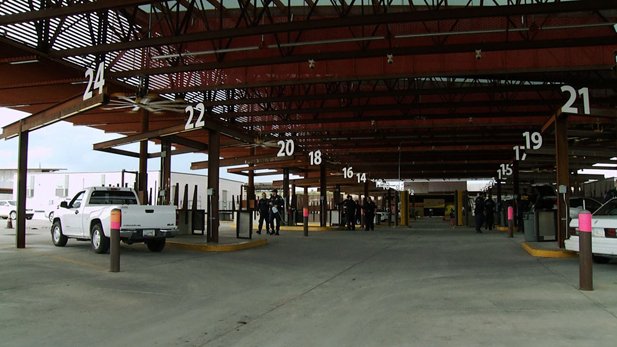 AZPM
First in a two-part series

Listen:
International trade has become a buzz word in economic development, and Tucson's proximity to Mexico puts it in the middle of it. Local businesses are working to make the city an international trade powerhouse.
The Port of Tucson sits just east of the Pima Air and Space Museum, a couple of miles north of Interstate 10 on Kolb Road.
The port and places like it are helping Tucson grow its role in international trade.
"The Port of Tucson is an 800-acre foreign trade zone," said Stefan Baumann, the director of business development at Port of Tucson. "As of right now, we have 1.8 million-square feet distributed in all these different buildings."
The Port of Tucson is at the intersection of rail lines from the east, west and south.
That means the big shipping containers carried on a train can come into the port early in the morning, and resume their journey by truck before noon.
And, according to Baumann, many do.
"I believe we do around 1,000 of those domestic boxes every month, but we have capacity to do 10,000 easily," he said.
The port is in a unique place. It's less than a day's travel for goods crossing the border in Nogales, and it's a day's travel to two of the biggest ports in the country, Los Angeles and Long Beach in California, where many goods from China arrive.
That means goods traveling from the U.S.'s number one and number three trade partners – China and Mexico – can be in Tucson less than 24 hours after they enter the country.
"I think Tucson is probably one of the most well-situated cities in the United States to take advantage of international trade," said Mike Valencia, president of the Southern Arizona Logistics Education Organization, an association of transportation companies. "This is something Tucson should have been doing 25-30 years ago, because just of our strategic location, but once we start putting all those assets in place, and we start building all that infrastructure, and we start announcing to the world that we're open for business, Tucson can take advantage tremendously."
Tucson must improve to become a key player in trade transportation, and one issue will be addressed when the Mariposa Port of Entry expansion opens in Nogales, Valencia said.
"Right now, 1,500 trucks a day come across the border through Nogales. The expansion will allow for 3,000 trucks a day," he said.
As for rail, east-and-west-bound lines are not an issue for Tucson, meaning Chinese goods can move through quickly.
Baumann said maquiladoras, manufacturers that operate in duty-free zones such as the Port of Tucson, are well aware that goods can easily travel from China to Tucson and then into Mexico.
"We're getting a lot of containers for the maquiladora industry from Asia through the Ports of Los Angeles and Long Beach. Many of those containers go down into Mexico as well," he said.
The goods often do their second leg by truck, not train.
That's because the rail line that runs from Tucson to Nogales lacks modern signals and metering that allow trains to handle heavy volumes.
Baumann said that doesn't stop businesses from making use of the line.
"Here we receive boxcars of beer from Mexico, and further down there's boxcars of sugar coming out of Mexico as well," he said.
Businesses use of the Port of Tucson to take goods from trains to trucks for delivery, a process called cross-docking.
"Long distances traveling by rail, then they cross-dock it in the warehouse and into trucks for distribution within Arizona, and the sugar even goes all the way into California from here," Baumann said.
Another company in the Port of Tucson uses the same rail lines to bring in chemicals used in mining.
Trade with Mexico is vital to the port, even thought most goods that cross into the country at Nogales go by truck.
"Tucson is in a a strategic advantage and a prime location in the United States," Valencia said. "It's one that we have not taken advantage of. We just need to promote it more, we need to get involved more, we need to tell the world that we're open for business here."
And by building on the already-existing trade logistics industry in Tucson, the city could become a trade destination.