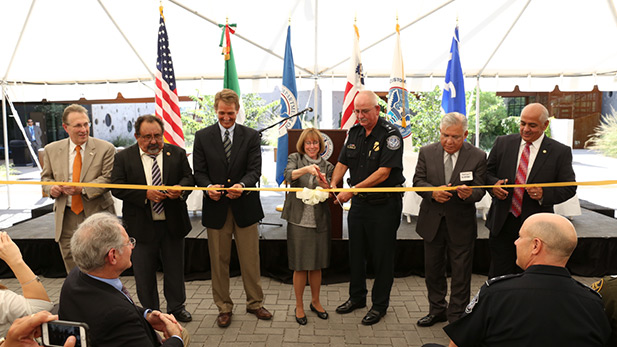 Federal officials, lawmakers mark opening of the new Mariposa Port of Entry in Nogales, following renovations. Among attendees, Nogales Mayor Arturo Garino, far right, U.S. Rep. Raul Grijalva and U.S. Sen. Jeff Flake, both near far left.

Jerry Glaser. Courtesy of Customs and Border Protection.
The expanded Mariposa Port of Entry in Nogales has been dedicated in a ribbon-cutting ceremony that drew local, state and federal officials to the border city.
Among them was Republican U.S. Sen. Jeff Flake, who enumerated the importance of the expanded port.
"Let me just throw out a few numbers to demonstrate the magnitude and importance of this facility here...4,000. That's the number of trucks per day that can now be processed through Nogales," he said. "Twelve...that's the number of car lanes now open to the public. Thirty-five billion...that's the expected value of goods that will be processed through Nogales this year."
The quarter-billion-dollar expansion has been under construction for several years, and both Mexican and Arizona officials have focused on it as key to building trade, businesses and jobs on both sides of the border.
Flake said what's already the state's busiest port of entry has bigger implications than trade with its number one foreign business partner.
"This port is not just Arizona's main gateway into Mexico. It's a place where America meets the world," he said.
Trade between Arizona and Mexico totaled $14 billion last year, half in imports and half in exports, according to the Arizona Commerce Authority. Expansion of the port at Nogales is expected to help grow those numbers.
Arizona Public Media's Andrew Brown was at the ceremony, he spoke earlier with Amanda Le Claire, listen: