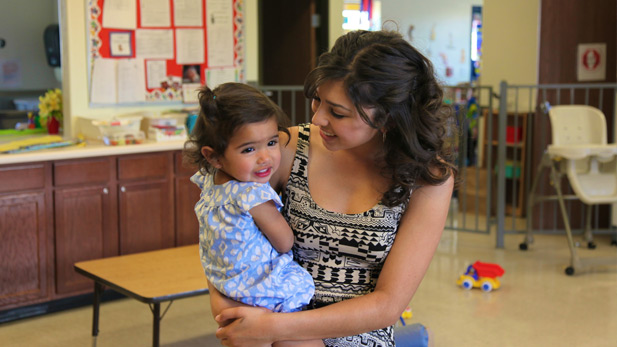 Vivianna Pardini, 18, and her daughter Yasleen.

Vanessa Barchfield, AZPM
Vivianna Pardini was 15 years old when she got pregnant. Three months into her pregnancy, she heard about Marana High School's Teenage Parent Program, or TAPP.
TAPP is a day care center tucked away in a corner of Marana High. It provides care to babies and toddlers when their teen parents, mainly moms, are in U.S. history and geometry classes. But it's far more than a day care facility. TAPP is where young people like Pardini learn how to be parents.

Listen as featured on Arizona Spotlight:
Pardini is now 18, and just finished her junior year at Marana. Over the past few years she's been able to go to classes, while her daughter Yasleen has spent her days at TAPP. The daycare facility is located in Marana's campus – and the goal is to help teenage moms get their high school diploma.
In 2012, Pardini was one of nearly 10,000 teenagers to get pregnant in Arizona.
Teen pregnancy rates have dropped steadily and sharply across the U.S. over the past two decades, and Arizona has followed that trend.
However, with thousands of teens getting pregnant each year, there's still a long way to go, said Stephen Russell, interim director of the Norton School of Family and Consumer Sciences at the University of Arizona.
"We think the rates (have gone) down and that's good news," he said. "But they're still dramatically higher than France, Germany, Switzerland."
Russell attributed the drop in pregnancy rates to increased awareness among teenagers about the risks of having sex.
"It used to be that you didn't expect young people to use a condom the first time they had sex and now that appears to be kind of a no-brainer," he said.
That greater understanding is in spite of fragmented formal sex education in schools. The state of Arizona doesn't require students to take sex ed. And parents have to give consent, to opt-in, for their children to take these classes, if a school even offers them. Only two other states in the U.S. have opt-in policies: Utah and Nevada. But unlike Arizona, both of them mandate sex education.
Listen about sex ed and more on this topic:
Recent reports by the Arizona Daily Star said fewer than a quarter of students take sex-ed classes at the five Tucson-area districts that track enrollment. Tucson Unified School District, Catalina Foothills School District and Sunnyside Unified School District don't count the number of students taking the classes.
Marana Unified School District, Pardini's district, doesn't offer any sex ed classes.
"In our own community you see this incredible diversity, where in one school you hear kids learning all kinds of things that we would call comprehensive sexual education that would include things like abstinence and relationships and contraception and the reproductive life cycle," Russell said. "And then you hear in another school, actually in the same district, where young people are hearing abstinence only kind of education. That doesn't include other types of information that they need to make healthy choices."
While instruction varies widely and is largely determined by the teacher, the Arizona Board of Education formally endorses a sex ed curriculum called Family Life Education, which stresses abstinence. It mentions contraception, but it doesn't include information on different types of contraceptives, how they're used correctly or where to get them.
Mary Anne Mosack, director of state initiatives at the National Abstinence Education Association, said her organization advocates for programs like Family Life Education in schools. She rarely uses the word abstinence, opting instead for the term "sexual risk avoidance" to highlight the link between sex and the risk of pregnancy and STDs.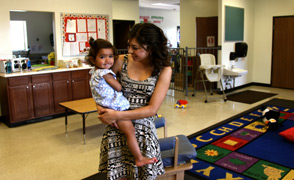 Arizona's sex-ed policies don't really matter anymore to Pardini. She's now concerned with graduating from high school, and taking care of her daughter Yasleen as best she can.

Vanessa Barchfield, AZPM
"We really emphasize sexual risk avoidance as the only way to eliminate 100 percent of that risk," she said. "And while those other programs do say that, they put it into a continuum, we actually put it into the context of the best choice that a student can make or a teen can make. If they want to be truly safe."

Vicki Hadd-Wissler, director of education for Planned Parenthood of Arizona, said abstinence should be taught in sex ed programs, but that it shouldn't be presented as the only option.
"I think it's important, and good comprehensive sexual education will do this, to keep abstinence in the forefront, that teens have better outcomes if they make the decision to be abstinent," Hadd-Wissler said. "But that's not the same as not letting them know about other options when they chose not to be abstinent."
And it's probably no surprise that a lot of teenagers are indeed having sex. Information compiled by the National Campaign to Prevent Teen and Unplanned Pregnancy shows about half of Arizona's high school students have had sex.
Russell said a lack of sex education leaves teens vulnerable, and he compares the state not to mandating sexual education to it not teaching financial literacy.
"And then we had a major financial crisis and we realized people leave high school and they don't know the difference between a debit and a credit card," Russell said. "People are largely self-taught about financial literacy and if we leave young people to be self-taught about sexuality, and in fact that's where the majority of people get their information is from one another or from the internet or from wherever, we shouldn't be surprised that we might not have the best outcomes in the realm of sexual health."
State Rep. Victoria Steele is a strong advocate for requiring sexuality education.
"A lot of people will say we don't need sex ed in schools because it's a parent's responsibility," she said. "But I think that the schools do a very good job and perhaps even better than parents when it comes to providing comprehensive sexuality education because they can cover the biological, medical and scientific facts. But still it is the parent's job to provide the moral and ethical guidance."
Steele introduced legislation earlier this year to change the state's opt-in policy, in which parents have to give their consent for their kids to take sex ed or to opt-out altogether.
Her bill never made out of a committee.
Other legislators known to support abstinence programs couldn't be reached for comment.
The state's sex ed policies don't really matter anymore to Pardini. She's now concerned with graduating from high school and taking car of her daughter Yasleen as best she can every day.