First in a Series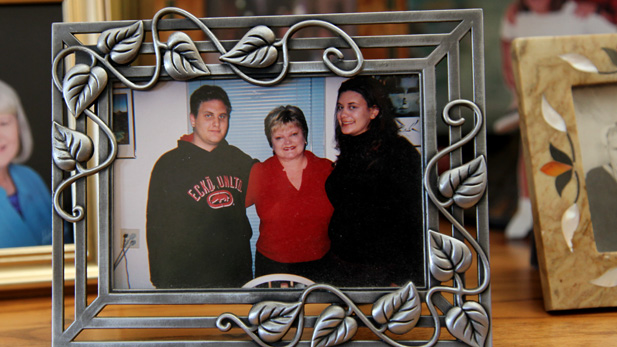 Daniel Moreno photographed with his mother and sister.

Fernanda Echavarri, AZPM

Listen:
Daniel Moreno was - among many things - a wrestler, a long-distance runner, a cook and a poet.
He was diagnosed with schizophrenia, and his mother Susan sought help for him, even taking him to the National Institute of Mental Health. Still, he died by suicide in 2005.
Daniel's death triggered a crusade mentality in his mother.
"It has become my passion to get out there and talk to people about mental illness and suicide," Susan Moreno said. "This is serious business, suicide is 100 percent preventable yet we have children dying from suicide."
By children, Moreno means teenagers. In Arizona, the percentage of teens left injured or poisoned in suicide attempts nearly doubled from 2003 to 2013, data from the Arizona Department of Education shows.
At just two centers in Tucson, the emergency room at the University of Arizona Medical Center and the Crisis Response Center, seven to 10 teenagers need medical attention every day after having suicidal thoughts or suicidal behaviors, said John Leipsic, UA assistant professor of psychiatry and child and adolescent psychiatry.
"And that's not counting the kids who go to Tucson Medical Center, other emergency rooms, SAMHAC (Southern Arizona Mental Health Corp.) and other community service agencies," Leipsic said.
Nationally, more than 15 percent of high school students have seriously considered attempting suicide, according to the Centers for Disease Control.
Suicide is preventable, and the first step is letting go of the stigma and taboo surrounding the topic, Moreno said.
Because suicides are often associated with mental illness diagnoses, the conversation is more difficult and the stigma is amplified. Experts advise to not keep talk of suicide a secret.
"When a young person dies, it's difficult no matter how they die, and as parents we always expect to go before our children, we think that we should have known we should have seen it coming," Moreno said.
Daniel spoke with his mother and with doctors at the National Institute of Mental Health hours before his death, yet "nobody saw it coming … he sounded really good to all of us," Moreno said.
A high percentage of people who die by suicide have a mental illness, "such as depression, so we need to talk about mental health when we talk about suicide," Moreno said.
As part of MiKid: Mentally Ill Kids In Distress, Moreno talks to high school students in Pima County about suicide prevention.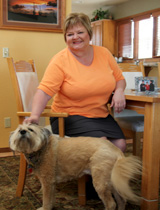 Susan Moreno at home with "Lucy" (PHOTO: Fernanda Echavarri, AZPM)
Lesbian, gay, bisexual and transgender teens are two to five times more likely to engage in suicidal thoughts and behaviors than heterosexual teens, data shows.
"We've learned in the last 10 years that some of the critical precursors to suicide or risk factors, such as depression or substance abuse, are higher for LGBT youth," said Stephen Russell, interim director of UA Norton School of Family and Consumer Sciences and president of the Society for Research and Adolescence.
Russell is working on a multi-city study tracking 1,200 LGBT teenagers for four years to try to understand the risk of suicide and how to protect LGBT teens.
So far, he has found that LGBT teens often perceive themselves as a burden to other people. If they are being bullied at school, for example, teens may feel like they are always upsetting their parents or their friends "because they don't know what to do if people are making fun of them or not accepting them."
Arizona consistently ranks in the top 10 the number of teen suicides, and the latest numbers from the Arizona Department of Health Services show there were 56 suicides of people under 19 years old in 2012.
Seven suicides of people under 19 years old were reported by the Pima County Office of the Medical Examiner in 2013, but suicides, especially those of young people, are underreported because of the stigma surrounding the issue.

Hundreds of teens in Pima County have suicidal thoughts and behaviors every week, Leipsic said.
"What we tell kids who have tried to kill themselves is that there is no shame or blame," Leipsic said. "They say 'well isn't it bad to try to kill yourself,' and we tell them not in the sense that they are going to be punished for it."
Suicide and suicide attempts should not be approached with prejudice or stigma, and "these conversations are valuable discussions we need to have community wide," Leipsic said.
Although social media can be a place where bullying takes place, it also has allowed for intervention after teens post suicidal messages on sites, such as Facebook or Twitter, he said.
"A student may post something on Facebook and the next day a friend or family member says 'I saw your post last night, what's going on?'" Leipsic said, which is something that teens might have done in a private diary in the past.
The Youth Suicide Prevention Program suggests that if a person suspects a teen may be suicidal, to first listen to the teen without judgment and ask about his or her feelings rather than fix the problem. Next, ask directly about suicide without being confrontational, and finally call a crisis hotline, contact a doctor or mental health professional.
"People should not be afraid to bring it up," Moreno said. "I found myself talking to a person one time and all these red flags were going off in my head thinking the person might be suicidal but I was afraid to bring it up."
Once Moreno asked directly, "Are you suicidal?" the person began to cry, and the two were able to talk about it and seek help.
Next in the series: Efforts locally and nationally at suicide prevention among college students, started after a University of Arizona student took his own life in 1998.
Listen to the other parts of this series:
Confronting Suicide Part 2: Prevention Top Focus for Colleges.
Confronting Suicide Part 3: Suicide Among Elderly.
Confronting Suicide Part 4: Reporters' Notebook.