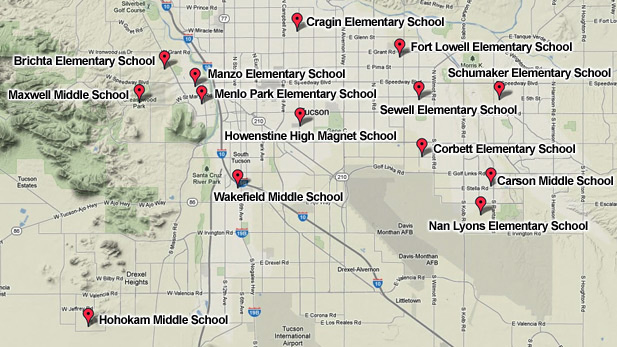 Tucson Unified School District schools on a list of possible closures.
If Tucson Unified School District officials shut down all 14 schools on the list of possible closures, they will save about $5 million, and still face most of the $17 million deficit the district is expecting.
How did TUSD get to a $17 million shortage? And what will officials cut to make up for the remaining $12 million?

TUSD has experienced a drop in enrollment in the last five years, about 2,000 students each year, said John Pedicone, TUSD's superintendent.
"There's heavy competition for students," Pedicone said. "Many of them have left TUSD to go to nearby charter schools."
Fewer students means less money from the state on top of already decreased funding from Arizona lawmakers. In the last five years, TUSD has lost about $50 million from enrollment declines and $50 million from state funding cuts, Pedicone said.
Federal stimulus money and funds collected through the one-cent sales tax are also drying up, so TUSD officials will make cuts to central administration, assistant principals and managers. There will also be cuts to kindergarten, after-school programs, substitute teachers, school nurses, librarians and counselors. Employee benefits also will be reduced.
Although closing 14 schools could save TUSD money, the closing process won't be cheap. Between accommodations and renovations to receiving schools, moving costs, busing costs and security, TUSD could spend between $30,000 and $100,000 per school, according to presentations from school officials at public meetings.
Last time the district shut down schools was in 2010, when nine were closed. Many of those buildings remain vacant. Some have been vandalized, and the district has been criticized at public meetings about the state of those schools.
"The governing board made the decision to not sell property," Pedicone said. "So that's going to be off the table for this district for any property we have."
The refusal to sell TUSD buildings is "because we made a commitment to these communities and we want to protect them," said Pedicone. He explained that if a neighborhood school is sold to a private charter school, for example, the private school could do what it wants with the building.
Also off the table is the option to rent out the schools that are likely to close at the end of the academic year, he said.
"This time around we will secure those schools right away," Pedicone said.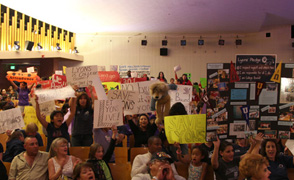 (Fernanda Echavarri)
School closures are not popular, he said, but if the district doesn't make significant changes now, it will be back here in a few years.
Townsend was the receiving school when Fort Lowell Elementary closed in 2010. The district spent money renovating the school to accommodate the new students, but now Fort Lowell/Townsend is on the list of closures.
Some of its students could be going to their third school in three years.
Many parents and teachers have asked board members at public meetings to keep neighborhood schools open, especially in areas with lower-income families. They have said thousands of students on Tucson's West side qualify for two free meals every day.
They eat those meals at their neighborhood schools throughout the year and during the summer when schools are only open to serve breakfast and lunch. By closing multiple schools in a small area these kids might go hungry in the summer.
TUSD board members Adelita Grijalva and Michael Hicks have said too many schools are up for closure on the west and the east parts of town. Those closures limit school options for parents who could take their kids out of TUSD altogether, Grijalva said.
There will be two public hearings to discuss the proposed closures on Saturday at 10 a.m., and next Monday at 6 p.m. at Catalina High Magnet School, 3645 E. Pima St.
The governing board is expected to make a final decision Dec. 20.
The 14 schools that could close are:
Brichta Elementary School, 2110 W. Brichta Drive
Carson Middle School, 7777 E. Stella Road 

Corbett Elementary School, 5949 E. 29th St. 

Cragin Elementary School, 2945 N. Tucson Blvd. 

Fort Lowell/Townsend K-8, 2120 N. Beverly Blvd. 

Hohokam Middle School, 7400 S. Settler 

Howenstine High School, 555 S. Tucson Blvd. 

Lyons Elementary School, 7555 E. Dogwood St. 

Manzo Elementary School, 855 N. Melrose Ave. 

Maxwell Middle School, 2802 W. Anklam Road 

Menlo Park Elementary School, 1100 W Fresno St. 

Schumaker Elementary School, 501 N. Maguire 

Sewell Elementary School, 425 N. Sahuara Ave. 

Wakefield Middle School, 101 W. 44th St.