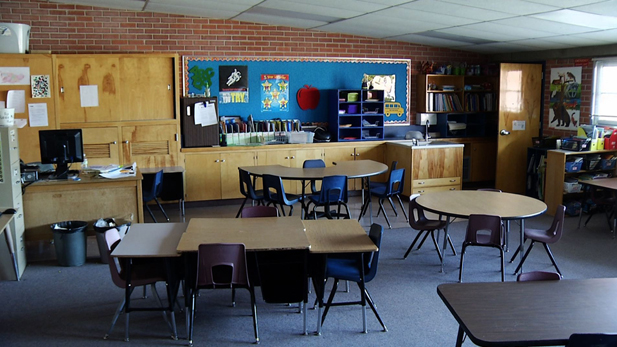 One of the closed TUSD schools sits with empty hallways. (PHOTO: AZPM)
By Bryn Bailer, for AZPM
Continually declining enrollments have led the Tucson Unified School District to close nearly 20 schools in the last six years. Many of those properties sit unused, and the district is now seeking lessees to make them useful again.
Last month, demolition started on the long-closed Fort Lowell Elementary School, located on the corner of Pima Street and Rosemont Boulevard. The heavily vandalized school property had been vacant since 2010.
Not far away, Jefferson Park Elementary School – located in a quiet residential neighborhood southwest of Grant Road and Campbell Avenue – was also shuttered in 2010 due to budget constraints. Today, the tidy property is home to the International School of Tucson, a private language-immersion academy.
The closure of that old school is a success story. Most haven't gone as well.
Before the Baby Boom went bust, TUSD had a peak enrollment of more than 63,000 students, and operated 120 schools. Today, it has 49,000 students, and operates 89 schools.
"It's due to an aging population, less kids per household, and charter schools," said TUSD Director of Planning Services Bryant Nodine. "And the economy has affected us because we used to grow due to housing development, and now there isn't much of it going on."
The district currently has 13,000 empty seats – the equivalent of 26 schools. Combined with state cuts to public education budgets, it couldn't afford to keep all schools open. It closed nine in 2010, and more in 2014.
When the district shuttered Jefferson Park Elementary, neighbors feared the worst.
"There was no precedent to go by, because it was the first," said Jefferson Park Neighborhood Association Vice President Suzanne Trappman. "In fact, we attended meetings trying to get them not to close it."
Nodine admits that mistakes were made during the initial wave of closures.
"The first time around, we really felt like we could find uses for the properties quickly," he said. "We realized it's not that easy."
Failure to board up the old school buildings and remove equipment to discourage theft didn't help, either.
"We went thru a learning experience with Fort Lowell," Nodine noted. "We didn't secure it originally, and we found a lessee, but the lessee wasn't somebody who could really handle the property – and they were responsible for securing it and they didn't – so eventually we took it back from them.
"But it had suffered a lot of damage in the meantime."
Aging schools, it turns out, aren't particularly hot properties in this area.
"The value of real estate is a function of what you can put on the property, and how much you can yield what you're going to put on that property," said Hank Amos, president and CEO of Tucson Realty & Trust Co.
Zoning restrictions and neighborhood concerns also limit what kind of projects can be located on the former school properties.
"Some of these school sites, might … only be able to get single-family residential on there, and they can only get so many homes on a piece of property," he said. "So that property is not going to be as valuable."
TUSD Governing Board President Adelita Grijalva says transactions involving government property can also be slow and frustrating.
"We reach out to the City Council wards, the Board of Supervisors wards, have them do outreach to their constituents, and have a community meeting," she said. "We have the organization that's going to buy the property come in to say, 'This is what we want to do. What do you all think?' Many times it's a back-and-forth exchange."
After years on the market, a handful of TUSD school properties are now in escrow – including old Fort Lowell Elementary. Workers are razing its graffiti-covered brick exterior. Bulldozers are downing tall trees that died after utilities were turned off. The former school's new owner will build a long-term medical care center on its 8.5 acres.
If not for creative leasing, other old school properties might be in similar dire straits, Grijalva said.
"We really are trying to do the best we can to utilize those campuses," she said. "We know any vacant property is going to be a blight on the community and bring down property values, and we don't want that to happen."
Toward that end, the district is leasing once-vacant Richey Elementary School to the Pascua Yaqui Tribe for five years at a cost of $1 a year. The former school – located near the old Pascua Village by Grant Road and Interstate 10 – is now a tribal community center.
The old Roberts Elementary School property is leased to Pima Community College for its Emergency Services Institute. Former Menlo Park Elementary houses a private school for children with autism. Rogers Elementary School property is home to Sky Islands Charter High School.
And TUSD turned abandoned Duffy Elementary – which had become a wildcat dump and playground for vandals – into its central clothing bank, special-needs testing center and School Board meeting site.
Leasing has worked well for Jefferson Park neighborhood, said association treasurer Joan Hall. The school is quiet, doesn't generate heavy traffic, and its grassy grounds become a city-maintained public park after hours.
"We were very concerned we were losing our anchor school," she said. "It has worked out very well."
Not all properties have been leased to outside groups. TUSD has relocated its daycare, furniture storage and community outreach services to the old Brichta, Corbett, Schumaker and Wakefield schools.
Grijalva said closing a school is never easy.
"These were hubs of the community, and when they were closed, communities want us to find someone to replicate that community feel," she said. "And it's a really difficult thing to do, considering the city, the county and other nonprofits are all going thru a really difficult financial time."
Of the TUSD schools closed in 2010 and 2014, two have been sold. The district is seeking tenants for a handful of others. Almost all are available for sale, if a qualified buyer is found.