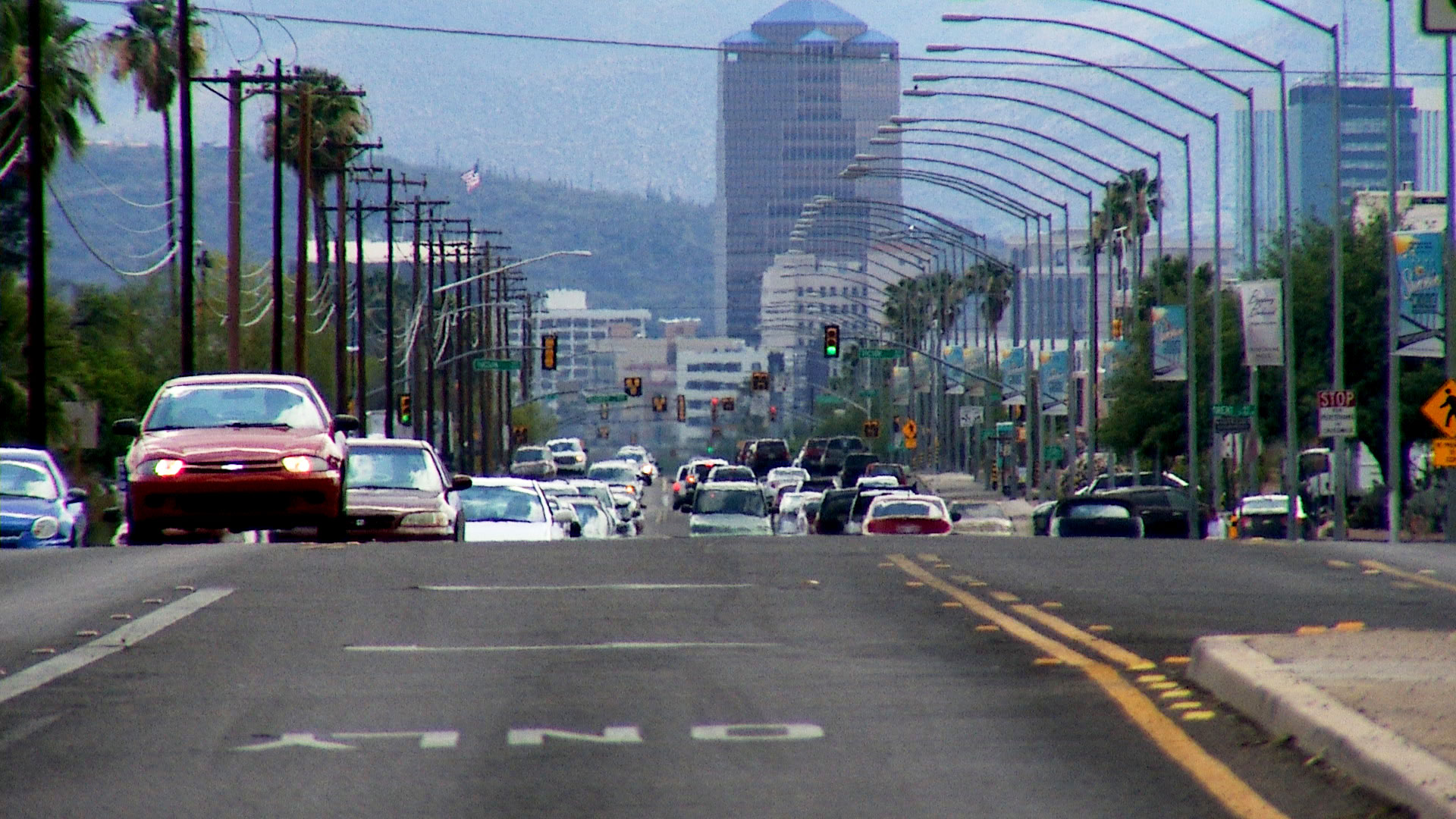 Downtown Tucson is seen in the distance from the intersection of Broadway Boulevard and Country Club Road.
AZPM Staff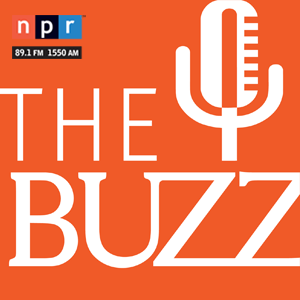 On its face, the widening of Broadway Boulevard between Country Club Road and Euclid Avenue does not look like a long-running project. Construction began in 2019 and officials held a ribbon cutting in October.
But the redesign of the Sunshine Mile has been in the making for decades. It was part of a bond project that passed in the late 1990s, and talk of how to design this stretch of road dates back years before that.
"By the time construction was imminent, it was clear that the traffic counts were flawed and what was on the ballot was no longer needed," said Tucson City Council member Steve Kozachik. "It was 150-feet wide, it was eight lanes. It was going to require taking out 150 of the small businesses and historic buildings mainly on the north side of the road. So many of us, community residents and myself as the Ward 6 representative, we pretty much went to battle against the [Regional Transportation Authority], the county and the city planners."
What now exists is narrower than what was originally planned, and most of those buildings still stand.
Some buildings were demolished to make way for the new road or to become shared parking lots that replaced roadside parking lost to the widening. The area was also redeveloped using overlay zoning, which allows for a new set of rules governing buildings along the renovated area.
"So we're finding that the zoning opportunities that we've put into place, the parking compromises that are now in place under the terms of the overlay, are making it so that the businesses want to stick around. They don't want to leave the Sunshine Mile, they don't want to leave the Broadway corridor now that the construction is out of the way and those headaches are gone."
Getting rid of those construction-related headaches has been a positive for Christine Abeyta, owner of Hairmosa Salon.
Abeyta had spent years working out of a studio in Mid Valley Athletic Club, but construction there caused her to relocate.
"I went around the corner and found 2425 East Broadway. It was a perfect location for us to start Hairmosa Salon, and in partnership with my daughters, we have started at the beginning of the pandemic, made it through the construction and we're still standing, so we're really proud."
Hairmosa opened its doors on the Sunshine Mile in early-2020, dealing with construction dust, and, a few months later, a pandemic.
"I think they were both a challenge, the pandemic was an obstacle no one saw coming, so we had to get creative, especially because we are direct service providers."
Abeyta said help from the City of Tucson, customer loyalty, and a big marketing push in places like social media helped the business catch its footing in a rough situation. And now that the business is established and growing, she said the hope is to stay in the neighborhood.
"I don't know that we will stay in the location that we are at long-term, but it was a great place for us to start and to create our brand. We are Tucson natives, so we're here to stay and we hope to stay on Broadway on the Sunshine Mile."
While Hairmosa is a newcomer to the Sunshine Mile, a longstanding fixture of the area is taking advantage of government help to expand.
Zemam's Ethiopian Cuisine opened its doors in 1995 in a location that had four tables and was funded on credit card debt.
Today, the restaurant has multiple locations and is about to greatly expand its Broadway location into a project called Z Street.
"[The expansion] is a city block of internationally-themed experiences," said Favin Gebremariam, daughter of Zemam's owner Amanuel Gebremariam, who recently returned to Tucson to help her parents and brothers with the family business. "We are expanding our original restaurant. we're actually tripling in size. Directly to the west of us, we're going to have an international sports lounge where you can watch your English Premier [League] soccer games, rugby and cricket matches, all the sports that are kind of hard to find in Tucson currently."
The property will also add a coffee shop that will mix American coffee shop fare with the traditional Ethiopian coffee experience.
"All three of those properties will have a communal outdoor space. It'll tie the whole experience in, and we are hopeful in the outdoor space to have four food vendor stalls where local chefs who don't necessarily have the capital to open up a brick-and-mortar can come join us at Z Street on a rotating basis and hopefully outgrow us."
There will also be a parking lot that Gabremariam said will make accessing all of this easier.
The original location of Zemam's was closed for two years, she said because of both the construction and covid, and they may have shut down entirely if not for the business' second location on Speedway Boulevard.
"We would have lost this business and had to start from scratch somewhere else, and somewhere else in the city but potentially somewhere not in the city, right? It would have been absolutely devastating for us. We've been in Tucson as residents for a really long time, and the city has been so good to us. And had my dad not had the foresight to think, 'okay, we've been talking about widening broadway for 15-plus years. we should probably think about what that would do to our current business."
Z Street is possible thanks to another governmental group's involvement in the Sunshine Mile.
Rio Nuevo helped fund the new project. It is also involved in helping another longtime area restaurant, Rocco's Little Chicago, build a new location. Rio Nuevo also relocated a series of historic bungalows that were slated for demolition to make way for the road and turned them into an area for small eateries and shops.
Rio Nuevo, which is funded by sales tax dollars within its boundaries, may be known primarily for working in downtown Tucson, but its boundaries reach as far as Park Place Mall.
"Our focus has been on downtown," said Rio Nuevo board chair Fletcher McCusker. "The original Rio Nuevo was focused on the far west side [of the district], but that was, my word, gerrymandered to allow the sales tax from the large malls to benefit Rio Nuevo."
McCusker said that Council Member Kozachik came up with the idea of involving Rio Nuevo in the project so that it could help with redeveloping properties in a way that made up for the parking spots that neighborhood businesses were losing to the widening project while also saving historic buildings and creating new gathering places.
"So we convinced the city and the RTA that, instead of demolishing [buildings], turn them over to Rio Nuevo and we will try to activate them, find alternative parking solutions and create some kind of destination along that two-mile section."
Rio Nuevo ended up in possession of about 50 government-owned properties along the Sunshine Mile. Those properties will go to a variety of uses, including the projects mentioned before.
McCusker said that this project allows many historic buildings to avoid demolition and give another neighborhood a unique feel akin to what is seen in a city that he sees as a model for Tucson.
"Tucson, and downtown Tucson, are very much on the map. We like to think that we're the next Austin [Texas], that you're going to see this migration toward downtown but a lot of it will be music-related, food-related, very much like you might see on Sixth Street in Austin."
MORE:
Business
,
Pima County
,
Culture
,
Downtown Tucson
,
Economy
,
Government
,
Infrastructure
,
News
,
Real Estate
,
The Buzz
,
Tucson
,
U.S.