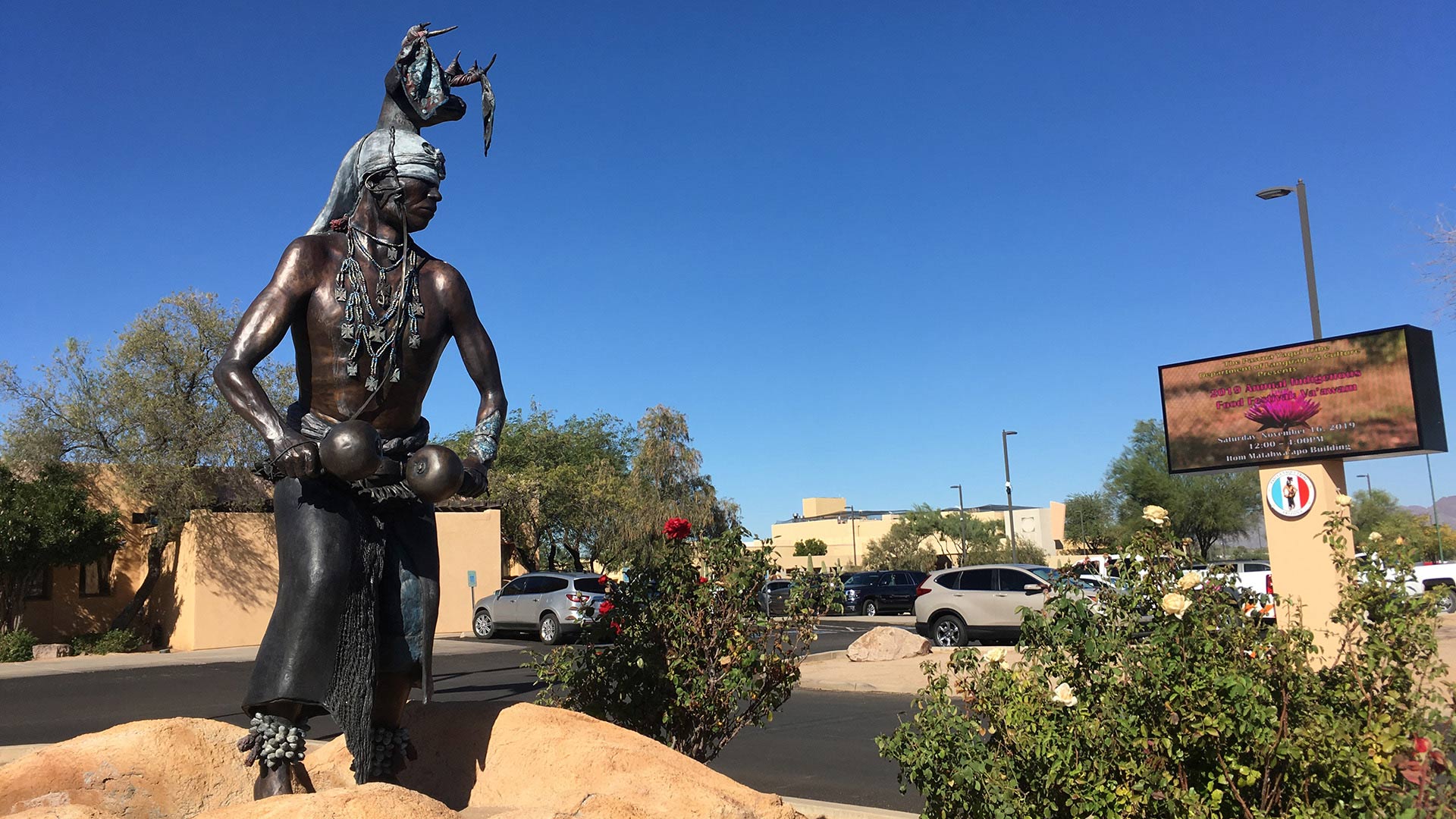 Deer dancer statue outside of the Pascua Yaqui Tribe's administration building.
Emma Gibson/AZPM
The Pascua Yaqui Tribe filed a lawsuit Monday against Pima County Recorder F. Ann Rodriguez as it continues its push to reinstate the former early in-person voting site in its reservation.
The tribal government's immediate goal is to reopen the early in-person voting site that the Pima County Recorder's Office closed in 2018 and a ballot drop-off site to operate October 26 - November 2. Jonathan Diaz is the voting rights counsel representing the tribe through Campaign Legal Center. He said more early in-person voting sites in rural tribal lands increases voting access by shortening the time needed to travel and get off work to vote.
"These burdens aren't faced by voters in other communities and those voters have greater access to early in-person voting. It's a compounding effect," Diaz said.
According to the lawsuit, the recorder's office has closed an additional three early voting sites within the Tohono O'odham Nation since 2018.
Though the Pascua Yaqui Tribe's reservation is urban, the Tohono O'odham Nation is rural. It's approximately the size of Connecticut and has one early in-person voting site in it. Sells, Arizona, was also home to the reservation's sole post office in 2018. Diaz said for those who do vote by mail, the lack of post offices and street addresses across this reservation mean traveling to one's P.O. Box to retrieve a mail-in ballot is also a time-consuming voting burden.

Campaign Legal Center Spokesperson Corey Goldstone wrote in an email that Rodriguez visited a potential early in-person voting site in the Pascua Yaqui Tribe's reservation Friday, and she had some "security and accessibility concerns" that the tribal government was willing to address. As of Monday morning, Goldstone wrote he didn't know if the recorder would open the site or not, so as early in-person voting begins this week, he said the Pascua Yaqui government decided to sue her for not reinstating the site over October 26-30.
Diaz said Rodriguez's decisions to close the site about a month before the August 2018 primary election and her office's refusal to re-open it since, disproportionally affects Native American voters in the county.

"Ballot access for Native voters can sometimes be an afterthought," Diaz said.
He said when the Supreme Court changed the Voting Rights Act in 2013 by removing the need for states, like Arizona, that have a history of voter discrimination to get federal approval before changing their election system, he has seen more early voting and polling sites close in communities of color.
"The only way that we can make sure that those election changes aren't having a discriminatory impact is through litigation like this," Diaz said.
Diaz said passing a new Voting Rights Act that reauthorizes the need for pre-approvals, would improve ballot access issues he and others are arguing now.
Recently, the tribe has received support in its fight to reinstate the site from Tucson Mayor Regina Romero and the Pima County Board of Supervisors.
"Local governments should do their best to offer and expand a menu of convenient early voting options, especially during a year in which COVID-19 safety protocols have increased the need to space out voters," Diaz said. "Instead, the county recorder's office has exhibited a disappointingly dismissive attitude about whether this historically disenfranchised community will have equal access to the ballot."