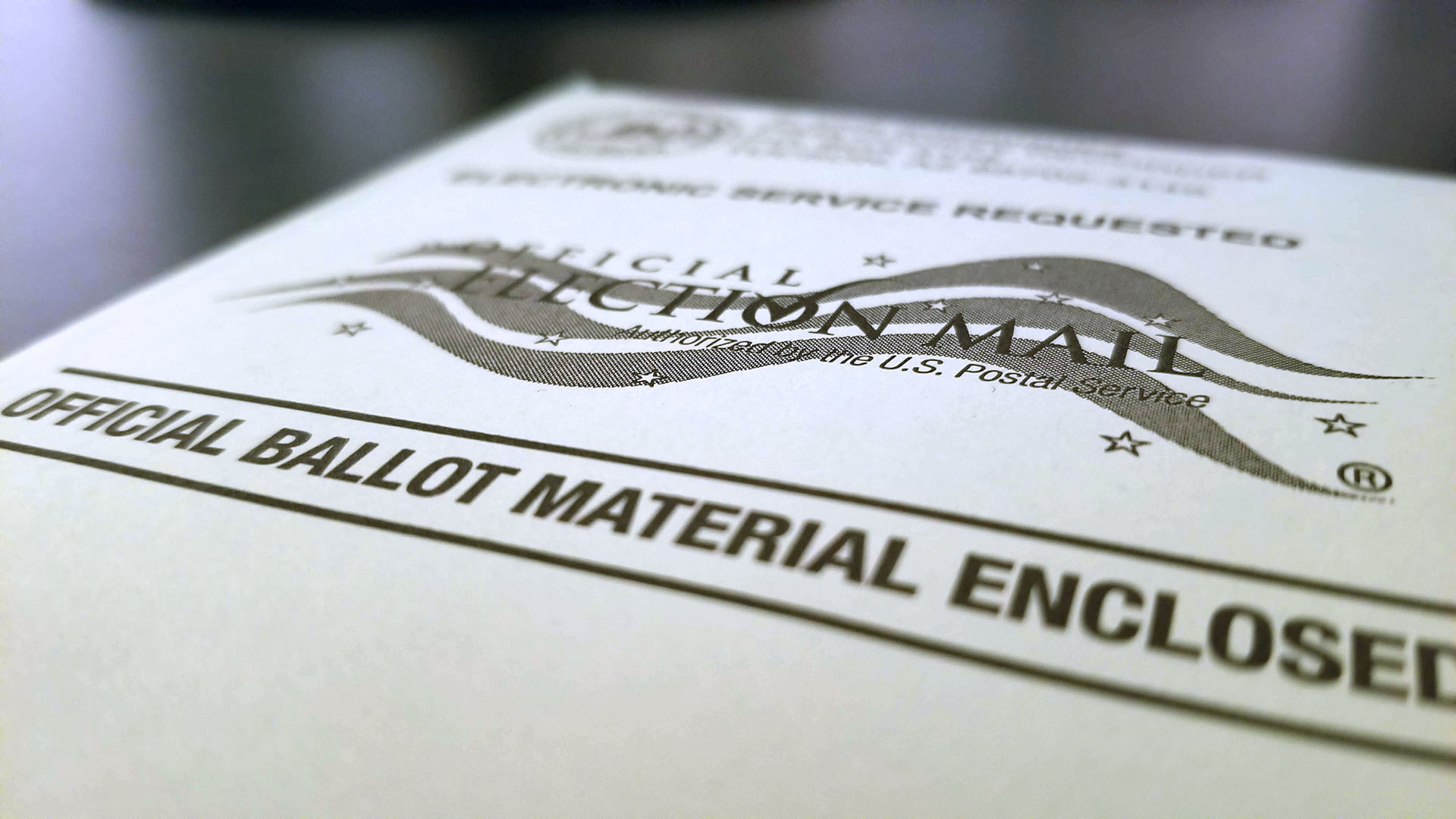 A Pima County vote-by-mail envelope.
AZPM
The Pima County Board of Supervisors joined Pascua Yaqui tribal leaders and Tucson Mayor Regina Romero in supporting the tribe's efforts to regain its early voting site.
Tuesday the board passed a resolution authorizing additional early voting, ballot drop off, and emergency-voting sites in the Pascua Yaqui reservation for the upcoming election.
Supervisor Betty Villegas of District 5 said according to ARS statute 16-411, the resolution can only impact emergency voting centers, but she said she hopes the Pima County Recorder's Office will establish an early voting site, as well.
"It is not a matter of interference. It is a matter of doing what is right for the people of a sovereign nation — the Pascua Yaqui people," Villegas said.
The board authorized early voting and ballot drop off Oct. 26-30 in the Pascua Yaqui tribal chambers with emergency voting available on Oct. 30 and Nov. 2.
"Today we had a huge, humongous victory thanks to the board of supervisors who agrees with us that our Yaqui community must have access to safe and in-person early voting here on our reservation, where we have direct accessibility," said Pascua Yaqui Tribal Council member Andrea Gonzales. "With this pandemic, if there was a time to have this early voting site, it is now."
"This is an issue of our fundamental voting rights. This is an issue that we shouldn't be arguing about," said Pascua Yaqui Council member Herminia Frias before reflecting on the early voting sites closure by Pima County Recorder F. Ann Rodriguez in 2018.
The tribe along with the Arizona Center for Empowerment and All Voting is Local hosted a Facebook Live video where they discussed the some of the circumstantial, legal and equality issues surrounding early voting in the Pascua Yaqui reservation.
They were joined by Patty Ferguson-Bohnee, the director of the Indian Legal Clinic at Arizona State University who said, "our election officials should always be working to ensure that this right to vote is secured, not adding barriers or taking actions to suppress voting rights."
She added that the Voting Rights Act bans activities that don't give voters in protected classes, like Native Americans, the same opportunities to vote as others.
"To not have an early voting location on the Pascua Yaqui reservation for tribal voters results in tribal voters having less opportunity to participate in the voting process and to elect candidates of choice," Ferguson-Bohnee said.
Pascua Yaqui Chairman Peter S. Yucupicio sent Rodriguez a letter Tuesday requesting an appointment with her or her designee this week or next to implement the resolution. He said the tribe is open to partnering with the recorder's office to request Secretary of State funding to open a "full service" site, and he hears her concerns about establishing such a site before the election but he disagrees. Yucupicio suggested she establish a "limited access" early vote center to serve the voters of Precinct 110, as it does on Election Day.
According to an email from Mary Reynolds, the Pima County Recorder Office's communication specialist, Rodriguez had no comment about the Board of Supervisors resolution and Rodriguez said she "did not know that the supervisor from District 5 [Villegas] placed it on the agenda."
The vote was three to two, with supervisors Ally Miller and Steve Christy voting against it.
Yucupicio early voting letter

View at Google Docs
|

Download File