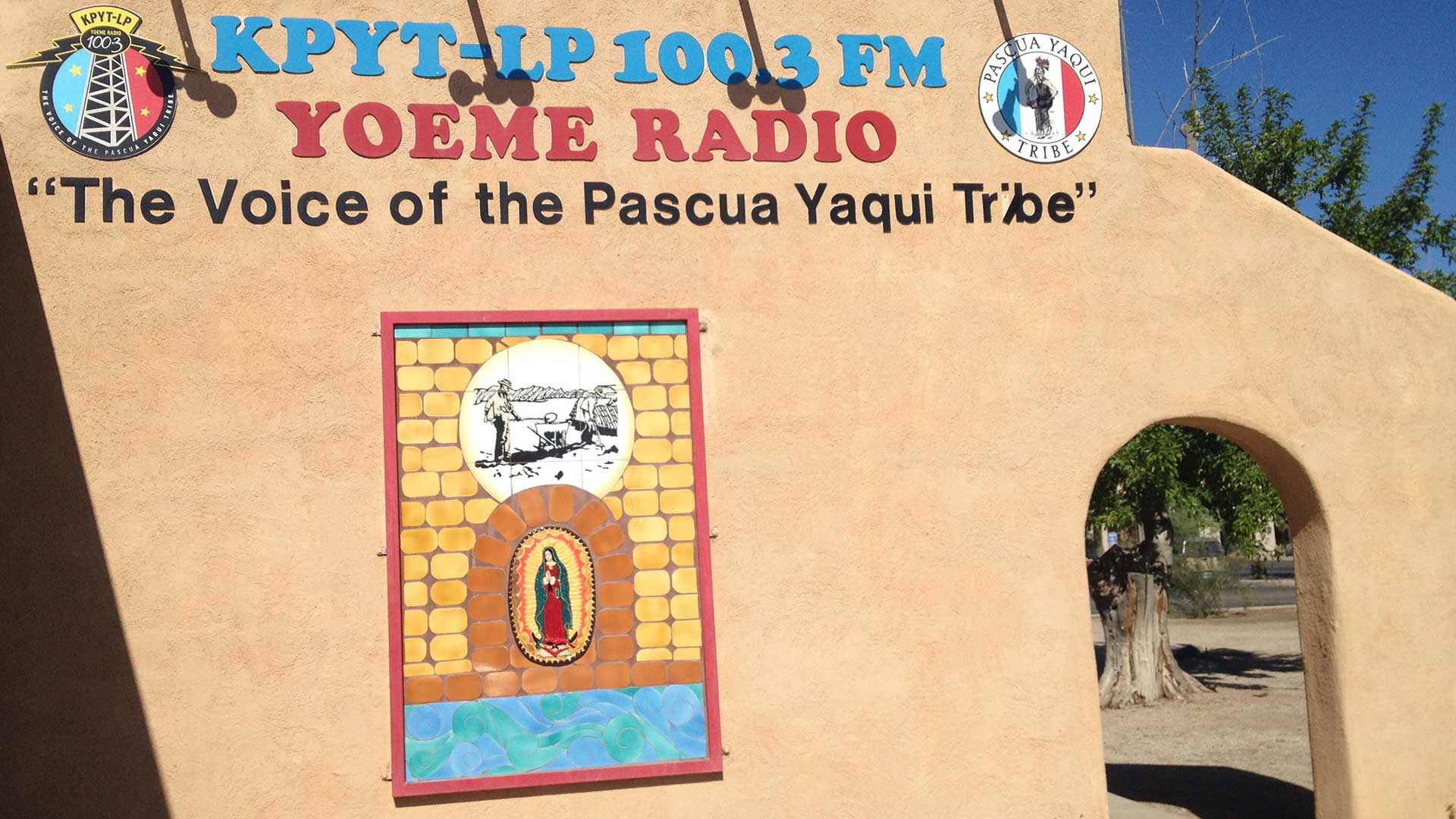 The radio station in the Pascua Yaqui Tribe's reservation, which formerly housed the tribe's early voting site.
Courtesy of the Pascua Yaqui Tribe
An hour-plus commute complete with multiple buses and a few sweaty walks used to describe some Tucsonans' trip to work, but for some members of the Pascua Yaqui Tribe this is what it takes to vote early.
During the pandemic, officials and voting rights advocates across the country have pushed early in-person voting, drop-off boxes for ballots and mail-in voting, but not all voters have equal access to these socially distanced early voting options. The Pascua Yaqui Tribe has been fighting for two years to restore an early voting site at the tribal government's radio station that's housed on the its reservation along the southwest edge of Tucson.
"With COVID-19 it's different now, because it's now a public health concern," Tribal Council member Herminia Frias said.
Frias questions what kind of precedent moving an early voting location away from this Indigenous community sets.
Before the Aug. 28, 2018, primary election in Pima County, the Pima County Recorder's Office informed a department of the tribe that the early voting site established in 2010 wouldn't be opening for the election 41 days away. The next day, July 20, the Tribal council received an email telling them the closest site was now at the Mission Public Library, about seven miles away. It's near the Yaqui in New Pascua — the reservation — and the Tohono O'odham in the San Xavier district who live a little to the south of New Pascua.
"What is the message that that sends to us? Doesn't our vote matter? We're a sovereign nation," Frias said.
Pima County Recorder F. Ann Rodriguez said she closed the station primarily because she wanted the location serving that area to be a "full-service site," a site where anyone from the area could cast their ballot, not just people from the select neighboring precincts. She also said it had low voter turnout and a lack of security.
Rodriguez said 44 voters from those limited nearby precincts used the site in the November 2016 election.
"The question was also securing those ballots in a secured area with a locking mechanism, not just a file cabinet, but also a secure door that we maintain and control," Rodriguez said. "Because of our security measures — technology — I was not able to make it a security site that is acceptable to me and the structure of our database."
Frias said the Tribal Council didn't get a chance to offer solutions to prevent the voting site closure.
"That conversation never happened. The decision was made, and the decision was shared with the council, and it was done," Frias said.
The tribe's tried at least five times over the last two years to reinstate the site, Rebekah Lewis, an administration support service specialist for the tribal government, wrote via email.
The tribe partnered with All Voting is Local, an advocacy group that tries to break down discriminatory barriers around voting. Alex Gulotta, the Arizona state director, said by putting up obstacles for people who want to vote, people will wind up not voting because it's hard to juggle all life's responsibilities — something gives.
"Expecting that while we have a pandemic raging that people at Pascua Yaqui are going to spend two hours on public transportation to get to the Mission [Public Library] to cast an early vote is unrealistic and it's unreasonable," Gulotta said. "We shouldn't be doing it."
He said since car ownership in New Pascua is lower than the general public, many people have to use public transportation to get into Tucson.
All Voting is Local is working with the tribal government to circulate a petition to restore the site, and it plans to ask the Pima County Board of Supervisors in the next few weeks to review the recorder's early voting plan and restore the site in New Pascua.
"I think it was a wrong decision even before COVID, but like I say, it's now an unconscionable decision," Gulotta said. "We want people to vote early. We don't want everyone to vote on election day."
Pima County Recorder F. Ann Rodriguez is retiring this fall. The Democratic candidate for Pima County Recorder, Gabriella Cázares-Kelly, committed to reinstating the site at a candidate virtual discussion earlier this year that All Voting is Local organized with the Arizona Center for Empowerment.
After doing so, Cázares-Kelly, who is a member of the Tohono O'odham Nation, set the context in which Indigenous people vote: The United States didn't consider Indigenous people citizens till 1924; they couldn't vote nationwide till 1962 and those rights weren't protected by law till the Civil Rights Movement inspired the Voting Rights Act of 1965. Voting rights are now being tested by a 2013 Supreme Court ruling that allowed areas of the country where officials had a history of marginalizing certain communities to again make their own voting decisions without federal oversight.
"What we're talking about is historic, systemic oppression," Cázares-Kelly said. "That is not going to be fixed in one or two voting cycles."