Saguaro National Park employees climbing up a hill within the park to find and spray bunches of buffelgrass with herbicide August 2021.
Emma Gibson/AZPM
Being part of Saguaro National Parks' buffelgrass mitigation effort means hauling gallons of herbicide to the harder to reach areas of the park in August, sweat pouring down your face before 8 a.m., and actively trying to save native plant species threatened by the fires that buffelgrass fuels.
It's hard work, but the park's efforts over the last 30 years to remove the invasive, non-native grass have given it better footing to protect saguaros and other native species as increasing temperatures and drought alter their habitats.
Don Swann, a biologist from Saguaro National Park, has tried to join one of these teams once a week recently to keep in touch with how the efforts to control the grass are going.
"It's tough work. It involves climbing up hills like this in the middle of the summer, as well as keeping at it the rest of the year with our amazing volunteers," Swann said. "We really feel like we've been making a difference, and we are turning the corner."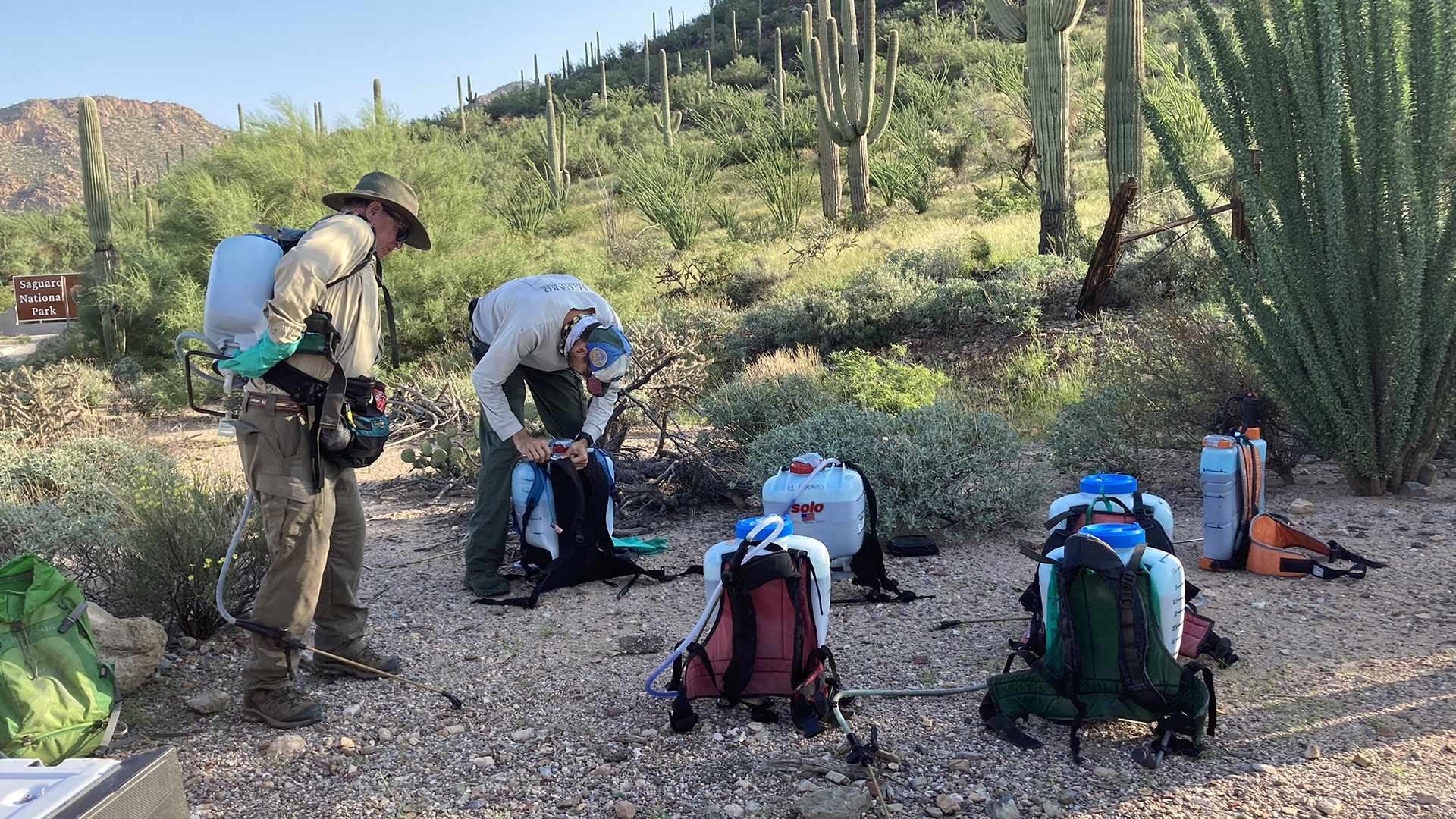 VIEW LARGER Saguaro National Park employees secure backpack pump sprayers filled with gallons of herbicide as part of a buffelgrass mitigation effort.

Emma Gibson/AZPM
He and a handful of other employees are strapping on backpack pump strayers and heading out to a hill beside the entrance to Saguaro National Park-West at 7 a.m. as temperatures slowly start to creep towards the day's projected high of 106. At first, the landscape is flat and even while the group surveys the ground for the bunching grass that have sprouted since their last sweep of the area or a sneaky cholla that may attach to their boot.
But soon the land gets rocky and steeper, and they find isolated blue painted buffelgrasses announcing they're coming up on the plants they sprayed with their dyed herbicide the day before.
"A lot of areas in the park where I used to bring people — 10-15 years ago — to show them what a problem buffelgrass was, you can't find buffelgrass in those areas anymore. We've been able to successfully treat it," said Swann.
The group has to strike while the plants are still green. In order to take in the herbicide, the grass needs to be photosynthesizing. Due to Tucson's wettest July on record these plants are thriving. Swann said they also use staff and volunteers to pull the plants all year round.
"We are turning the corner," Swann said. "We can be successful at protecting the Sonoran desert."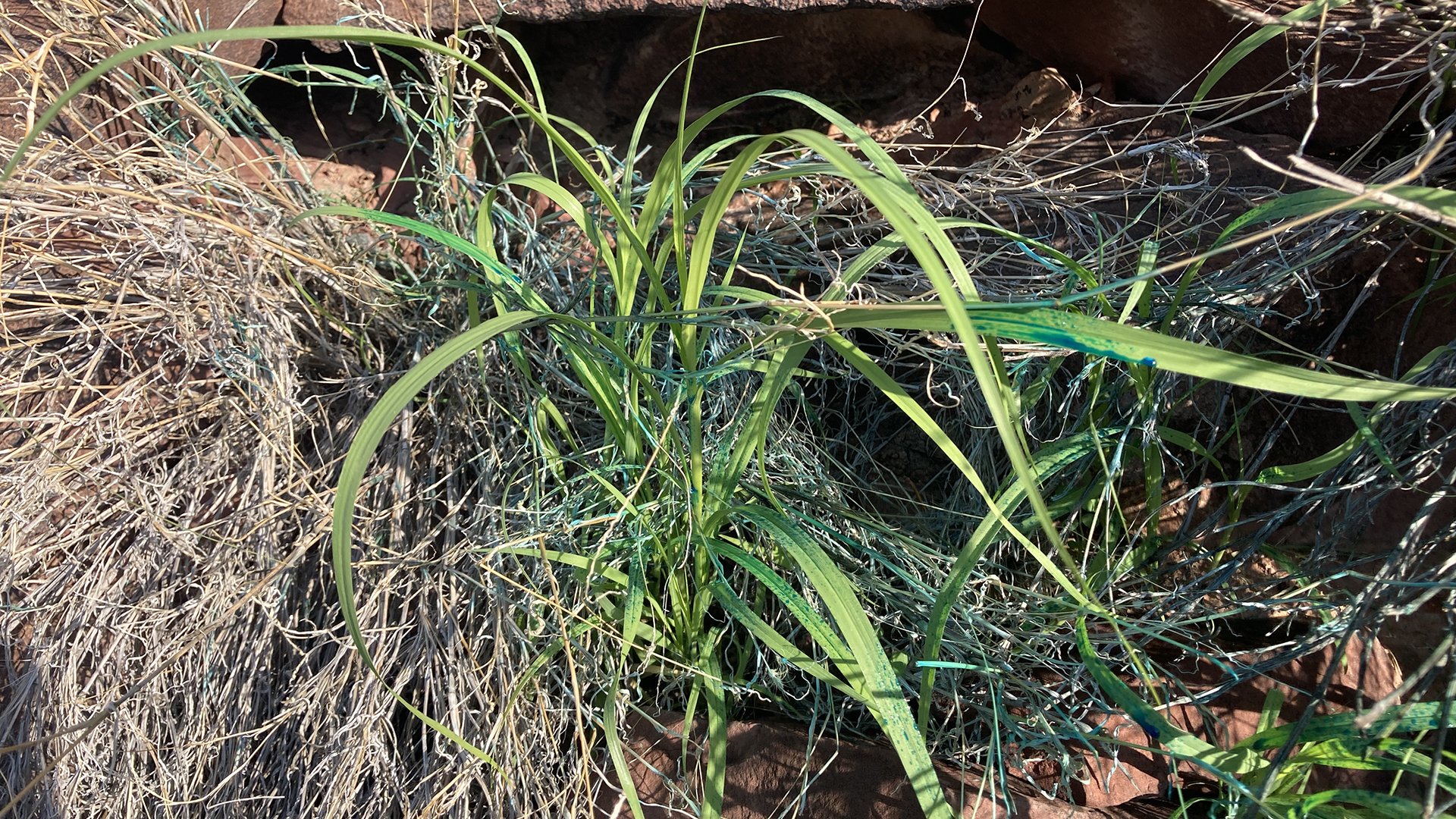 VIEW LARGER A bunch of buffelgrass after it was sprayed with the blue-tinted herbicide in Saguaro National Park August 2021.

Emma Gibson/AZPM
Jeff Conn also works at the park and oversees the science and resources management program.
He said the strain of grass in the park hails from Kenya and arrived in the early 1990s. It started competing with native species for water and nutrients in the soil and fill in the gaps between those plants, creating a continues fuel for fires. After years of mitigation efforts there's only about 2,000 acres of it left, which is approximately 2% of the park's total acreage.
"If we did not manage actively, the likelihood of having catastrophic fires — which would convert the Sonoran Desert into a grassland, which would make it even more fire prone — are truly tremendous," said Conn.
Conn said after spending an estimated annual $300,000 to $500,000 trying to stamp out the grass each year along with thousands of volunteer hours, they're getting to a point where the grass is at a manageable level and doesn't pose a fire threat in the park.
Unfortunately, he said even if they could remove all of it from the park, unmanaged buffelgrass outside its boundaries would still blow seeds in.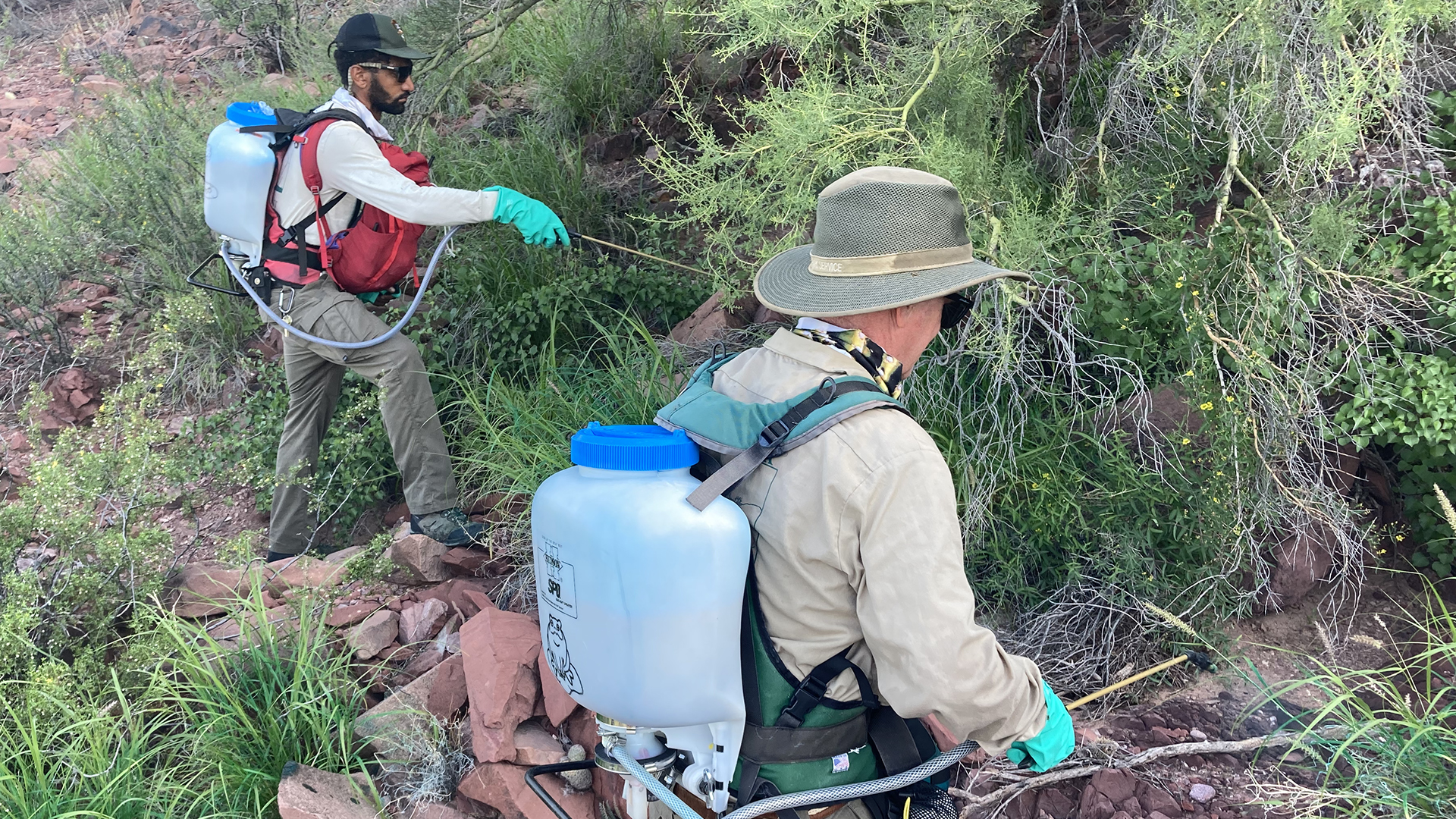 VIEW LARGER Saguaro National Park employees spraying bunches of buffelgrass with blue-tinted herbicide August 2021.

Emma Gibson/AZPM
Ben Wilder, director of the Desert Laboratory on Tumamoc Hill with the University of Arizona, said events like fires or droughts are "agents of change" in the desert reshaping what plants live where.
"What happens in those great reshufflings is a species range shifts, and certain species are preadapted and can move with the changing climatic conditions and others cannot," said Wilder. "You get both expansions and contractions, and by 'contractions' I mean mortalities events —and extinction can happen at this point in time, too."
Plants like buffelgrass will come back after a fire — after all, they evolved from the savannas of Africa — but he said biologists don't fully know what native species will survive repeated fires.
But he said efforts like those at Saguaro National Park to control buffelgrass aren't pointless in protecting the future of native species and the homes close-by from hotter, bigger fires.
"The risks are massive here," said Wilder. "But the costs of doing something now are so much less, than the cost of not acting."
Saguaro National Park employee walking past bunches of buffelgrass that have already been sprayed with blue-tinted herbicide August 2021.
Emma Gibson/AZPM