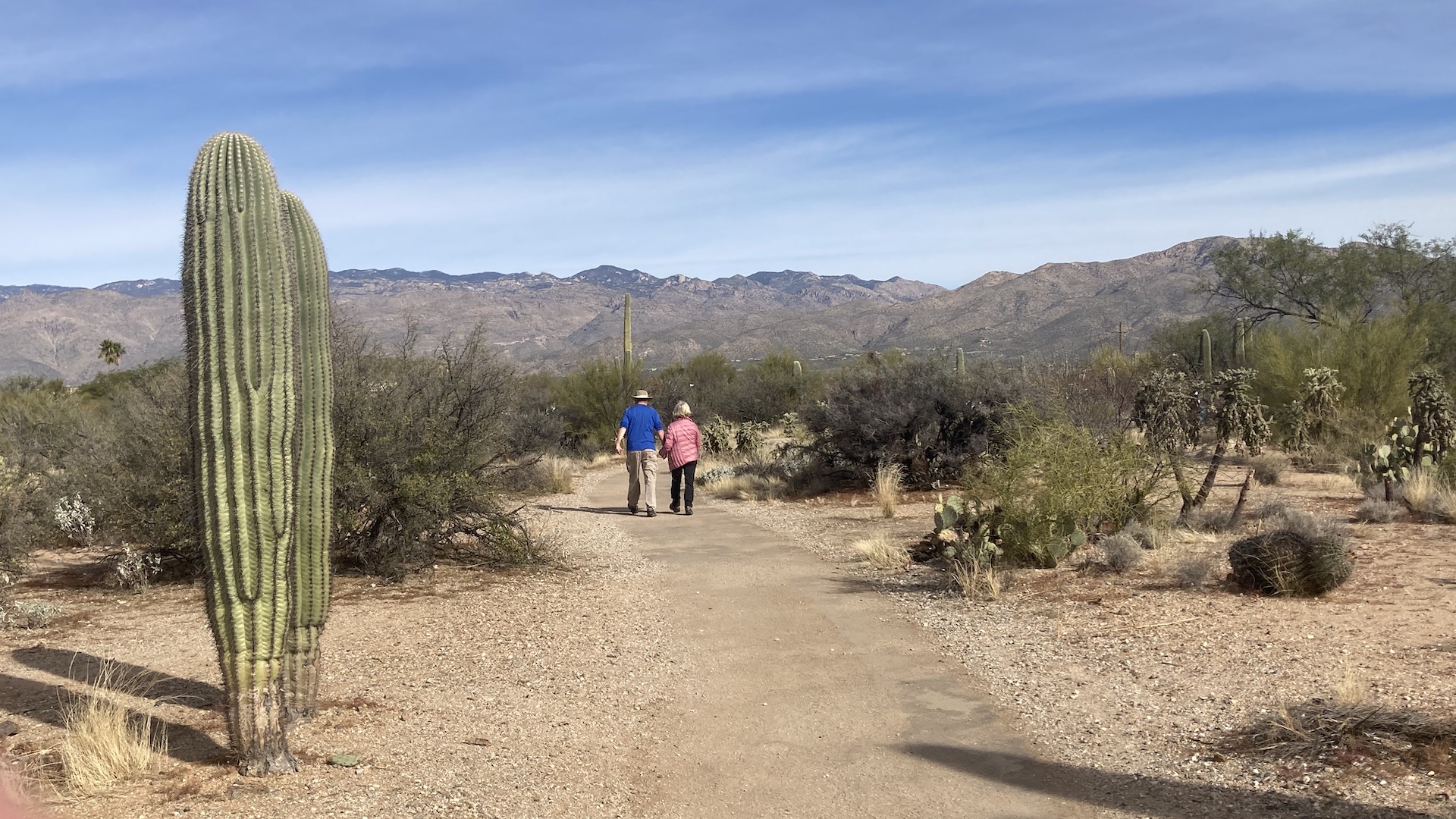 Saguaro National Park
Emma Gibson/AZPM
Andy Fisher has a trick to get that rain-in-the desert smell.
Take a handful of creosote leaves off the ground, cup them in your hand and breathe on them.
"Just a little bit of humidity in the air around those leaves releases that oil and that is what makes the desert smell like rain," said Fisher, a ranger at Saguaro National Park.
With temperatures in the Sonoran desert that much of the nation would consider mild, many Arizonans and visitors alike are heading to Tucson and into the desert. This week, The Buzz heads outdoors to join them.
"It's really unusual to have a metropolitan area of nearly a million people this close to several hundred acres of designated wilderness where there are no roads, and no machines and no signs that people were there before you. That juxtaposition is pretty special," said Fisher.
That juxtaposition is also a draw for visitors and Dan Gibson, senior director of communications at Visit Tucson, says the industry is seeing signs of strength even amid the ongoing pandemic.
The number of people staying in hotel rooms in the area in November 2021, was near the same number as in November 2019, the most recent month for which data is available, he said.
"The rate that people were paying for rooms had gone up, which is sort of counterintuitive but it is a general idea of the health of the hotel industry because people are willing to pay a premium dollar to go somewhere," he said.
Still, the industry faces continued uncertainty, Gibson added.
"Group and corporate travel is still that soft spot," he said.
The Buzz also spoke with Maggi Dawson, president of the Climbing Association of Southern Arizona, as the sport enjoys growing interest.
"It's hard and I think people like that challenge. It's really difficult or it's a bit of a choose-your-own-adventure," she said.
And Southern Arizona is a draw.
"We can climb year-round here. There's something every time of the year," said Dawson.

The Buzz
airs Fridays at 8:30 a.m. and 6 p.m. and Saturdays at 3:30 p.m. on NPR 89.1. You can subscribe to our podcast on
iTunes
and NPR One. See more from
The Buzz
.