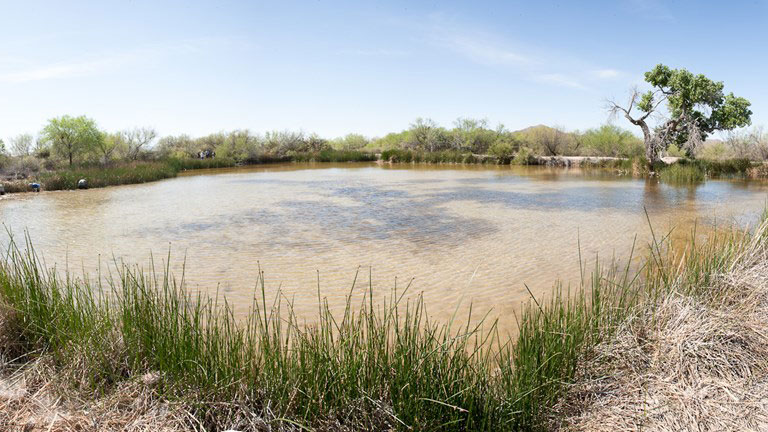 VIEW LARGER Quitobaquito pond is fed from the nearby Quitobaquito Springs.

NPS
Organ Pipe Cactus National Monument encompasses more than 330,000 acres of Sonoran desert, and has been designated a UNESCO biosphere reserve. As those protected designations indicate, it's an incredibly valuable swath of desert landscape for native plants and animals. A stone's throw from the U.S.-Mexico border lies a large pond, fed from the nearby Quitobaquito Springs.
"It's been a stable source of water for thousands of years," said Michael Bogan, an aquatic ecologist and assistant professor at the University of Arizona who has worked in the area for several years. The Hia-Ced O'odham and Tohono O'odham have used it as a place to live and essential water source for a very long time, he said.
And desert dwellers don't have to be told that seeps like this, especially this size, aren't common.
"It's essentially the only stable, reliable water in all of the western Sonoran Desert," Bogan said. Quitobaquito's location makes it a critical stopover for species migrating back and forth across the border.
The springs and pond, and the nearby Rio Sonoyta in Mexico, are also home to a couple of endangered native species found nowhere else in the world. Bogan said because of that, people on both sides of the border have worked to keep as much water in the system as possible.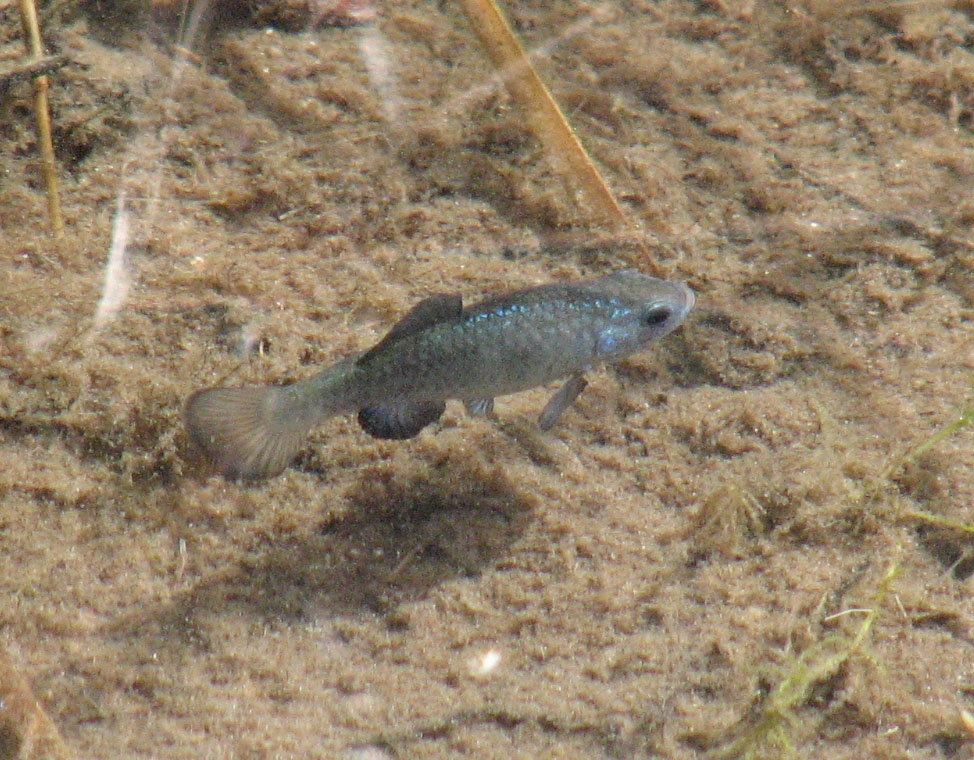 The Quitobaquito pupfish is an endangered resident of Organ Pipe Cactus National Monument. The only place in the world where it can be found is Quitobaquito.

NPS
But President Trump's border wall could put that at risk.
"We've heard from numerous sources, including the Department of Homeland Security, that they plan on drilling wells to suck up groundwater in order to mix concrete for the border wall," said Laiken Jordahl with the Center for Biological Diversity. His group is suing the Trump administration over its suspension of dozens of environmental and cultural resource laws related to the new border wall project. Jordahl says they've estimated how much water the project will need.
"So, for a mile of border wall we're talking about almost half a million gallons of water. And here DHS is proposing to build 68 miles of wall in Arizona. And when you total that up, that is not an insignificant number," Jordahl said.
Jordahl visited Organ Pipe last week and said he spotted what appeared to be a drilling rig operating near Lukeville, and also received reports of drilling activity near Quitobaquito Springs.
A CPB spokesperson said that while there was field equipment out in both locations last week, it was conducting geotechnical testing and gathering soil data, not drilling wells. But they do plan to use local groundwater. The agency says the wall contractor and the Army Corps of Engineers have been coordinating construction and groundwater use with the park and Fish and Wildlife Service. Laiken said while the Department of Homeland Security has stated they will not drill wells within five miles of Quitobaquito, he's not satisfied.
"To me that number seems extremely arbitrary. We all know aquifers are connected. Just like wildlife they know no borders," Jordahl said.
According to a CBP spokesperson, Organ Pipe Cactus National Monument has identified existing groundwater wells construction contractors can use. In addition, the contractor has proposed drilling new wells along the border for the wall project. Currently, the construction contractor estimates needing about 84,000 gallons of water per day for the project.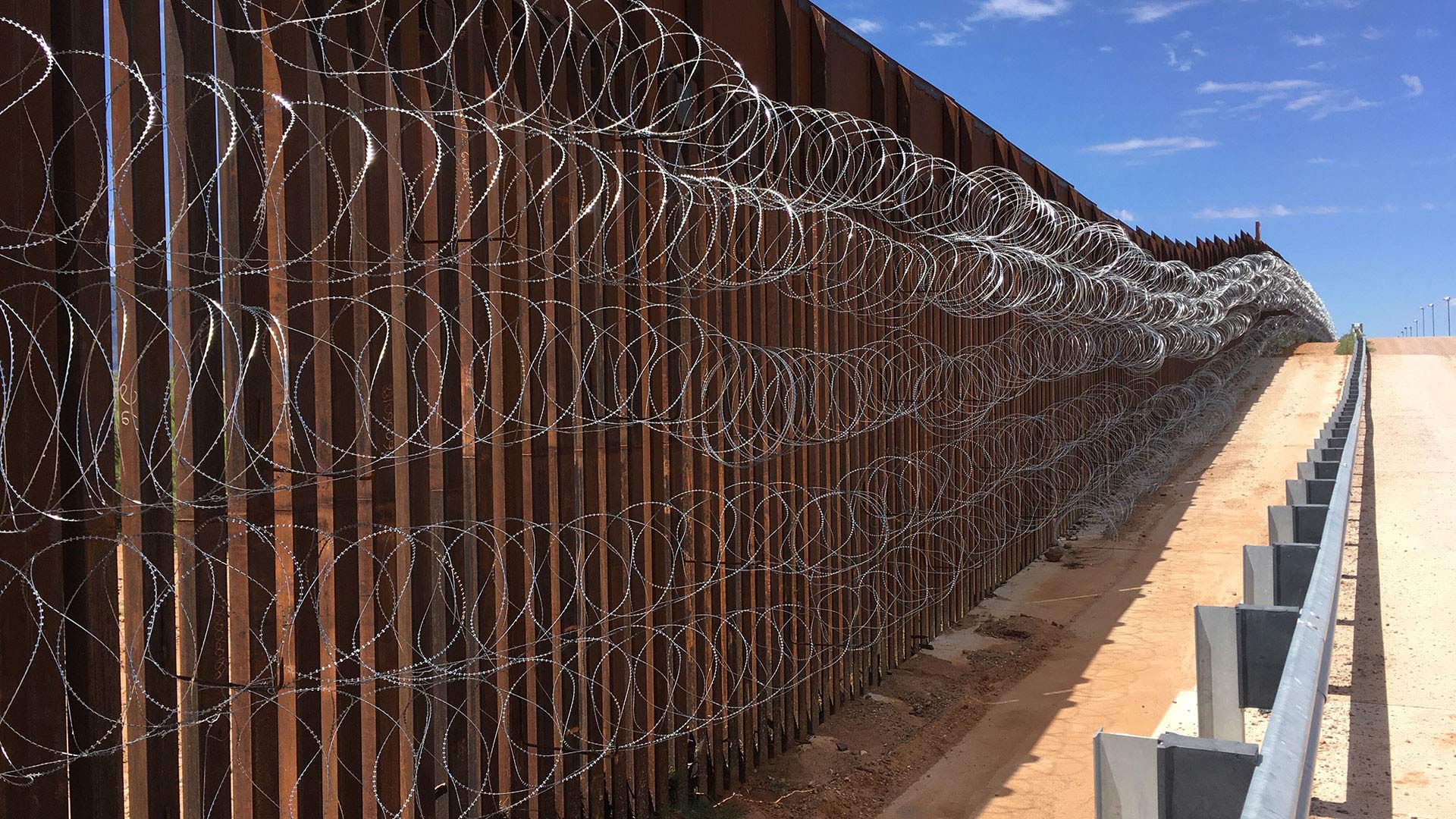 Existing bollard-style fencing along the U.S.-Mexico border.
Ariana Brocious/AZPM
Arizona law requires all groundwater wells to be registered and authorized with the state prior to drilling. However no state notification is required to use existing wells unless the use changes.
In places like Organ Pipe, which sit outside of active management areas, there are no pumping limits for commercial wells. Bogan said any new water withdrawal in this area is a concern because drought and agricultural pumping have already dropped the water table.
He said research has shown that the springs are fed from both local and regional groundwater sources, meaning that a five-mile buffer may not make much difference.
"The good news is it's unlikely to dry up Quitobaquito," Bogan said. "But the issue is that when you add it on top of the declining water levels we've seen over the last couple decades, we don't really know where that threshold point is. So it doesn't have to dry up completely to have negative impacts."
And the water levels at Quitobaquito may soon only matter to U.S.-based wildlife, because if the 30-foot-high wall gets built, nearly all animals south of the border will no longer be able to reach the pond.
Contractors are currently replacing two miles of existing fencing near Lukeville with 30-foot steel bollards. Construction on the rest of the more than 60 miles of Arizona wall is expected to begin in October.