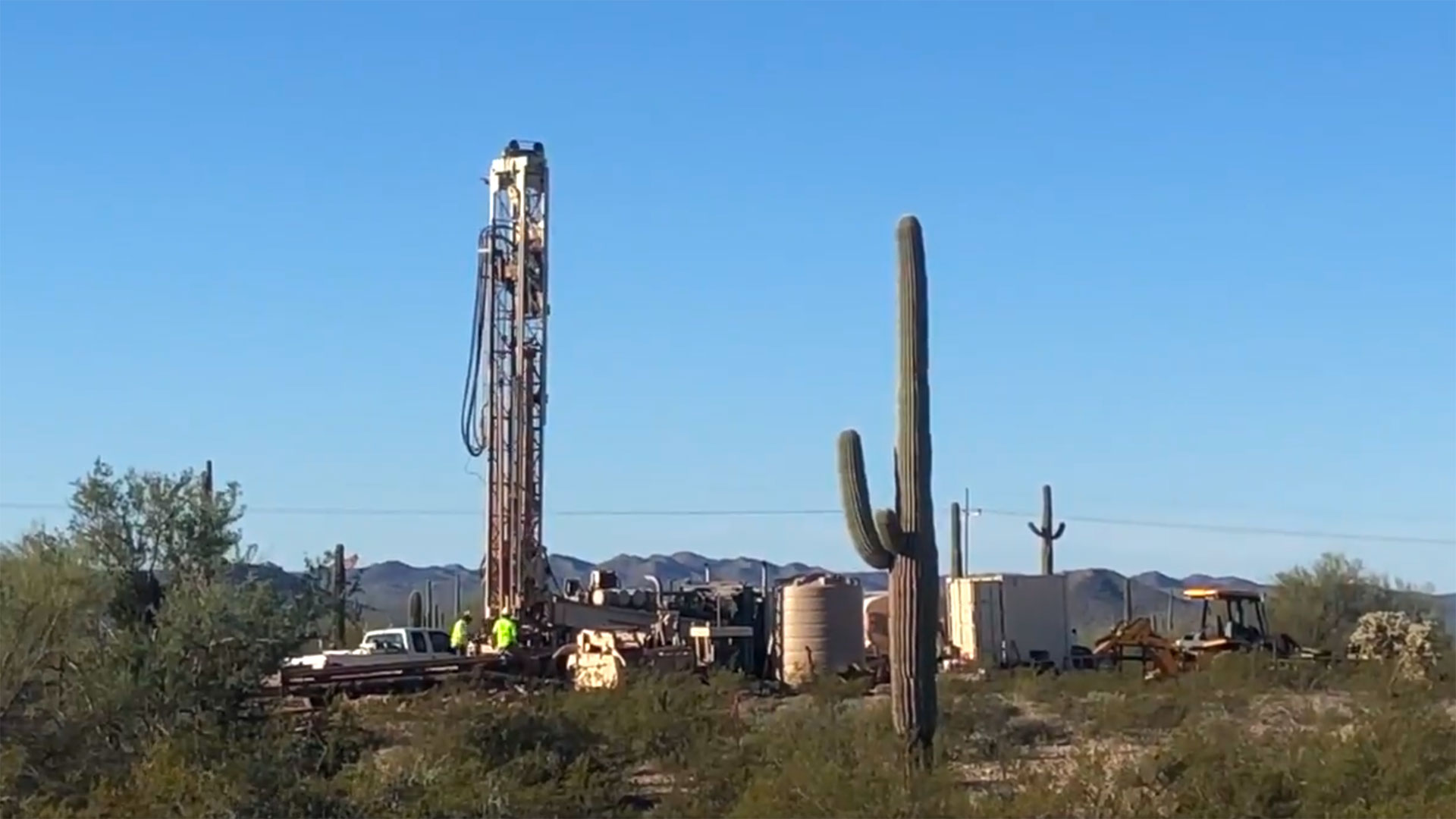 A video shot by wildlife biologist Rosemary Schiano of groundwater drilling near border wall construction close to Quitobaquito Springs on Dec. 16, 2019.
Courtesy Rosemary Schiano
Quitobaquito Springs sits a stone's throw from the U.S.-Mexico border, and is the only reliable source of water for miles within the arid Organ Pipe Cactus National Monument. Wildlife biologist Rosemary Schiano, who spends winters doing field work in the Sonoran Desert, said Monday morning she filmed a truck drilling for groundwater near ongoing border wall construction not far from the springs. She shared the video with conservation group the Center for Biological Diversity.
ALERT: DHS contractors spotted drilling well just 8 miles from Organ Pipe's Quitobaquito spring. This well taps the La Abra aquifer — the same source that feeds Quitobaquito and the endangered species that depend on it.

Footage shot this morning by Rosemary Schiano: pic.twitter.com/aOggQmLiJd

— Laiken Jordahl (@LaikenJordahl) December 16, 2019
"I shared it because it's a major concern for the ecosystems and habitat there, as well as Quitobaquito," Schiano said.
The U.S. Fish and Wildlife Service recommended that U.S. Customs and Border Protection not drill within 10 miles east of the springs to protect the resource and a few endangered species that live only there. Based on Schiano's location estimate, the current drilling is about 8 miles from the springs.
"They're using countless tons and gallons of water for the creation of the border wall," Schiano said. "And they're taking that water out of an aquifer and drainage system that is on a very arid desert."
Biologists and conservationists are concerned about the draw down of the aquifer beneath Quitobaquito, due to its importance for area wildlife and because drought and agricultural pumping have already lowered the water table.
CBP was not able to respond to Schiano's claim before deadline. But in comments in September, the agency stated it wouldn't use groundwater within five miles of the springs. CBP also stated that the wall contractor is planning to dig several wells and also transport water to the construction area from outside sources. At that time the agency said the construction contractor estimated approximately 84,000 gallons of water per day would be needed for the project.
The Trump administration has waived all applicable environmental regulations to speed border wall construction.